Intel Corporation Executive Defends Company's Big Spending Plans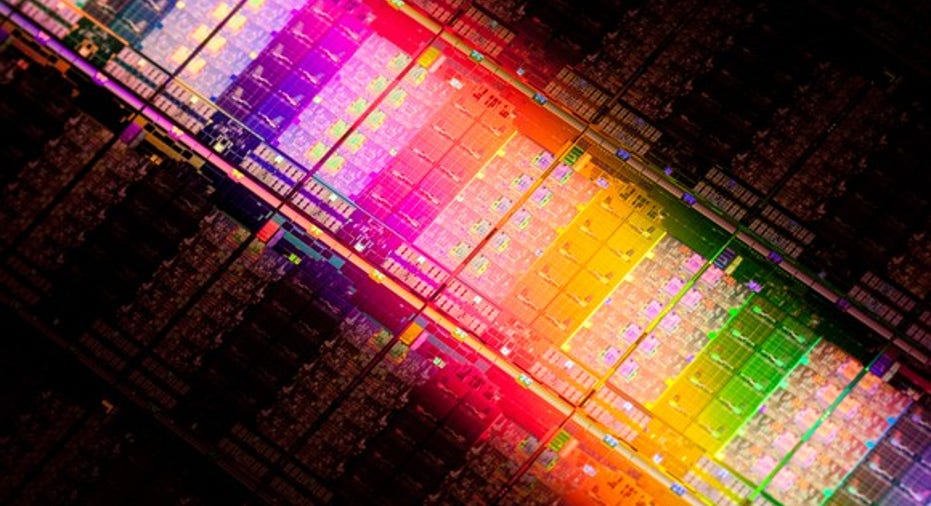 Microprocessor giantIntel(NASDAQ: INTC) spends a lot of money. It pours tens of billions of dollars each year into research and development and sales and marketing, as well as into capital expenditures to support its cutting-edge chip manufacturing plants.
Year to date, Intel's operating expenses, excluding restructuring and amortization of acquisition-related intangible charges, were up to $15.699 billion, from $14.821 billion in the year prior.
That spending increase, amazingly enough, comes even after Intel announced a restructuring program back in April designed to yield "annual run rate savings of $1.4 billion by mid-2017."
Image source: Intel.
Analyst John Pitzer with Credit Suisse had the following to say to Intel Executive Vice President Stacy Smith with respect to that spending at a recent conference:
Smith had some insights to share in response. Let's take a closer look at them.
What's Intel's goal with the restructuring again?
Smith pointed out that the savings after the company's reinvestments in other areas works out to "about $700 million over three quarters in 2016." That savings run rate, Smith observed, works out to an annualized net operating expense reduction of "about $1 billion."
Intel's ultimate goal with this restructuring, Smith explained, is to reduce the company's operating expenses as a percentage of the company's revenue by "a couple of points." One point comes this year, and another in 2017, Smith said.
What about these reinvestments?
Smith was blunt in saying that these increased investments weren't a result of seeing things that worry him. Instead, Smith contends, "there are real opportunities that are out there that are worthy of investment."
The executive pointed out some of the areas in which Intel is cutting its spending, such as mobile processors and personal computers, as well as where it's boosting spending -- Internet of Things/automotive, data center, and 3D XPoint memory.
A subtle distinction
Investors might notice that Smith is committing to having spending as a percentage of revenue come down about 1% in 2016 and another 1% in 2017. Remember that spending as a percentage of revenue is a function of both raw spending and total revenue.
Intel hasn't given its financial guidance for 2017 yet, but current analyst estimates call for the company to hit $60.88 billion in revenue on average next year -- roughly 3.6% year-over-year growth. If Intel were to simply keep its spending in 2017 flat to where it winds up in 2016, then a 3.6% revenue increase would mean a decline in spending as a percentage of revenue.
That Smith is calling for spending as a percentage of revenue to come down by just 1% in 2017 suggests that -- assuming that Intel is planning for revenue growth in line with what the average analyst estimate -- Intel is planning to grow its total spending again next year a bit.
Investing in the future simply doesn't come cheap.
10 stocks we like better than Intel When investing geniuses David and Tom Gardner have a stock tip, it can pay to listen. After all, the newsletter they have run for over a decade, Motley Fool Stock Advisor, has tripled the market.*
David and Tom just revealed what they believe are the 10 best stocks for investors to buy right now... and Intel wasn't one of them! That's right -- they think these 10 stocks are even better buys.
Click here to learn about these picks!
*Stock Advisor returns as of Nov. 7, 2016
Ashraf Eassa owns shares of Intel. The Motley Fool recommends Intel. Try any of our Foolish newsletter services free for 30 days. We Fools may not all hold the same opinions, but we all believe that considering a diverse range of insights makes us better investors. The Motley Fool has a disclosure policy.