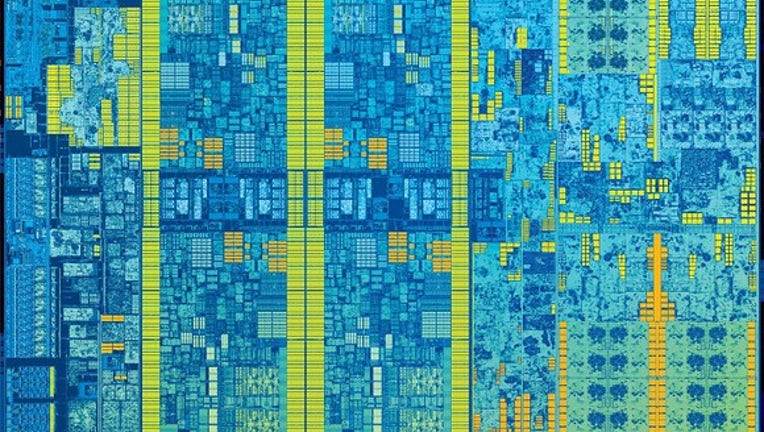 Intel's latest Skylake processor manufactured in its 14-nanometer technology. Image source: Intel.
For quite some time, I have been frustrated with the fact that analysts have refused to press Intel management on a number of critical topics on the quarterly earnings calls. Fortunately, Intel hosted a very nice "virtual" online stockholder meeting on May 19 and, as luck would have it, I was able to submit and have answered two important questions.
In this column, I'd like to go over the questions I asked as well as the answers that management provided.
On manufacturing technology
The first question that I submitted was the following:
CEO Brian Krzanich responded with the following (emphasis mine):
Although most investors don't have the ability to benchmark individual transistors from the various chip companies to verify Krzanich's claims, the statement from the chip giant's chief executive is quite clear.
I also appreciate that Krzanich talked about transistor performance rather than transistor density, as the former is probably more important in terms of product competitiveness than the latter.
On competition in servers
The second question that I submitted was the following:
Here's Krzanich (emphasis mine):
Given how important it is for Intel to grow its revenue in the server market, particularly as the PC market continues to shrink, the company can't afford to field anything but leadership products in this market. Krzanich seems quite confident that the current product line is competitive.
Though Krzanich's confidence is reassuring, Intel investors will probably have to wait until the 2017 time frame -- when AMD and many of the other companies vying for a piece of Intel's server chip pie will release new products -- to see whether Intel can maintain its commanding market share and/or margins (largely a function of product competitiveness) or not.
A nice preview for the investor meeting
I appreciate that Intel hosted a "virtual" shareholder meeting this year, allowing investors with pressing questions to submit said questions and get them answered. That said, I look forward to the company's investor meeting, which will likely be hosted in November, during which the company will likely go into more depth on these topics -- and more.
The article Intel Corporation CEO Brian Krzanich Answers Two Important Questions originally appeared on Fool.com.
Ashraf Eassa owns shares of Intel. The Motley Fool recommends Intel. Try any of our Foolish newsletter services free for 30 days. We Fools may not all hold the same opinions, but we all believe that considering a diverse range of insights makes us better investors. The Motley Fool has a disclosure policy.
Copyright 1995 - 2016 The Motley Fool, LLC. All rights reserved. The Motley Fool has a disclosure policy.