Intel Corporation Breaks Down Its Networking Business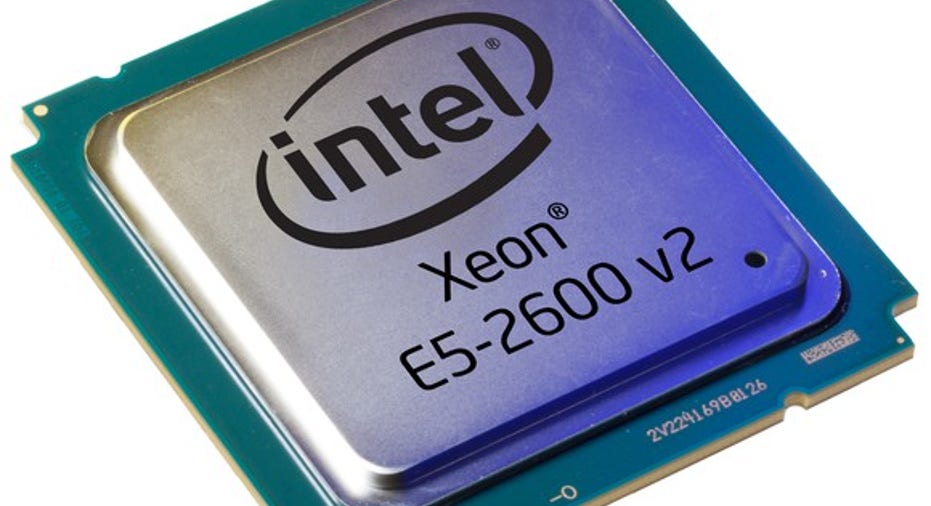 Microprocessor giant Intel (NASDAQ: INTC) is aggressively going after the market for network infrastructure silicon, one that the company says was worth $18.6 billion in 2016 and is going to grow to $19.3 billion in 2017.
For years, Intel has been providing investors with annual updates on the company's progress in capturing its piece of the networking-chip pie. At its Feb. 9 investor meeting, data-center-group (DCG) chief Diane Bryant disclosed that it has now become the largest vendor of network silicon and offered some additional insights into this business.
Intel IvyTown chip. Image source: Intel.
Let's dig into the details.
A shift to Intel Architecture
Bryant told investors that the company has been working to boost its position in the network infrastructure silicon market for "at least a decade.""The network is moving from ARM and MIPS and PowerPC and all those other architectures, all of those custom [application specific integrated circuits], it's moving now onto Intel Architecture," Bryant explained.
She further went on to say that networking workloads are moving away from being run on dedicated networking appliances powered by chips designed with specific functionality in mind (i.e., "fixed function" chips) toward "Intel-based servers, virtualized and delivering those capabilities.""Combining our existing business with the design wins that we solidified in 2016, we are now number one in wireless access infrastructure," Bryant told investors.
It's important to note that there is typically a long lead time between when designs are won and when those designs translate into revenue. Bryant indicated that the designs that the company won in 2016 would "ramp over the next four years" as 5G networks come online.
Leading the market
Bryant then showed a slide indicating that, in 2016, Intel became the top vendor of network chips by revenue. That said, this figure includes Intel's organic efforts, as well as the networking-related revenue that the chipmaker inherited when it acquired programmable-logic-specialist Altera in late 2015.That caveat notwithstanding, Bryant said that the company's current network silicon market share is beating the company's plans/expectations.
Bryant then went on to explain just how the chipmaker managed to achieve the market-share position that it currently has."We've obviously gotten here because we've made very targeted investments to make sure that the Intel Xeon and Atom CPU product lines run all network functions very well," she said."So we've been integrating wireless network features into those core product lines."
The average-selling-price story
Investors following Intel are probably aware that the company will sometimes have quarters in which it sees robust unit growth within DCG, but it will also report muted average selling price. The company will often attribute such quarters to an increased sales mix of networking and storage-oriented products, noting that the average selling prices of chips sold into those markets tend to be lower than those sold into more traditional enterprise and cloud-server segments.
Bryant went over some average-selling-price data from its networking chip products, broken down by type of processor (i.e., traditional Xeon CPU, as well as system-on-a-chip, which includes the company's Atom and Xeon D products).
Intel's networking efforts are paying off. Image source: Intel's February 2017 investor meeting presentation.
"The lion's share of that network revenue comes from Xeon," Bryant said. She then went on to point out that the company's Xeon average selling prices within networking have been on the rise -- up 18% in 2016 over 2015 -- which has helped to lift the company's overall network average selling prices."That's because customers are buying up the [product] stack as the network workloads are converging onto Intel," Bryant explained.
She then went on to talk about how the company uses its Atom and Xeon D processor families to go after lower cost/power/performance networking applications.
Average selling prices within this segment dropped steadily from 2013 to 2015 (presumably because Intel didn't update its Atom product family for this market during that time), but saw a bump up in 2016 -- something that Bryant attributed to the introduction of the company's Xeon D processor family (not as high performance as the traditional Xeon E5 chips, but higher performance than the Atom chips).
Investment takeaway
Networking really looks like an interesting opportunity for Intel -- it's a significant business for the company today, and the company seems to be quite good at gaining market segment share here. The market itself is also growing, which certainly helps the story along, though share gain is clearly the main growth driver.
Continued growth and success in the networking silicon market will be important to the DCG story over the long term as the company aims to lessen DCG's dependence on the large, but declining, enterprise-server market.
10 stocks we like better than IntelWhen investing geniuses David and Tom Gardner have a stock tip, it can pay to listen. After all, the newsletter they have run for over a decade, Motley Fool Stock Advisor, has tripled the market.*
David and Tom just revealed what they believe are the 10 best stocks for investors to buy right now... and Intel wasn't one of them! That's right -- they think these 10 stocks are even better buys.
Click here to learn about these picks!
*Stock Advisor returns as of February 6, 2017
Ashraf Eassa owns shares of Intel. The Motley Fool recommends Intel. The Motley Fool has a disclosure policy.