Intel Corporation Announces 2018 Server Chip Plans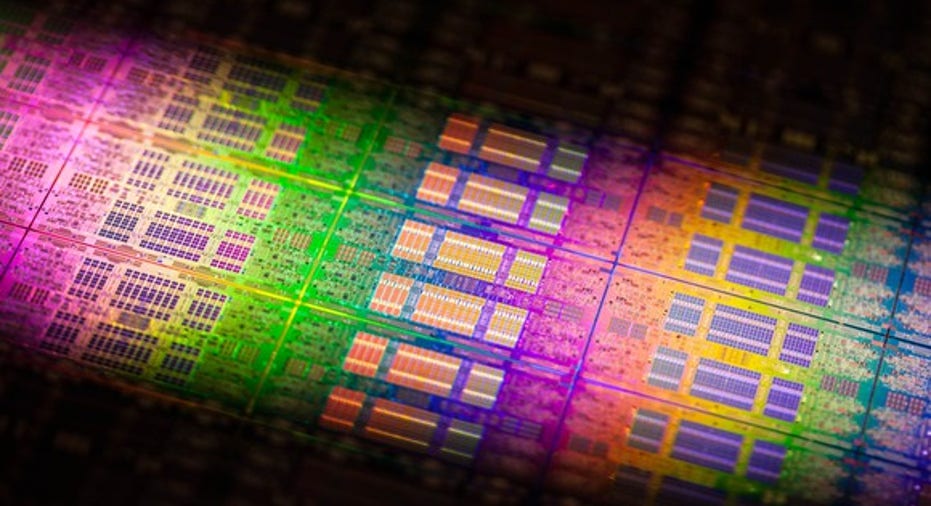 This summer, Intel (NASDAQ: INTC) is expected to launch its next-generation server processor family, code-named Skylake-SP (for "Scalable Performance"). These chips promise to deliver substantially improved performance, power efficiency, and platform features compared to the current Broadwell-EP/EX products that Intel currently has in the marketplace.
Those improvements are expected to be due to a combination of a brand-new processor architecture (changes to the CPU cores and the technologies that surround those cores) as well as a migration from the company's first-generation 14-nanometer manufacturing technology to its more efficient second-generation 14-nanometer manufacturing technology, called 14-nanometer+.
Image source: Intel.
What was unclear until a recent Intel announcement is what the company planned to launch for the server market in 2018. Earlier leaks indicated that Intel had planned to follow up Skylake-SP (then referred to as Skylake-EP) with Cannon Lake-EP, built on the company's 10-nanometer technology.
However, considering that Intel is likely facing substantial manufacturing yield challenges with its 10-nanometer technology, large, complex server processors built using the technology in 2018 don't appear to be likely.
I had previouslyspeculated that Intel would take its Skylake-SP chips and reimplement them in the company's 14-nanometer++ technology. A recent announcement from the company appears to confirm that this is, in fact, what the company plans to do (credit goes to user witeken on social media for spotting it).
Improved efficiency, support for 3D XPoint memory
Intel says that the new chips (referred to as a "refresh") go by the code-name of Cascade Lake and will launch next year.
Intel did not explicitly say that these chips would be manufactured using its 14-nanometer++ technology, but considering that the company's playbook in the personal computer market has recently consisted of delivering performance improvements via manufacturing technology enhancements, it's clear that the company will apply this strategy to its server processors, too.
The move to 14-nanometer++ should allow Intel to deliver higher-performing chips at roughly the same power consumption levels as what it will deliver with its upcoming Skylake-SP chips.
Additionally, Intel says that the Cascade Lake chips will include support for the company's 3D XPoint memory modules. Support for 3D XPoint memory modules was originally planned for Skylake-SP, but delays in the technology have led the company to push support for the technology out to a refreshed processor/platform.
Implications for consumer market
Intel is expected to launch its next-generation high-end desktop platform for PC enthusiasts/prosumers later this month, based on the same technology that underpins the company's upcoming Skylake-SP products for servers.
Since Intel has publicly confirmed that it will be refreshing the Skylake-SP lineup in 2018, this almost certainly means that Intel will be refreshing its high-end desktop product line next year, too.
One of the problems that Intel has faced with its high-end desktop lineup is that the company doesn't update them regularly, which leads them to become stale after a while. If Intel can commit to annual processor refreshes in the server market, then Intel should also be able to refresh its high-end desktop processors as well.
The high-end desktop processors tend to carry much higher average selling prices than the mainstream desktop parts that Intel sells, and those chips are sold to customers that are much more enthusiastic than the typical PC-buying population, often buying systems/chips out of want rather than simply out of need.
The more exciting Intel can keep its server and high-end desktop product lines, the better it should be for both its large and highly lucrative data center business, as well as for one of the better parts of its personal computer business.
10 stocks we like better than IntelWhen investing geniuses David and Tom Gardner have a stock tip, it can pay to listen. After all, the newsletter they have run for over a decade, Motley Fool Stock Advisor, has tripled the market.*
David and Tom just revealed what they believe are the 10 best stocks for investors to buy right now... and Intel wasn't one of them! That's right -- they think these 10 stocks are even better buys.
Click here to learn about these picks!
*Stock Advisor returns as of May 1, 2017
Ashraf Eassa owns shares of Intel. The Motley Fool recommends Intel. The Motley Fool has a disclosure policy.