Intel Corp. Officially Outs Apollo Lake for Cheap PCs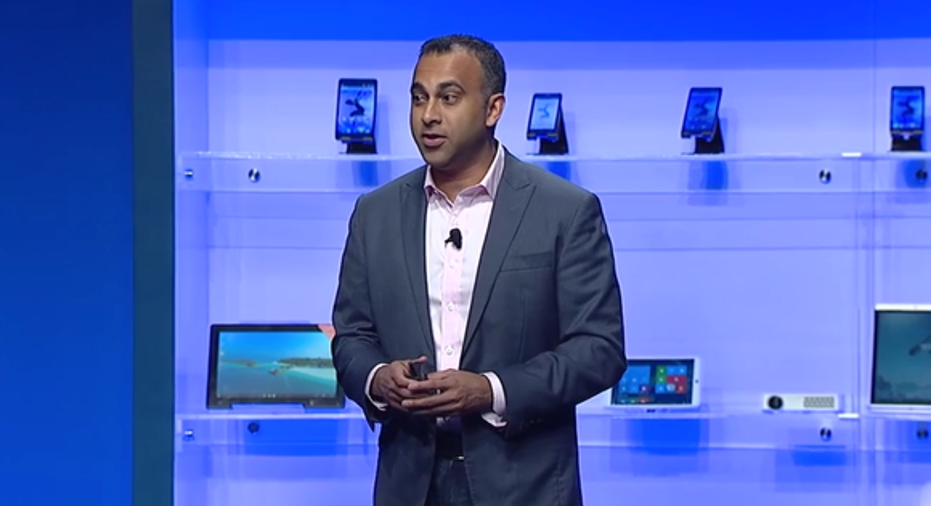 Intel PC chief, Navin Shenoy. Image credit: screen-capture from Intel video.
Since 2013, Intel has been more aggressive about developing processors and platforms that effectively target low-cost personal computers using its Atom architecture. One way for Intel to try to stabilize falling PC sales is to try to bring more value to systems at even lower price points in an attempt to capture as much incremental demand as possible.
At the Intel Developer Forum in Shenzhen, China, Intel announced its newest low-cost PC platform known as Apollo Lake. Let's take a look at what this product could mean for Intel's business.
Improved performance and powerIn 2013, Intel released a platform known as Bay Trail targeted at low-cost notebooks and desktops. This part brought a new architecture and a transition to Intel's newer 22-nanometer FinFET manufacturing technology, allowing for substantial improvements in performance/power/features over the company's prior efforts.
This product family also allowed Intel to gain significant share at the low-end of the PC market while still maintaining strong gross profit margins.
Intel followed up Bay Trail with a product known as Braswell, which essentially amounted to a move of Bay Trail to the newer 14-nanometer process. Braswell wound up delivering graphics performance enhancements over Bay Trail, but CPU performance proved to be underwhelming. All told, it doesn't look like Braswell was really an impressive successor to Bay Trail.
Apollo Lake, on the other hand, should be much more impressive. Intel says that both graphics and CPU performance improve (thanks to a transition to new graphics and CPU architectures) over the prior generation. This, in my mind, is the "true" successor to Bay Trail.
Lower system costsIn a technical presentation hosted at the Intel Developer Forum, Intel highlighted the numerous platform-level cost saving opportunities that the Apollo Lake platform brings over "previous gen" (which in this case I would assume is Braswell).
Image credit: Intel.
Thanks to the improved energy efficiency and higher levels of integration of the Apollo Lake platform, Intel claims that in aggregate, system makers can see their costs reduced anywhere from $5.55 to more than $7.45.
Although saving a couple of dollars at the platform level in aggregate may not seem like much, keep in mind that we're talking about systems that are aimed to be sold at under $350 at retail -- sometimes well below that.
Those cost savings can either be used to cut costs further (to help boost demand), improve the quality of the devices sold at a given price-point/margin level, or to improve margins to the device vendor at a given price level.
Given how fiercely competitive the PC market is, I expect that system vendors will do the first and the third, and not so much the second.
What does this mean for Intel stock?At the end of the day, Intel wins when it can either:
Sell higher average selling price/margin products to its customers;
Sells product in greater volumes.
I think Apollo Lake should enable a bit of both. By helping to, perhaps significantly, improve the quality of low-cost systems, Intel and its system partners might be able to stabilize low-end PC volume to some extent with this platform.
Perhaps more importantly, though, I would imagine that Intel may be able to slightly increase average selling prices of Apollo Lake versus, say, Bay Trail or Braswell. The cost savings that all of the added integration can deliver is significant, and I expect much of it to get passed on to the customer (in this case the PC maker), but I also think Intel wants to get paid for the additional value brought here.
So, if Apollo Lake is able to save about $6 on the bill of materials cost of a system, I could see Intel increasing selling prices by about $1-2, and allowing the system vendor to save on the other $4. In this case the major stakeholders win.
The article Intel Corp. Officially Outs Apollo Lake for Cheap PCs originally appeared on Fool.com.
Ashraf Eassa owns shares of Intel. The Motley Fool recommends Intel. Try any of our Foolish newsletter services free for 30 days. We Fools may not all hold the same opinions, but we all believe that considering a diverse range of insights makes us better investors. The Motley Fool has a disclosure policy.
Copyright 1995 - 2016 The Motley Fool, LLC. All rights reserved. The Motley Fool has a disclosure policy.