Integrated Device Technology Stock Upgraded: 3 Things You Need to Know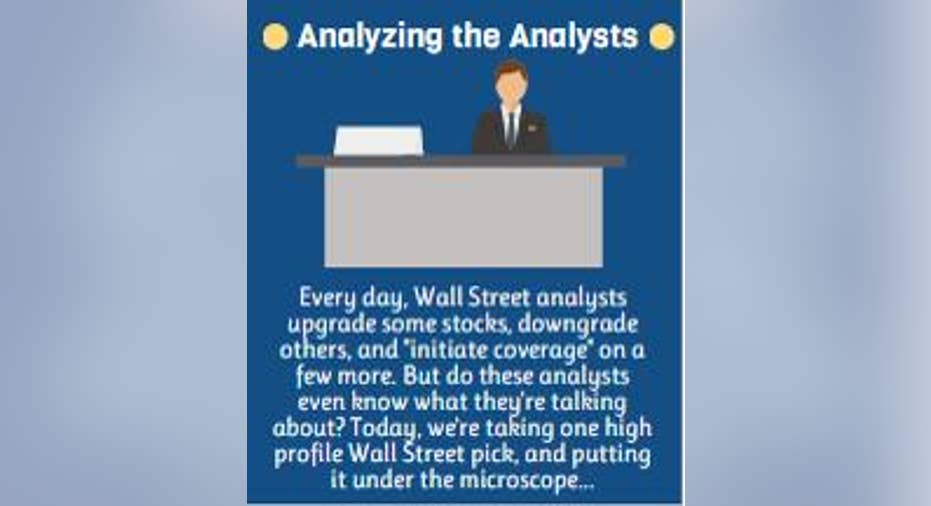 In the six trading days since Integrated Device Technology reported its fiscal 2016 earnings, the stock has gained a total of 10%.But most of that gain didn't come in response to the earnings report (the company beat on both revenue and earnings, by the way). Most of the gain came just this morning -- when Bank of America/Merrill Lynch upgraded the stock.
Clearly, investors have not been paying attention to this stock -- one of three that my fellow Fool Sean Williams profiled a few months back as a "cheap growth stock" that was poised to pop.
Now that it has popped, and now that the investment bankers have noticed it, maybe it's time for the rest of us to take a closer look? Here are three things you should know about Integrated Device Technology.
IDT develops low-power, high-performance mix-signal computer chips for cloudy computing, communications, electronic devices -- and cars.
Thing No. 1: What's bigger, what's better
Integrated Device Technologies develops low-power, high-performance mix-signal computer chips for cloud computing, communications, electronic devices, and cars. It broadly breaks down its business into just two major divisions, however: communications, and computing and consumer. According to data from S&P Global Market Intelligence, computing and consumer is the larger of the two divisions, but communications is the more profitable, earning 38.4% operating profit margins through the first three quarters of fiscal 2016.
Thing No. 2: What's growing
The breakdown between those two divisions wasn't fully sketched out in IDT's earnings report last week, but the company did confirm that companywide revenue grew 22%, and net profits more than doubled. Earnings per diluted share for the fiscal year were $1.32, up from $0.61 per share in fiscal 2015.
Thing No. 3: What Merrill Lynch predicts
Most analysts who follow IDT stock predict that earnings will keep on growing at about 19% annually over the next five years. According to a write-up on TheFly.com, Merrill Lynch in particular believes that sales of semiconductors to data centers will "show upside" in the second half of the current fiscal year 2017.
My Foolish colleague Sean Williams adds that IDT's newly acquired automotive chips subsidiary, ZMDI, should produce profit margins above what IDT was earning prior to the acquisition. And Merrill Lynch echoes the sentiment, predicting that the ZMDI business will chart a path for "new diversified growth" for the company.
The most important thing
After digging into the financials at IDT, Merrill Lynch has concluded that the stock is a buy, and assigned a $26 price target to Integrated Device Technology stock. What are the chances that it's right?
According to data from Motley Fool CAPS, our patented analyst-tracking machine here at the Fool, Merrill Lynch is one of the top-rated analysts in the world, outperforming nearly 95% of the investors we track. (Sean, by the way, outperforms more than 99% of competing investors!)
That alone provides a strong argument for following Merrill's lead on IDT, and the company's own numbers also support the buy thesis. Priced today at 21.6 times earnings, and expected to grow those earnings at 19%, IDT boasts a PEG ratio of just 1.1 -- and was verging on the magic 1.0 ratio just before its price popped in response to Merrill Lynch's upgrade.
What's more, IDT management is targeting a long-term goal of producing "30 percent annual free cash flow" margins on its revenue. At its current revenue run-rate of $666 million, that works out to $200 million in annual free cash flow, which would be enough to drop its price-to-free-cash-flow ratio to less than 15 -- very attractive for a 19% grower.
Mind you, IDT hasn't yet released a cash flow statement for the last fiscal year, so we don't know yet whether the company has reached its goal yet. But fiscal 2015 results showed the company generating a 27% free cash flow margin, and as of Q3 2016, IDT had already grown that to nearly 29% -- so it's certainly moving in the right direction, and its goal is within reach.
Merrill Lynch thinks IDT will get there. So do I.
The article Integrated Device Technology Stock Upgraded: 3 Things You Need to Know originally appeared on Fool.com.
Fool contributorRich Smithdoes not own shares of, nor is he short, any company named above. You can find him onMotley Fool CAPS, publicly pontificating under the handleTMFDitty, where he's currently ranked No. 291 out of more than 75,000 rated members.The Motley Fool has no position in any of the stocks mentioned. Try any of our Foolish newsletter services free for 30 days. We Fools may not all hold the same opinions, but we all believe that considering a diverse range of insights makes us better investors. The Motley Fool has a disclosure policy.
Copyright 1995 - 2016 The Motley Fool, LLC. All rights reserved. The Motley Fool has a disclosure policy.