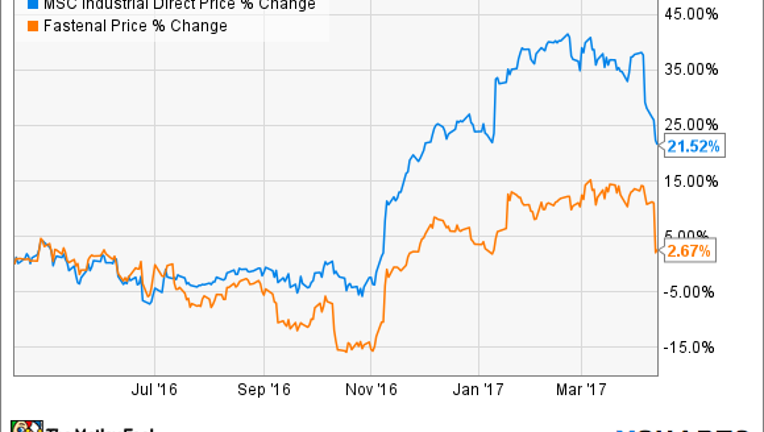 What happened?
Industrial supply company Fastenal Company (NASDAQ: FAST) recently reported its first-quarter earnings, and in common with its peer MSC Industrial Direct Co Inc (NYSE: MSM), the company beat sales expectations in the quarter. However, also like MSC Industrial, the stock sold off heavily post earnings.
Does it matter?
There are three separate reasons that Fastenal's earnings are significant. First, industrial supply companies are early indicators of a pickup in manufacturing and nonresidential construction activity. As you can see below, Fastenal's daily sales growth, in both sectors, has improved markedly in recent months -- a good sign for the industrial sector.
Data source: Fastenal Company presentations. Chart shows year-over-year growth.
Second, while sales were good, Fastenal's results mimicked MSC Industrial's in the sense that pricing and margin were somewhat disappointing.When a cyclical company sees its sales turning, it's reasonable to expect prices to increase and margin to improve -- translating into strong profit growth. However,MSC Industrial's management sees the pricing environment as still "challenging" and the "modest" pricing increase implemented in February is not expected to be material to its upcoming quarter.
Meanwhile, Fastenal's gross margin declined to 49.4% from 49.8% in last year's first quarter. Furthermore, operating income margin declined to 20.3% from 20.4%. Sure, Fastenal met earnings-per-share expectations, but that was due to sales being better than expected rather than margin expansion.
Finally, the strong market reaction to both sets of earnings is perhaps a sign that industrial valuations are a little stretched right now and optimism of a recovery in U.S. industrial production is largely baked into stock valuations.
Image source: Getty Images.
What it means
If you are a long-term investor and focused on the fundamentals of both stocks, and there was nothing in the earnings to make you materially change your investment case, then the initial sell-off is not something you should unduly worry about. Pricing and margin are concerns at both companies, but it's probably too soon in the cycle to make any firm conclusions, as the recovery is still in its early stages.
If you are looking at MSC Industrial's and Fastenal's sales data from a broader market perspective, then it's a further confirmation that U.S. manufacturing and nonresidential end markets have entered 2017 in good shape -- and that's good news.
10 stocks we like better than FastenalWhen investing geniuses David and Tom Gardner have a stock tip, it can pay to listen. After all, the newsletter they have run for over a decade, Motley Fool Stock Advisor, has tripled the market.*
David and Tom just revealed what they believe are the 10 best stocks for investors to buy right now... and Fastenal wasn't one of them! That's right -- they think these 10 stocks are even better buys.
Click here to learn about these picks!
*Stock Advisor returns as of April 3, 2017
Lee Samaha has no position in any stocks mentioned. The Motley Fool owns shares of and recommends MSC Industrial Direct. The Motley Fool has a disclosure policy.