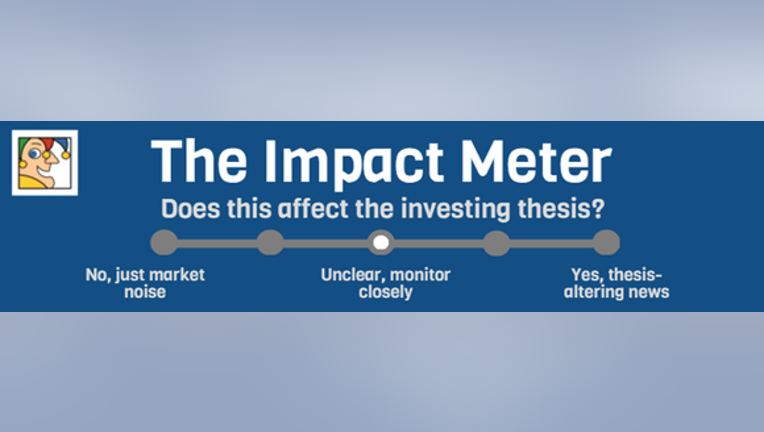 Although the initial outlook for Chipotle Mexican Grill was bleak following an outbreak offood borne illnesses at its restaurants, the company's response, including the latest case, has won praise.
What happened?Chipotle Mexican Grill closed a Billerica, Mass. restaurant after it was confirmed that at least one and possibly several employees became ill with norovirus. No customer cases have been reported as of this writing.
Does it matter?It was norovirus, as well as an outbreak of E. coli at Chipotle restaurants across the country late last year that caused the Mexican food chain to lose a third of its value and suffercomparable-store sales declinesof 30% in December.
Chipotle shares had just begun to recover when the latest case caused investors to panic earlier this week -- its stock lost 6% of its value before finally closing the day down just 3.5%.
The incident shows just how fragile Chipotle's position is now, but the restaurant has won praise for the urgency it showed as management moved to contain the problem. Chipotle quickly shut down the restaurant and cleaned it with local health officials giving it a clean bill of health to reopen on Thursday.
The case also gave the restaurant a chance to test the new response system it put into place after last year's fiasco, although even federal authorities have been unable to identify the original source of E. coli. Yet those incidents also led federal investigators to open a criminal probe into the outbreaks, with an eye on how corporate management handled the cases, perhaps looking at what did it know and when did it know it.
Other restaurants, including Buffalo Wild Wings, have reported cases of norovirus without serious fallout, with at least three people confirmed to have the virus at one of the wings-and-beer chain's Kansas City restaurants. The U.S. Centers for Disease Control & Prevention says some 19 million to 21 million people a year contract norovirus.
Costcoalso had a serious foodborne illness outbreak with a string of E. coli cases that caused five people to be hospitalized and two suffering kidney failure. It was traced back to contaminated celery that was also sold to major grocery store chains includingSafeway, Target, and Wal-Mart.
There may have been a certain amount of schadenfreude for Chipotle Mexican Grill as the company markets itself as selling "food with integrity", but unless federal authorities find some smoking gun in its corporate communications, the restaurant operator should bounce back from the incidents, though the most recent case illustrates just how tenuous any comeback can still be.
The article Instant Analysis: The Absolute Last Thing Chipotle Mexican Grill Inc. Needs Right Now originally appeared on Fool.com.
Rich Duprey has no position in any stocks mentioned. The Motley Fool owns shares of and recommends Buffalo Wild Wings, Chipotle Mexican Grill, and Costco Wholesale. Try any of our Foolish newsletter services free for 30 days. We Fools may not all hold the same opinions, but we all believe that considering a diverse range of insights makes us better investors. The Motley Fool has a disclosure policy.
Copyright 1995 - 2016 The Motley Fool, LLC. All rights reserved. The Motley Fool has a disclosure policy.