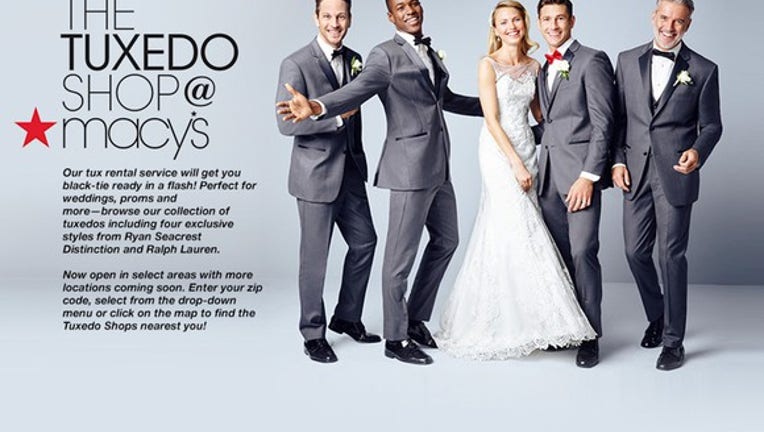 What happened?
Tailored Brands (NYSE: TLRD) will no longer operate its tuxedo rental service in Macy's (NYSE: M) stores. The two companies announced in a joint press release that they are ending the collaboration, a recent one that was established last June.
In the press release, Tailored Brands' CEO Doug Ewert said, "[U]nfortunately, the initiative did not generate the revenue that both companies had envisioned. We believe it is in the best interest of our company and our shareholders to wind down the partnership."
Image source: Macy's
As for Macy's, the retailer's chief merchandising officer Tim Baxter put a positive spin on the development, saying, "[W]hile the partnership did not produce the level of sales we expected, we will continue to benefit from the insights we gathered."
Does it matter?
Tailored Brands -- best known for operating the Men's Wearhouse and Jos. A. Bank menswear chains -- and Macy's are not wasting time in their divorce. The Tuxedo Shops will take reservations only until June 1, and operations will wind down on July 14, according to the two companies.
I'd say the split is a modestly positive development for Tailored Brands, and a slightly negative one for Macy's. Subsequent to the announcement, the former company said it would book a one-time charge of around $17 million on the wind-down. Which is acceptable, as it wasn't a profitable endeavor -- Tailored Brands admitted that the business will post an operating loss of $7 million to $8 million for the company's fiscal year 2017.
As far as Macy's is concerned, given the company's declining sales, it could use all the services it can get. Tuxedo rental isn't a huge business, but at certain times -- like the upcoming wedding/prom season -- it does bring people into stores. This isn't a good time for the struggling retailer to face a decline in visitor numbers, no matter how modest.
10 stocks we like better than Macy'sWhen investing geniuses David and Tom Gardner have a stock tip, it can pay to listen. After all, the newsletter they have run for over a decade, Motley Fool Stock Advisor, has tripled the market.*
David and Tom just revealed what they believe are the 10 best stocks for investors to buy right now... and Macy's wasn't one of them! That's right -- they think these 10 stocks are even better buys.
Click here to learn about these picks!
*Stock Advisor returns as of May 1, 2017
Eric Volkman has no position in any stocks mentioned. The Motley Fool has no position in any of the stocks mentioned. The Motley Fool has a disclosure policy.