Instant Analysis: How Will Facebook's Oculus Rift Price Cut Affect the Virtual Reality Market?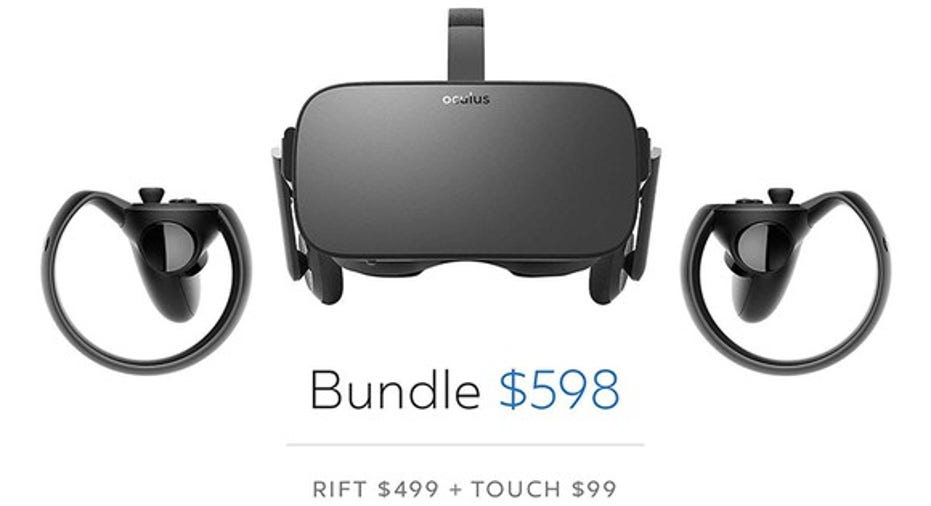 Facebook (NASDAQ: FB) has implemented price reductions for its Oculus Rift virtual reality hardware, reducing the cost of the headset by $100 (now $499) and the bundle featuring the platform's Touch controllers by $200 (now $598). The price for separate Touch controllers has also been reduced from $199 to $99, and the cost for an additional Rift sensor has dropped from $79 to $59.
The markdowns come on the heels of disappointing sales for the platform, and are the first major price reductions for the high-end VR device. HTC's (NASDAQOTH: HTCXF) Vive platform, not itself a great success, has shipped somewhere in the neighborhood of 420,000 units, and reports suggest that the Vive (which is priced at $800 for the headset and controllers) has sold roughly twice as many units as the Rift. HTC has said that it does not see a need to cut the price of the Vive in response to the markdowns for Rift hardware.
Image source: Oculus.
Does it matter?
Price cuts for the Rift and its supplementary hardware probably won't spur a sizable, sustained sales uptick, but they do point to a broader trend of virtual reality devices becoming less expensive this year. Companies including Lenovo, HP, and Dell will be launching mid-range headsets for Microsoft's (NASDAQ: MSFT) Windows Holographic platform -- with prices starting in the $300 range. These products will be compatible with a wider range of PCs and are likely to put pressure on Facebook's and HTC's VR hardware offerings.
While HTC has stated that it has no plans for a Vive price cut, sales of the device have slowed dramatically since its April 2016 launch, and it's reasonable to expect that the company will reduce the cost of its VR hardware this year in response to new market dynamics.
Both the Rift and the Vive require powerful PCs to run, so price will remain a significant barrier to mainstream adoption of high-end virtual reality headsets even as prices fall this year. There's also a shortage of standout software to drive sales of Facebook's and HTC's respective VR platforms, so low-cost headsets from Samsung and Alphabet and mid-range solutions like the Windows Holographic devices will likely continue to gain market share.
10 stocks we like better than MicrosoftWhen investing geniuses David and Tom Gardner have a stock tip, it can pay to listen. After all, the newsletter they have run for over a decade, Motley Fool Stock Advisor, has tripled the market.*
David and Tom just revealed what they believe are the 10 best stocks for investors to buy right now...and Microsoft wasn't one of them! That's right -- they think these 10 stocks are even better buys.
Click here to learn about these picks!
*Stock Advisor returns as of February 6, 2017.
Suzanne Frey, an executive at Alphabet, is a member of The Motley Fool's board of directors. Teresa Kersten is an employee of LinkedIn and is a member of The Motley Fools board of directors. LinkedIn is owned by Microsoft. Keith Noonan has no position in any stocks mentioned. The Motley Fool owns shares of and recommends Alphabet (A and C shares), and Facebook. The Motley Fool has a disclosure policy.