Instant Analysis: How Google Is Killing Big Telecom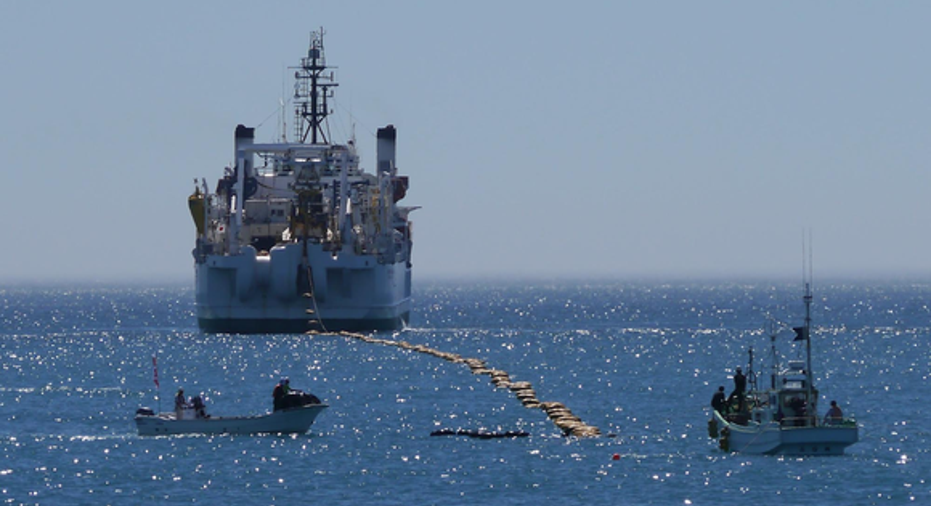 Ships finishing the job of laying a new high-speed Internet cable between the U.S. and Japan. Image source: Google.
Last week, Alphabet subsidiary Google teamed with partners to activate an undersea fiber optic cable connecting the U.S. and Japan. It's the latest in a series of efforts the company has made to control access to high-speed bandwidth for serving customers around the globe.
"We'll use this capacity to support our users, including Google Apps and Cloud Platform customers. This is the highest-capacity undersea cable ever built -- about ten million times faster than your average cable modem -- and we're beaming light through it starting today," wrote Alan Chin-Lun Cheung of Google's Submarine Networking Infrastructure team in a June 29 blog post.
In addition to having the division with perhaps the coolest name in all of tech, Google's team worked with actual submariners employed by Japan's NEC Corporation, which did the hard work of stretching cable across the Pacific deep to deliver 60 Tbps of bandwidth. Google gets access to 10 Tbps of that for serving premium customers throughout Asia.Google started laying cable in the Pacific in 2008. That first project -- dubbed the "Unity cable" -- went live in 2010.
Other partners in the FASTER Consortium that funded the new connection to Japan include China Mobile, China Telecom, Global Transit, KDDI, and Singtel.
Does it matter?
For investors, it's not what FASTER will do, but what it represents that matters. Google has a global audience and a potential user base numbering billions. To serve them all well, the company would either have to buy bandwidth from local suppliers in the regions where they have customers, or build its own high-bandwidth networks and bypass telecoms. Google executives have decided the latter is a better strategy, and they're probably right.
Vertical integration is a proven strategy for reducing per-unit costs when operating in a high-volume business. It's why Apple buys memory in bulk and controls not only the design but also the production of every part that goes into its devices. To this day, Apple has the best margins in its peer group, as defined by S&P Capital IQ.
We'll need years to know whether Google gets the same benefits from owning bandwidth that Apple gets from owning hardware inventory. In the meantime, telecoms hoping to benefit from the rising data needs of Google's customers may have to find growth elsewhere.
The article Instant Analysis: How Google Is Killing Big Telecom originally appeared on Fool.com.
Suzanne Frey, an executive at Alphabet, is a member of The Motley Fool's board of directors. Tim Beyers owns shares of Alphabet (A and C shares) and Apple. The Motley Fool owns shares of and recommends Alphabet (A and C shares) and Apple. The Motley Fool has the following options: long January 2018 $90 calls on Apple and short January 2018 $95 calls on Apple. The Motley Fool recommends China Mobile. Try any of our Foolish newsletter services free for 30 days. We Fools may not all hold the same opinions, but we all believe that considering a diverse range of insights makes us better investors. The Motley Fool has a disclosure policy.
Copyright 1995 - 2016 The Motley Fool, LLC. All rights reserved. The Motley Fool has a disclosure policy.