Instant Analysis: Facebook's Oculus Rift Is Coming To Best Buy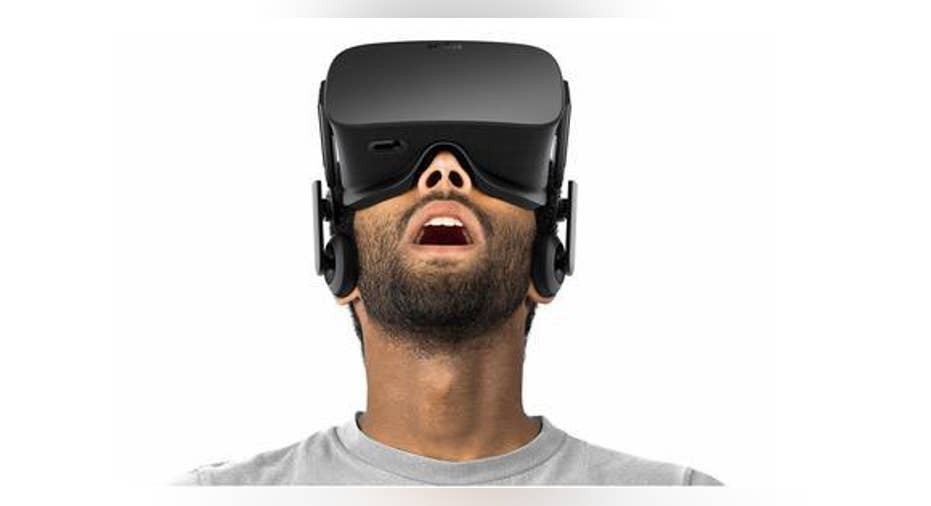 Facebook 's Oculus Rift is widely considered the first major hardware launch of the fledgling virtual reality market, but consumers have had a tough time getting their hands on one. Oculus VR started shipping the device on March 28, but many customers who pre-ordered the $600 device haven't received it yet. Meanwhile, mainstream customers haven't had a chance to try out the device before buying.
Oculus Rift. Image source: Oculus VR.
That could all change after Facebook brings the Oculus Rift to 48 Best Buy stores on May 7 as part of Intel's"Intel Experience" showcase. Customers can purchase the headsets directly at Best Buy, but Oculus warns that "quantities will be extremely limited" because it needs to "catch up" on online pre-orders. But if customers who pre-ordered a Rift online buy one at Best Buy, Oculus will cancel the online order. Oculus plans to bring the device to additional stores later this summer.
Reaching mainstream consumersSome eager early adopters might be able to buy the Rift at Best Buy, but Facebook likely hopes to use the brick-and-mortar stores to demonstrate the technology to more mainstream consumers. If only hardcore gamers and tech enthusiasts buy the Rift, it's unlikely that the VR market can grow from nothing today to an $80 billion market by 2025, as Goldman Sachs predicts. Facebook would also struggle to convince developers to create apps for its Oculus Home ecosystem.
This isn't the only way Facebook is trying to generate mainstream awareness of VR devices. It added interactive 360-degree videos to its News Feed last year, and recently unveiled a reference design for a high-end 360-degree video camera. These moves could convince content creators to produce more VR content which can be viewed in the Rift and other headsets.
What does this mean for investors?Piper Jaffray optimistically estimates that Facebook could sell 3.6 million Rifts this year, which could generate $2.16 billion revenue, or about 8% of its estimated sales for 2016. But the device's high price tag, initial shipment delays, and limited audience of hardcore gamers indicate that it could struggle to meet that forecast.
Therefore, investors should monitor how well Oculus Rift headsets perform in Best Buy stores, and whether or not they can turn VR into the next computing platform, as CEO Mark Zuckerberg previously predicted.
The article Instant Analysis: Facebook's Oculus Rift Is Coming To Best Buy originally appeared on Fool.com.
Leo Sun has no position in any stocks mentioned. The Motley Fool owns shares of and recommends Facebook. The Motley Fool recommends Intel. Try any of our Foolish newsletter services free for 30 days. We Fools may not all hold the same opinions, but we all believe that considering a diverse range of insights makes us better investors. The Motley Fool has a disclosure policy.
Copyright 1995 - 2016 The Motley Fool, LLC. All rights reserved. The Motley Fool has a disclosure policy.