Instant Analysis: Dover Corp's Outlook Suggests Oil and Gas Capital Spending Is in Recovery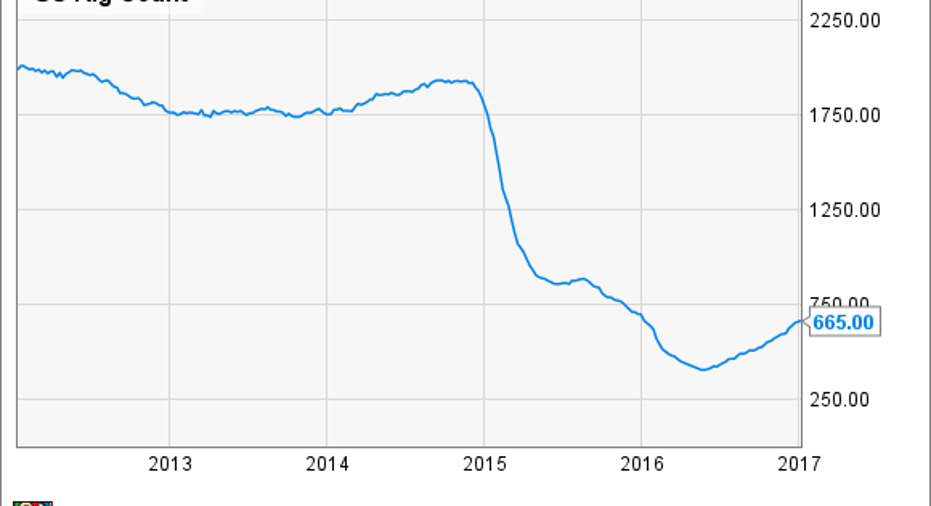 Image source: Getty Images.
What happened?
Dover Corp(NYSE: DOV) gave an investor presentation on Thursday confirming its 2016 guidance for EPS in the range of $3 to $3.05 and also initiating its 2017 outlook. It was a broadly positive, but not spotless, outlook, and investors in companies like General Electric Company (NYSE: GE) and AZZ Inc (NYSE: AZZ) can take heart from what was said about upstream oil spending.
Focusing on the 2017 guidance from Dover Corp:
Revenue growth in the range of 10% to 12% is ahead of analyst estimates for 10%.
Organic revenue growth of 3% to 5%.
Diluted EPS in the range of $3.40 to $3.60 is below analyst estimates for $3.64.
While the earnings guidance is shy of analyst consensus, it's also important to focus on management's commentary:
Early cycle oil markets (drilling and artificial lift, representing 9.5% of forecast 2017 revenue) are seeing an encouraging "start of a recovery."
Printing and ID (around 13.6%) is experiencing "continued strong activity."
Later cycle oil and gas markets remain soft.
Management referred to "ongoing challenges in retail refrigeration" (14.5%).
Does it matter?
It's marginally positive for Dover Corp, but definitely positive for GE. On the plus side, the positive news of early-cycle oil and gas -- where Dover competes with GE -- is a reflection of the recovery in the U.S. rig count. Moreover, investors shouldn't be overly concerned with soft conditions in later-cycle markets such as automation (where GE also competes), because it usually follows a recovery in early-cycle spending.
U.S. Rig Count data by YCharts.
Investors might want to look at AZZ Inc, whose recent results were hit by weaker-than-expected oil and gas spending and the impact it's having on its galvanizing segment. If Dover's outlook is an accurate guide, then AZZ could eventually see a pull-through as oil producers start spending on galvanizing again, rather than merely using rigs stacked as a consequence of the slowdown. In other words, AZZ's post-earnings stock price dip could be a buying opportunity.
Turning back to Dover, on a less positive note, the difficulties in retail refrigeration -- largely due to production difficulties caused by an increase in customers -- haven't abated yet, and management's forecast for 0% to 2% growth mirrors the weak outlook given by competitors.
Looking ahead, investors will want to see Dover's energy segment hit its organic revenue growth target range of 13% to 16% for 2017 -- based on an assumption for an average U.S. rig count of 680 to 700 -- and some signs that the production difficulties in retail refrigeration are being dealt with.
10 stocks we like better than Dover When investing geniuses David and Tom Gardner have a stock tip, it can pay to listen. After all, the newsletter they have run for over a decade, Motley Fool Stock Advisor, has tripled the market.*
David and Tom just revealed what they believe are the 10 best stocks for investors to buy right now...and Dover wasn't one of them! That's right -- they think these 10 stocks are even better buys.
Click here to learn about these picks!
*Stock Advisor returns as of January 4, 2017.
Lee Samaha has no position in any stocks mentioned. The Motley Fool owns shares of General Electric. The Motley Fool recommends Azz. The Motley Fool has a disclosure policy.