Instant Analysis: Domino's Pizza Inc. Launches a Delivery Robot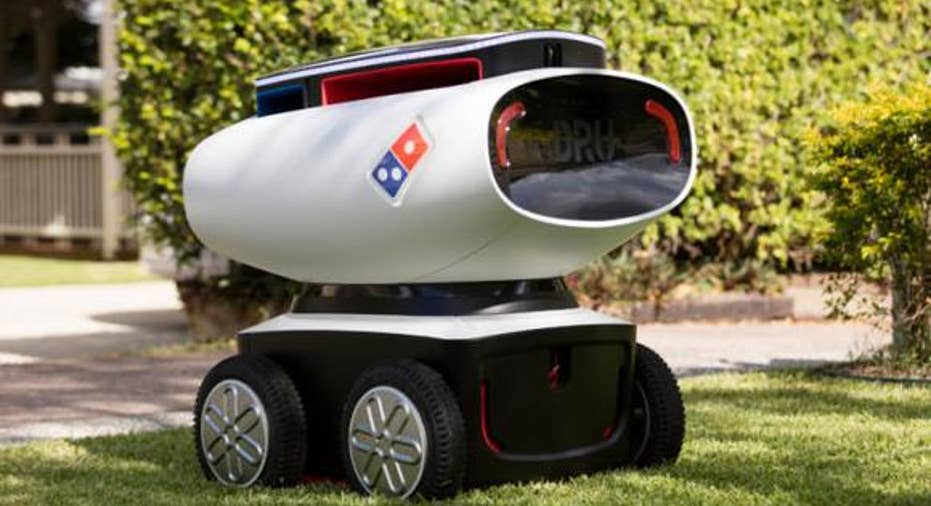 Domino's Pizza 's Australian arm recently deployed the world's first pizza delivery robot. The unit, dubbed the DRU (Domino Robotic Unit), can autonomously follow a map, navigate sidewalks, and avoid obstacles while keeping a pizza hot with a built-in heater. In a press release, Domino's Group CEO Don Meij called DRU "cheeky and endearing," and said the company is confident that it will one day "become an integral part of the Domino's family."
Source: Domino's Pizza.
A gimmick or a glimpse of the future?Domino's has been testing out the DRU in Queensland, Australia, where the company obtained special permissions to operate the autonomous robot on city streets. The robot was manufactured by Marathon Robotics, a company which built its business on selling moving robotic targets to law enforcement and the military for target practice.
Although the DRU seems like a marketing gimmick, Meij emphasized that the prototype was "only the first step" in developing a "range of innovations set to revolutionize the entire pizza-ordering experience." Domino's investors probably recall some of those previous innovations, which include ordering with tweets, paying with text messages, and placing voice orders from smart TVs, Xbox One consoles, smartwatches, and other connected devices. Last November, it even launched a physical button in the U.K. which enabled customers to order their favorite pizza with thepress of a button.
It's hard to gauge the market impact of these initiatives, but Domino's claimed that nearly half of its international sales came from itsdigital channels last quarter. These initiatives also generated plenty of press coverage for Domino's, and reinforced its reputation as a tech-savvy pizza maker.
Following Amazon's leadDomino's interest in robotics and one-click ordering solutions bear a strong resemblance to Amazon's strategy with warehouse robots, autonomous drones, connected buttons, and appliances that reorder products online.If those initiatives flourish, Amazon could slash expenses by replacing human workers with robots and drones, while making it easier for customers to mindlessly order products online.
If Domino's strategies similarly pay off, it could encourage customers to order more pizza, and require fewer drivers to deliver it. It's impossible to gauge the long-term impact of Domino's delivery robots until more of them arrive, but it's definitely a topic investors should closely monitor.
The article Instant Analysis: Domino's Pizza Inc. Launches a Delivery Robot originally appeared on Fool.com.
Leo Sun owns shares of Amazon.com. The Motley Fool owns shares of and recommends Amazon.com. Try any of our Foolish newsletter services free for 30 days. We Fools may not all hold the same opinions, but we all believe that considering a diverse range of insights makes us better investors. The Motley Fool has a disclosure policy.
Copyright 1995 - 2016 The Motley Fool, LLC. All rights reserved. The Motley Fool has a disclosure policy.