Instant Analysis: Alphabet Releases Android N Developer Preview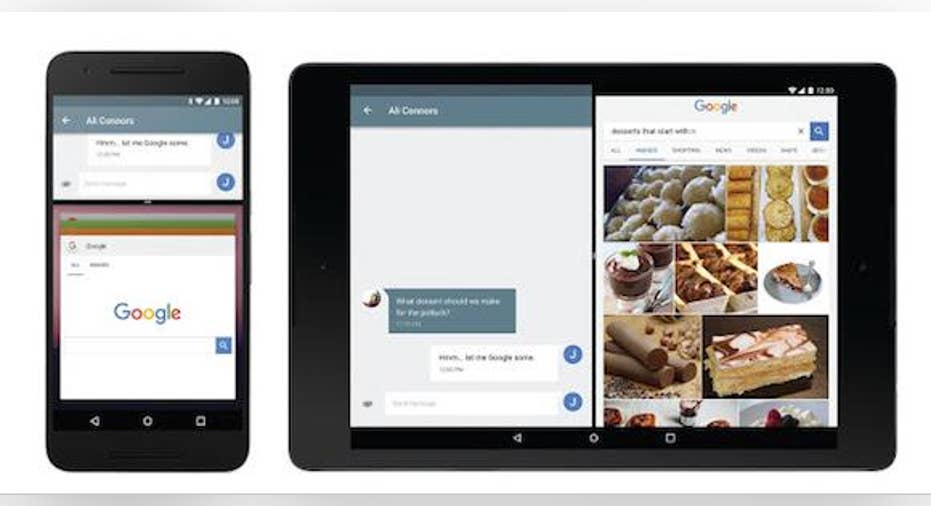 Image source: Google.
What happened?In an unexpected move, Alphabet has gone ahead and released a developer preview of its next major version of Android, code-named N. The company typically makes the developer preview available at its I/O developer conference, which takes place in May and just opened for registration. The Android N developer preview will only be available on Nexus devices for the time being.
The most notable new feature is the addition of split-screen multitasking, which Apple also recently added to iOS 9. Both Nexus phones and tablets will be able to utilize this new feature, while only iOS tablets with sufficient RAM support Apple's Split View. Google is also improving notifications and overall system efficiency.
Does it matter?Split-screen multitasking is incredibly important for productivity use cases, and as both Apple and Alphabet continue to push deeper into the enterprise, the importance of true split-screen multitasking can't be understated.
Google is also releasing the preview early to get a head start on developing a version for OEMs, which have long been a bottleneck to software updates (along with carriers). According to the latest official count, the latest Android Marshmallow released last year is installed on just 2.3% of Android devices. Android Lollipop, released in 2014, is the dominant version right now, at 36% of devices.
We still don't know what dessert-themed moniker N will carry, though.
The article Instant Analysis: Alphabet Releases Android N Developer Preview originally appeared on Fool.com.
Suzanne Frey, an executive at Alphabet, is a member of The Motley Fool's board of directors. Evan Niu, CFA owns shares of Apple. The Motley Fool owns shares of and recommends Alphabet (A shares), Alphabet (C shares), and Apple. Try any of our Foolish newsletter services free for 30 days. We Fools may not all hold the same opinions, but we all believe that considering a diverse range of insights makes us better investors. The Motley Fool has a disclosure policy.
Copyright 1995 - 2016 The Motley Fool, LLC. All rights reserved. The Motley Fool has a disclosure policy.