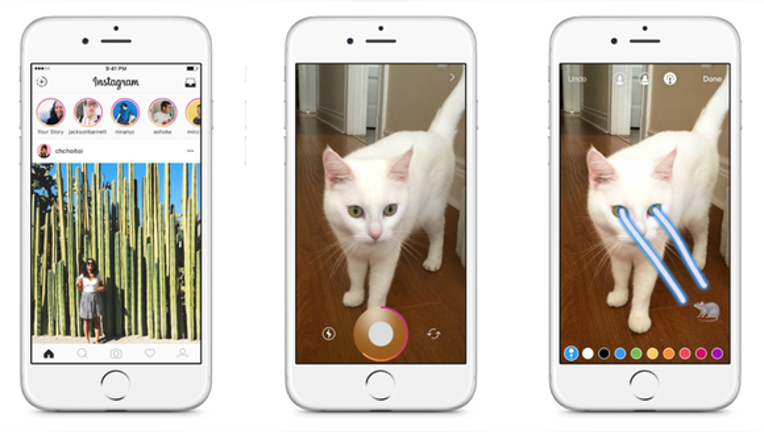 Instagram Stories launched in August. Image source: Instagram.
Let's go back in time for a moment.
A year after Facebook (NASDAQ: FB) acquired Instagram for $1 billion in 2012, which was a mind-boggling price tag at the time, the photo-sharing service was still fairly small in terms of its user base. At the time of acquisition, Instagram had merely 30 million registered users (to say nothing of how active they were). Nearly a year later, Instagram announced that it had hit 100 million monthly active users (MAUs) in February 2013. That put its MAU base at less than half of Twitter's (NYSE: TWTR), which closed out that quarter with 204 million MAUs worldwide.
Instagram has been utterly crushing it in the years since, and $1 billion turned out to be quite a steal. Facebook actually got an even better deal than that, as the final price tag ended up falling to $715 million by the time the acquisition closed due to market fluctuations, as a significant portion of the deal consisted of stock. Instagram doesn't provide regular updates on its MAU base with the same frequency as its parent company, instead only disclosing new milestones occasionally on its blog.
The service has just announced that it now has 600 million MAUs, while Twitter had 317 million MAUs at the end of the third quarter (Twitter won't provide fourth-quarter user metrics until it reports earnings in early 2017). Once upon a time, Instagram's MAU base was half Twitter's -- now it's nearly twice as large.
Instagram MAU growth is accelerating
At a time when Twitter MAUs continue to stagnate and the company failed to sell itself, Instagram MAUs march ever higher. Instagram MAUs first overtook Twitter about two years ago. The MAU growth is nothing short of impressive.
Data sources: SEC filings and Instagram blog posts. Chart by author.
More importantly, it even appears that Instagram's MAU growth is accelerating. It took 13 months to grow from 100 million to 200 million; approximately nine months for each respective jump to 300 million, 400 million, and 500 million; while the last 100 million were added in less than six months.
Copying works
With the looming threat of Snapchat wooing away teenage users, Instagram has aggressively replicated many features of the growing social network that popularized ephemeral photo sharing. Most notably, the company released Instagram Stories in August, which is nearly identical to Snapchat Stories in every way. Instagram Stories disappear after 24 hours. Snapchat responded by copying a popular rewind feature that Instagram Stories offers.
The escalating back and forth replication is helping boost Instagram's MAU base as the net result is more popular features for users. And it has no signs of stopping, as Facebook continues to invest in live video and photo filters, another hallmark of Snapchat. Meanwhile, Twitter is still slowly adding new features to its own service, recently announcing live-streaming, in an effort to boost its own MAU metrics.
With Snap's IPO expected next year, 2017 will be an interesting year for social network competition.
Find out why Facebook is one of the 10 best stocks to buy nowMotley Fool co-founders Tom and David Gardner have spent more than a decade beating the market. (In fact, the newsletter they run, Motley Fool Stock Advisor, has tripled the market!*)
Tom and David just revealed their ten top stock picks for investors to buy right now. Facebook is on the list -- but there are nine others you may be overlooking.
Click here to get access to the full list!
*Stock Advisor returns as of November 7, 2016
Evan Niu, CFA owns shares of Facebook. The Motley Fool owns shares of and recommends Facebook and Twitter. Try any of our Foolish newsletter services free for 30 days. We Fools may not all hold the same opinions, but we all believe that considering a diverse range of insights makes us better investors. The Motley Fool has a disclosure policy.