Inside IPO ETFs: Cutting Through Implicit Sector Risk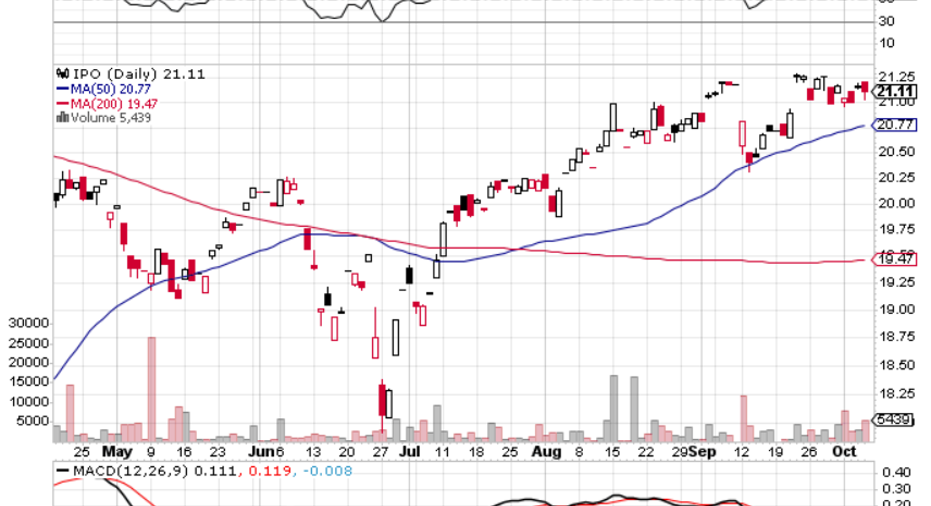 With the initial public offerings (IPO) market heating up, now could be an ideal time for investors to revisit exchange traded funds such as the First Trust US IPO Index Fund (NYSEArca: FPX) and the Renaissance IPO ETF (NYSEArca: IPO).
Stocks stay in IPO for a maximum of two years. FPX holds companies longer than that. IPO "is a portfolio of the largest, most liquid U.S.-listed newly public companies prior to their inclusion in core U.S. equity portfolios. IPOs that pass Renaissance Capital's formulated screening process are weighted by investable market capitalization, capped at 10% and removed after two years," according Renaissance Capital.
Related: IPO ETF Adds Ferrari
"IPO ETFs do cut some of the implicit sector risk, mostly by effective screening measures designed to keep the highest-risk companies out of the funds. But any money poured into an IPO, either directly or through a fund, brings with it a risk element most retail investors may not find palatable," reports TheStreet.com.
Due to its indexing flexibility that allows for the inclusion of some IPOs after their fifth day of trading, the Renaissance Capital ETF can move to add hot IPOs soon after they come to market. That was seen with Alibaba (NYSE: BABA) in 2014 and Line Corp. (NYSE: LN), the Japanese company behind the popular messaging app, earlier this year.
FPX has an international equivalent, the First Trust International IPO ETF (NasdaqGM: FPXI). Like FPX, FPXI includes spin-off and can hold constituent firms for up to 1,000 days after their IPOs. Potential new additions to the ETF's underlying "generally must have at least six full days of trading in order to enter the index on each rebalance," according to First Trust.
International IPO ETFs such as FPXI offer investors an advantage via the removal of the stock-picking burden. While that may not sound like the most attractive selling point, consider this: Most international IPOs and spin-offs have produced negative returns over the 12-, 24-, 36- and 48-month periods following their IPOs, the best performers have generated returns that have more than offset the losses from the laggards, according to First Trust.
SEE MORE: Technology ETFs Are Making a Strong Comeback
"The number of actual IPOs is down significantly in 2016, thus reducing the number of IPO investment opportunities for investors. According to Renaissance Capital, which operates the flagship Renaissance IPO ETF (IPO) , states there were 275 new IPOs in 2014, followed by 170 in 2015, and only 75 so far in 2016, through September 30. In January 2016, the market saw zero new IPOs – the weakest start to a new year for the sector since 2008," reports TheStreet.com.
Renaissance IPO ETF
The opinions and forecasts expressed herein are solely those of Tom Lydon, and may not actually come to pass. Information on this site should not be used or construed as an offer to sell, a solicitation of an offer to buy, or a recommendation for any product.
This article was provided by our partners at ETFTrends.