Inovio Pharmaceuticals' Next Zika Opportunity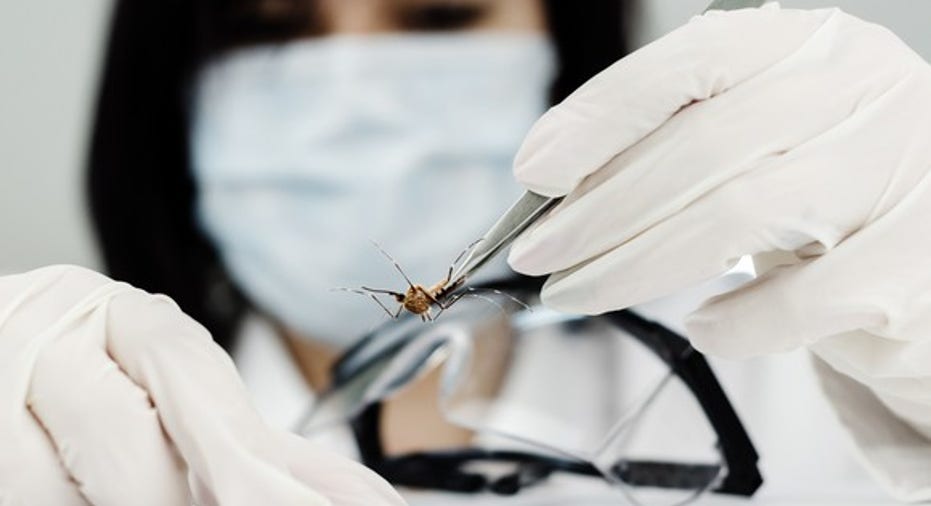 The World Health Organization (WHO) says that Zika no longer presents an international emergency. Slow down? NotInovio Pharmaceuticals(NASDAQ: INO). The biotech just announced its next move in the race to combat the Zika virus -- and Bill Gates is picking up the tab.
Image source: Getty Images.
Big money, short time frame
Inovio announced on Dec. 1 that it had been awarded a $6.1 million grant to develop aDNA-based monoclonal antibody to treat Zika infection. Technically, this was a sub-grant. The Bill and Melinda Gates Foundation funded a grant to The Wistar Institute to develop a Zika mononoclonal antibody therapy, and The Wistar Institute brought in Inovio for its DNA-based treatment expertise.
Inovio isn't the only partner for The Wistar Institute, which is an international biomedical research leader. Wistar's other team members for this project include Swiss antibody therapeutics developerHumabs Biomed and South Korean biotechGeneOne Life Sciences.
The clock is ticking already for the Wistar-led collaborators. Researchers have been challenged to develop a Zika DNA-based monoclonal antibody that is ready for human clinical testing within the next two years.
Why this approach -- and why Inovio?
Inovio and GeneOne have teamed up to develop a DNA-based vaccine for Zika, but this will be a significantly different effort. While the goal for vaccines is to provide long-term immunization,monoclonal antibody-based therapies would provide only immediate protection. The combination of the two approaches could be the ideal therapy for patients infected with the Zika virus.
There are some downsides associated with conventional monoclonal antibody approaches. The manufacturing process is typically complicated and expensive. Monoclonal antibodies also tend to have shorter half lives (the time required for the amount of a drug in the body to be reduced by one-half) and can have more difficult delivery methods such as intravenous or intramuscular injections.
Inovio's proprietary DNA-basedmonoclonal antibody technology could offer several advantages over conventional monoclonal antibodies. The company's antibodies can be developed more quickly and cost effectively with potentially better absorption and distribution in the body. Inovio useselectroporation as a delivery mechanism, in which a pulse of electricity opens pores in cell membranes to introduce DNA into cells.
It's not surprising that Wistar selected Inovio. The organizations have already teamed up to develop a DNA-basedmonoclonal antibody for the chikungunya virus (CHKV). Inovio and Wistar reported positive results from testing of their CHKV monoclonal antibody in mice earlier this year.
What it means
What does this latest news mean for Inovio? It's too soon to know for sure.
From a pessimistic viewpoint, the Wistar collaboration might not have any real impact for Inovio. The effort to develop an effective Zika DNA-based monoclonal antibody could fail. Even if successful, any potential financial gains would be years away.
On the other hand, receiving the sub-grant is another feather in the cap for Inovio. The biotech already had a legitimate claim to the leadership mantle in the race to develop a Zika vaccine. Being selected by a well-known and respected organization like Wistar to help develop a rapid-acting treatment for Zika infection gives Inovio even more credibility.
Who knows if Inovio's growing Zika street cred might attract the attention of a bigger company looking for an acquisition? Inovio could one day owe a special thank-you note to Bill and Melinda Gates.
10 stocks we like better than Inovio Pharmaceuticals When investing geniuses David and Tom Gardner have a stock tip, it can pay to listen. After all, the newsletter they have run for over a decade, Motley Fool Stock Advisor, has tripled the market.*
David and Tom just revealed what they believe are the 10 best stocks for investors to buy right now... and Inovio Pharmaceuticals wasn't one of them! That's right -- they think these 10 stocks are even better buys.
Click here to learn about these picks!
*Stock Advisor returns as of November 7, 2016
Keith Speights has no position in any stocks mentioned. The Motley Fool has no position in any of the stocks mentioned. Try any of our Foolish newsletter services free for 30 days. We Fools may not all hold the same opinions, but we all believe that considering a diverse range of insights makes us better investors. The Motley Fool has a disclosure policy.