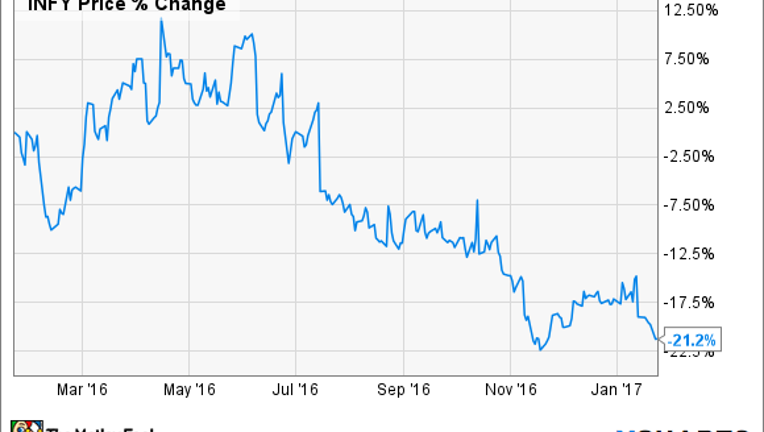 Infosys (NYSE: INFY) reported quarterly results on Jan. 13 and notched another increase in business. However, the company's outsourcing services have come under fire since the election of President Donald Trump. The outsourcing industry has also been facing headwinds from disruptive technologies like artificial intelligence. CEO Vishal Sikka addressed both issues the day before the new U.S. president's inauguration in an interview with The Wall Street Journal.
Infosys' CEO Vishal Sikka. Image source: Infosys.
But first, the numbers...
Compared with the previous quarter, revenue shrank 1.4% in Infosys' most recent quarter, partly because of what the company deemed seasonal weakness. However, the top line was up 6% compared with the same period the previous year. Through the first nine months of the company's fiscal year, revenue was up 8.3% compared with the previous year. Profit was up 6.1% so far on the year.
Guidance for the full fiscal year was updated. Management sees full-year revenue increasing from 8.4% to 8.8% when negating currency factors.
In spite of the overall positive update, share prices have been under pressure. In the last year, political talk about the theft (real or perceived) of jobs from local workers has cast a shadow over outsourcing companies. Also of concern are new technologies like artificial intelligence and automation, which could eliminate the need for some jobs completely.
In a recent interview, Sikka addressed these potential threats to Infosys and struck a positive tone, pointing out reasons that he's still optimistic for his company.
International politics and disruptive tech
When asked about the impact the new administration could have on Infosys, Sikka indicated his company is not overly concerned about it: "My sense is that it's going to be a business-friendly, technology-friendly, and entrepreneurship-friendly administration."
That isn't to say there couldn't be an impact in the near term, though. During his campaign, Trump spoke out against the H-1B visa program for foreign skilled workers, a program that foreign tech and outsourcing firms have relied on in the past. Said Sikka:
Basically, companies like Infosys are aware of the impact new policy could have on them in the U.S., and they're on it. Thus, a push to keep operations on a more local level could develop soon for businesses like Infosys.
Image source: Infosys Foundation USA.
One way this is being addressed is through local foundations, like the Infosys Foundation USA, set up to foster technology education. The goal is to bring computer science education to the classroom at the high-school and middle-school levels. With H-1B visas under scrutiny, the plan is to tap into such local foundations to hire, train, and manage staff from within the U.S. rather than from the outside.
Innovations in technology are also potential disruptors for Infosys. Artificial intelligence and automation have eliminated the need for many positions, including some outsourced services. Infosys has been making the transition, though, to becoming an organization that embraces AI and uses it to supplement what its workforce is already doing.
Rather than eliminating the need for Infosys, the trend has been that even more skilled labor is needed. Sikka continued:
Image source: Infosys.
Rather than being a disruptor, AI is helping Infosys gather new clients. Customer service, prediction analytics, and risk management have all been enhanced by the introduction of technology. The company's business software platform has also been on the rise as more businesses look that direction for help solving problems.
Times are changing
Question marks still linger. While Infosys has been working to stay ahead of the curve as technology changes the needs of businesses, the company could yet run into political headwinds in the short term. Nearly two-thirds of Infosys' business comes from the U.S.
Those uncertainties are keeping me from buying shares just yet, but as the question marks get cleared, this stock is one worth watching.
10 stocks we like better than Infosys Technologies When investing geniuses David and Tom Gardner have a stock tip, it can pay to listen. After all, the newsletter they have run for over a decade, Motley Fool Stock Advisor, has tripled the market.*
David and Tom just revealed what they believe are the 10 best stocks for investors to buy right now... and Infosys Technologies wasn't one of them! That's right -- they think these 10 stocks are even better buys.
Click here to learn about these picks!
*Stock Advisor returns as of January 4, 2017
Nicholas Rossolillo has no position in any stocks mentioned. The Motley Fool has no position in any of the stocks mentioned. The Motley Fool has a disclosure policy.