Indians' winning streak at 22 games after victory over Royals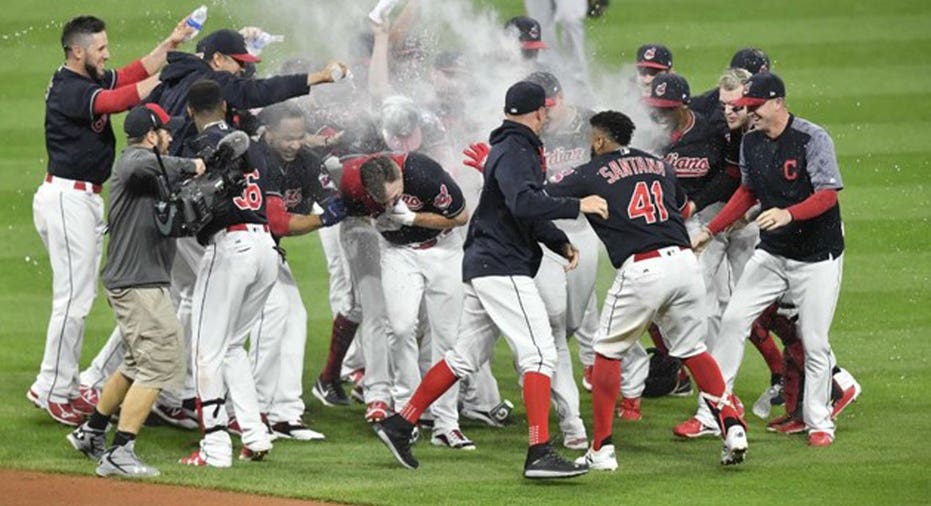 The Cleveland Indians have the longest winning streak in Major League Baseball (MLB) in more than a century after their 3-2 extra innings victory over the Kansas City Royals on Thursday.
In earning their 22nd consecutive win, the Indians moved past the 1935 Chicago Cubs for the second-longest streak in MLB history.
Only the New York Giants (26) had a longer run of success but their remarkable 1916 stretch, which is recognized by MLB as the longest in major league history, included a tie.
Cleveland's streak seemed destined to end at 21 games when they were down to their final out, trailing 2-1 in the bottom of the ninth, and down to their last strike.
But shortstop Francisco Lindor saved the day with a double to deep left field, which brought in a run and sent the game to extra innings.
Second baseman Jose Ramirez doubled with nobody out in the bottom of the 10th inning to set up the victory. After designated hitter Edwin Encarnacion walked, right fielder Jay Bruce sealed the deal with a walkoff RBI double as the home crowd broke into a frenzy.
"We had some opportunities and didn't cash in but we kept playing," Cleveland manager Terry Francona told reporters.
"That was a great atmosphere. It's better when you win, but the experience for some of our young guys in incredible right now. They're learning on the job right smack in the middle of this."
Cleveland have dominated their opponents since their run began, a stretch during which every other American League team has lost at least eight games.
The Indians have outscored their opponents by a whopping 137-34 margin during the streak and have enjoyed top-notch pitching the entire way as well as a potent offense that has shown no signs of slowing down.
Cleveland, which lost the decisive seventh game of last year's World Series in extra innings, have the best record in the American League, 91-56.
(Reporting by Andrew Both in Cary, North Carolina; editing by Amlan Chakraborty)