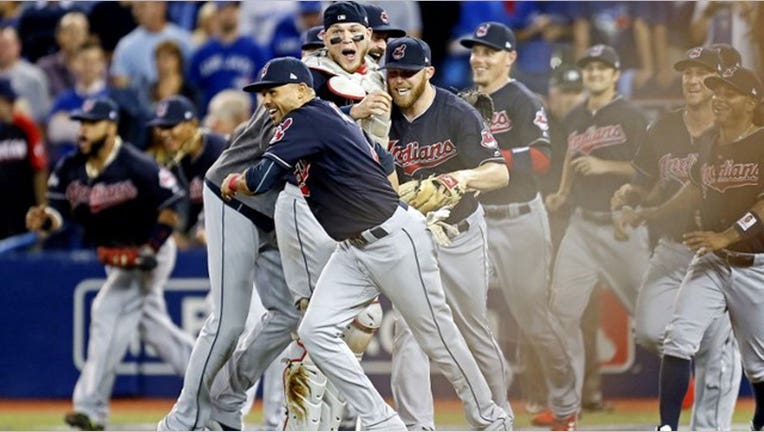 Just over a week ago Ryan Merritt was pitching in the Arizona Instructional League watching the Cleveland Indians work their way through the Major League Baseball postseason on television.
On Wednesday the 24-year-old rookie was trending on Twitter and being showered with praise and champagne after leading the Indians to a 3-0 win over the Toronto Blue Jays and into the World Series.
Merritt, who had started only one game in his major league career and pitched 11 innings total, stunned the Blue Jays by throwing 4-1/3 shutout innings before the Indians' stellar bullpen took over.
"What he did was above and beyond his years," said Indians manager Terry Francona. "He didn't let the noise get to him. He was phenomenal."
Toronto entered the game trailing the best-of-seven American League Championship Series 3-1 and were chomping at the bit to get at Merritt.
Following the Blue Jays' win on Tuesday, Toronto slugger Jose Bautista said Merritt would be "shaking in his boots" when it came time for his first postseason start.
And while the lefthander did indeed look like a deer caught in the headlights at his pre-game news conference, he displayed no fear on the mound while a crowd of nearly 50,000 attempted to rattle him with chants of "Merrrrrittttt."
"I heard it (Bautista's comments)," said Merritt "I didn't let it affect me or get to me.
"I guess he's got a right to say it. It's my first start.
"The emotions out there were kind of crazy at first, a little nervous but it settled down, just trusted myself."
Certainly Merritt's postseason introduction was an imposing one as Toronto boasts big hitters in Bautista, Josh Donaldson, Edwin Encarnacion and Troy Tulowitzki, who combined for 125 home runs during the regular season.
Bautista was first to test the fresh-faced rookie and promptly grounded out to third as Merritt retired the first 10 batters he faced.
Careful not to ask too much of his young starter, Francona was quick to go to his bullpen after Merritt gave up his second hit, a bloop single to Russell Martin with one out in the fifth.
"I'm sure they didn't know what kind of outing he was going to give them," said Blue Jays manager John Gibbons. "It wasn't an easy assignment for anybody, let alone a guy trying to make it in the game."
(Editing by Frank Pingue)