In a tight market, stores lure holiday workers with perks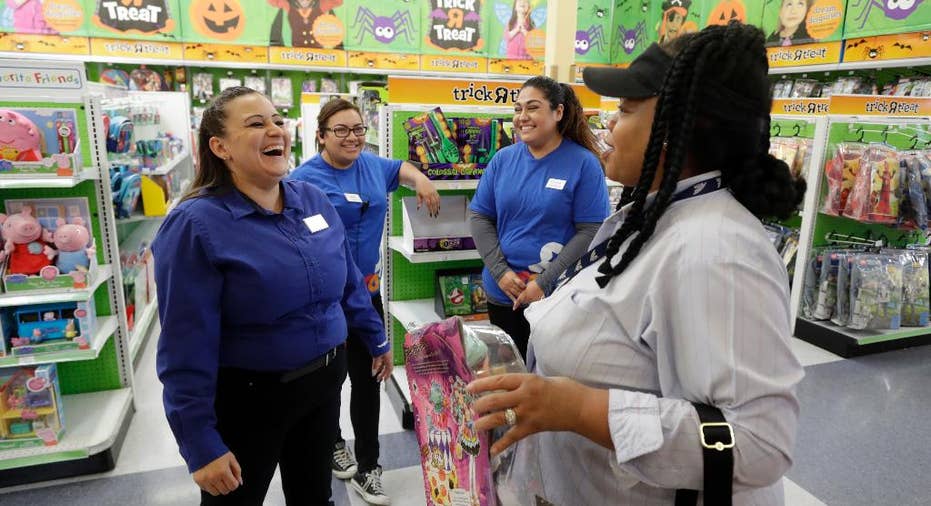 Retailers are dangling perks like higher pay, extra discounts and more flexible schedules to lure temporary holiday workers in a tighter labor market.
They're also more determined to lock in their workers earlier. Macy's and Target are holding their first nationwide recruitment fairs, and others like consumer electronics chain Hhgregg Inc. are making it easier to apply for temporary holiday jobs via mobile devices.
"It's a scramble for people, and we have to get creative," said Hari Pillai, CEO of Speed Commerce, which plans to hire about 450 workers at its warehouses and call centers this season for clients including Yankee Candle. That's a 50 percent increase over last year. Pillai noted that he increased pay by 20 percent to 25 percent in tight labor areas like Ohio.
Some companies are also widening their standards. Significantly more companies said they would be more willing to hire temporary workers with criminal backgrounds than two years ago, according to job listing site Snagajob.com.
"It's reflecting that people have changed their views on what's good enough," said CEO Peter Harrison.
Harrison also noted that many of his retail clients, which include companies like arts and crafts retailer The Michaels Cos. and Target Corp., want to have their holiday hiring done by the end of October. In the past, it was complete by early November.
Government figures show that 2.5 million more Americans have jobs as of August compared to a year earlier. The unemployment rate is 4.9 percent, lower than the 5.1 percent a year ago.
Hiring for the final three months of the year should be level with last year, when retailers added about 738,800 seasonal workers, said John Challenger, chief executive of workplace consultant Challenger, Gray & Christmas. That was down 1.4 percent from the year before.
But while the overall number of jobs for seasonal workers looks to be flat, the biggest growth area in recent years has been in transportation and warehouse jobs because of the increase in online shopping. Transportation and warehouse employment increased by a non-seasonally adjusted 200,500 workers in November and December last year. Ten years ago, the seasonal job gains for that sector measured just 42,400, according to Challenger's analysis.
Deloitte expects holiday sales, for the November-through-January period, to increase 3.6 percent to 4 percent, exceeding a trillion dollars. That would compare to 3.6 percent growth last year. And e-commerce business is forecast to rise 17 percent to 19 percent, possibly reaching $98 billion for the holiday season.
But finding the right workers for the season is critical. Having a bad customer service experience during holiday shopping is much worse than having one the rest of the year, says Kevon Hills, vice president of research at StellaService, a customer service analytics company.
"No matter what technology you use, or tools or product, at the heart of the customer service is the people — whether it's online or in the store," he said.
Hills noted that retailers have improved their response time in recent years. For example, last holiday season, it took 49 seconds from the first ring to when a customer service representative answers, compared to 71 seconds during the holiday 2013 season, he said.
One of the biggest incentives for workers, of course, is pay. Toys R Us, which is hiring 10,900 seasonal workers in five of its biggest markets, said it's raising the pay in certain areas. Also new this year: Better compensation for those who work Christmas Eve, according to Alyssa Peera, a spokeswoman at the toy retailer. Traditionally, workers were given increased pay on Thanksgiving. Temporary workers will also get additional discounts and be treated to special after-hour events.
But flexibility is a big draw, too, as stores aim to be more competitive with companies like ride-sharing provider Uber. Pillai says that a few years ago, people who wanted to work just 10 hours a week had a hard time getting holiday jobs. But now, he said, "We will find a role."
____
Follow Anne D'Innocenzio http://twitter.com/ADInnocenzio