Improving Its Ad Business Wont Be Enough for Spotify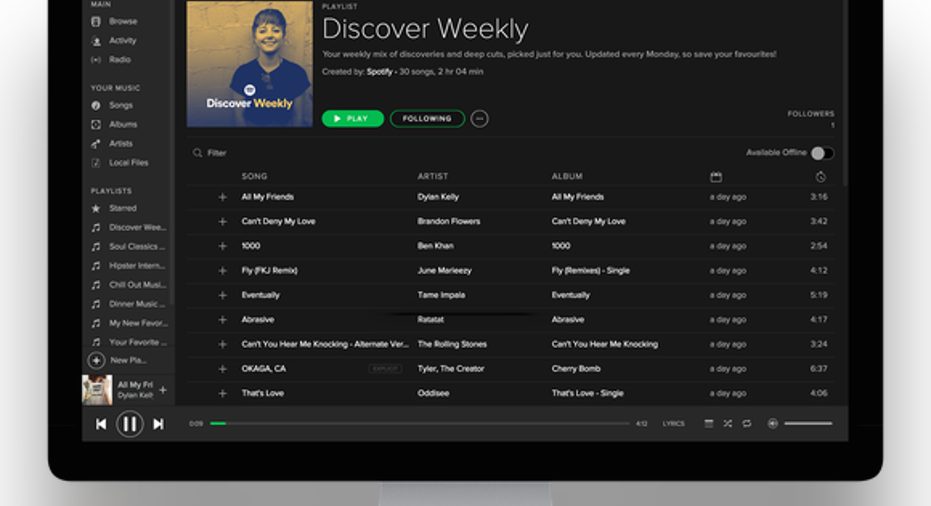 Daniel Ek, founder and CEO of Spotify. Image Source: Spotify.
Global streaming music leader Spotify is finally growing up.
Having officially surpassed 100 million users worldwide, Spotify has shifted its focus to improving user monetization and revenue growth in 2016. Its efforts to build a profitable business atop its leading music product is the next natural step toward an eventual Spotify IPO, which has led to speculation that Spotify might go public before year's end.
However, before it does so, Spotify will have to make significant improvements to, among other things, its advertising business, as one recent report detailed.
Inside Spotify ad business growth
In a recent interview with The Wall Street Journal, Jeff Levick, Spotify's chief revenue officer, discussed the improvements the company is making to its advertising business.
According to Levick, Spotify's advertising team was one deemed a non-priority internally, viewed as "those people over there ... with their [banner advertisements]." However, as part of Spotify's push to eke more revenue out of its users, the company has grown its headcount, launched new products, and expanded its advertising partnerships. The results have been impressive.
Image Source: Spotify
In each of the past two years, revenue from Spotify's free, ad-supported usage tier has doubled, and Levick sees more room for continued focus on the advertising side of its business. According to the WSJ piece, CEO Daniel Ek is scheduled to speak at the ongoing Cannes Lions festival, one of the most important advertising industry events of the year. The company also recently required all of its tech and product employees to use the Spotify free version in an effort to ensure those building the product were actually familiar with its user interface.
To be sure, trying to grow sales across one of its two main revenue sources is simply good business on Spotify's part. However, improving its advertising business likely won't be enough to help Spotify eventually make money for its investors.
The bigger picture
Simply stated, Spotify's advertisements simply do not generate enough revenue alone to support its free service, which constitutes roughly 70% of the company's users. Worse yet, even significant improvements to its free user monetization might not be enough to ever make the free segment profitable. Take a look at Spotify's revenue composition between its free and paid users in 2014 and 2015.
| | 2014 Revenue | 2014 Average Revenue per User (ARPU) | 2015 Revenue | 2015 Average Revenue Per User (ARPU) |
| --- | --- | --- | --- | --- |
| Advertising | $107,846,000 | $2.40 | $213,723,000 | $3.01 |
| Subscriptions | $1,067,908,000 | $71.19 | $1,903,656,000 | $67.99 |
Source: Author's calculations from Music Business Worldwide data
This is perhaps the most important chart in understanding Spotify from an investor's perspective. Think of Spotify as a seesaw. From an "aggregate users" perspective, the free, ad-supported side of its business dominates Spotify. However, in terms of revenue generation, the paid subscription portion of its operations contributes the vast majority of dollars, both in total and on a per-user basis.
This is also likely why a key competitor like Apple has relied on free trials, which are fixed in duration by nature, as the primary means to promote Apple Music, rather than trying to upsell a subscription product to a base of potentially permanent, ad-supported free-tier users who offer it little financial upside. It's also why Amazon.com's forthcoming streaming product and Pandora Media's new streaming product are both expected to be on-demand subscription products.
The entry of Apple, Amazon, and Alphabet into the streaming music market is a clear threat to Spotify. They also add urgency to its IPO plans.
Streaming services like Spotify and Pandora have traditionally encountered difficulties producing consistent profits. One problem is lack of differentiation, which both Apple and Spotify are seeking to overcome by slowly adding their own original video content to their offerings. Amazon will likely pursue a similar but slightly different strategy.
The key here in terms of a Spotify IPO is that investing in video content, particularly exclusive video content, requires a fair amount of capital. Spotify raised $1 billion this year, and it isn't clear how much of that has been dedicated to its eventual public debut. However, in order to raise additional funds via an IPO, Spotify must demonstrate it has a clearer path to profitability. Its efforts to build a more robust advertising business should help with that -- to a certain limited extent -- in the months ahead.
The article Improving Its Ad Business Wont Be Enough for Spotify originally appeared on Fool.com.
Suzanne Frey, an executive at Alphabet, is a member of The Motley Fool's board of directors. Andrew Tonner owns shares of Apple. The Motley Fool owns shares of and recommends Alphabet (A shares), Alphabet (C shares), Amazon.com, Apple, and Pandora Media. The Motley Fool has the following options: long January 2018 $90 calls on Apple and short January 2018 $95 calls on Apple. Try any of our Foolish newsletter services free for 30 days. We Fools may not all hold the same opinions, but we all believe that considering a diverse range of insights makes us better investors. The Motley Fool has a disclosure policy.
Copyright 1995 - 2016 The Motley Fool, LLC. All rights reserved. The Motley Fool has a disclosure policy.