ImmunoGen, Inc. Shed 45% of Its Value in June -- Can It Recover?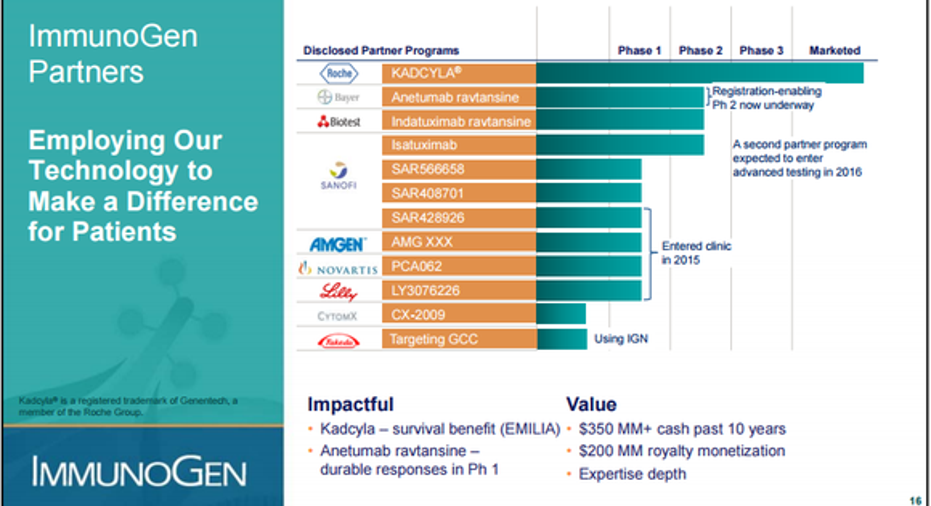 Image source: Getty Images.
What: Shares of ImmunoGen , a biotech company focused on the development of antibody-drug conjugates (ADCs) for the treatment of various types of cancer, imploded and fell 45% in June, according to data from S&P Global Market Intelligence. The reason for the drop can be traced to a press release the company issued after the closing bell on June 13.
So what: The aforementioned press release detailed ImmunoGen's proposal to sell $100 million worth of convertible senior notes due in July 2021. Additionally, as is the norm, the underwriters are free to purchase up to $15 million in convertible senior notes.
The key word here is "convertible," meaning that at certain points in the future ImmunoGen's debtholders can require the company to repurchase its debt at full face value in exchange for shares of ImmunoGen stock. In other words, a convertible offering could be nothing more than a disguised common stock offering -- and a big one at that, with ImmunoGen's share price already depressed from its 52-week high. ImmunoGen notes in the PR that it plans to use the funds generated from the convertible debt offering to pay for clinical trial expenses, as well as other research and development costs.
Mind you, this offering comes after ImmunoGen shed considerable value in April and May, when it amended the FORWARD I trial for mirvetuximab soravtansine as a treatment for folate receptor alpha-positive ovarian cancer. Originally the trial was slated to be two phase 2 studies, but it's now being geared as a single phase 3 study. The risk, as my Foolish colleague Brian Orelli pointed out, is that ImmunoGen is relying on a single subset of data in its phase 1 studies and hoping it'll translate into a larger audience with the same biomarker.
Now what: Perhaps "What next?" is the more appropriate question to ask for shareholders who've been battered over the past couple of months.
Image source: ImmunoGen.
On one hand, ImmunoGen does have an exceptionally deep and varied pipeline filled with more than a half-dozen development partners and four in-house development candidates that it could, possibly, license to generate additional cash. It has one marketed product, Kadcyla, which is for second-line HER2-positive metastatic breast cancer, and it also has a unique pathway by which to attack cancer -- the aforementioned ADC. Antibody-drug conjugates link a chemotherapy to an antibody, with the antibody "programmed" to seek out specific cancer cells. Upon finding that cell, the link is broken and the toxin released on the cancer cell. This unique technology, if it works, could make ImmunoGen's development platform quite the valuable commodity.
On the other hand, the failure rate of cancer drug development is pretty high, and ImmunoGen hasn't been immune. In October 2015, ImmunoGen and its development partner Rocheannounced that Kadcyla had failed to meet its primary endpoint when tested as a treatment for second-line gastric cancer. Kadcyla also failed in the MARIANNE study, which was a late-stage trial examining the ADC as a treatment for treatment-nave metastatic breast cancer patients who are HER2-positive. It was a pretty minor blow to Roche, which has a deep oncology portfolio, but devastating to ImmunoGen since it has little recurring revenue.
My suggestion? Unless you have nerves of steel, consider watching and waiting from the sidelines. If mirvetuximab soravtansine succeeds, then ImmunoGen is back in business. If not, it could struggle to lure in more partners, and funding could become a serious concern.
The article ImmunoGen, Inc. Shed 45% of Its Value in June -- Can It Recover? originally appeared on Fool.com.
Sean Williamshas no material interest in any companies mentioned in this article. You can follow him on CAPS under the screen nameTMFUltraLong, and check him out on Twitter, where he goes by the handle@TMFUltraLong.The Motley Fool recommends ImmunoGen. Try any of our Foolish newsletter services free for 30 days. We Fools may not all hold the same opinions, but we all believe that considering a diverse range of insights makes us better investors. The Motley Fool has a disclosure policy.
Copyright 1995 - 2016 The Motley Fool, LLC. All rights reserved. The Motley Fool has a disclosure policy.