Illumina's "Moonshot" Startups May Be The Biggest Reason To Buy Its Shares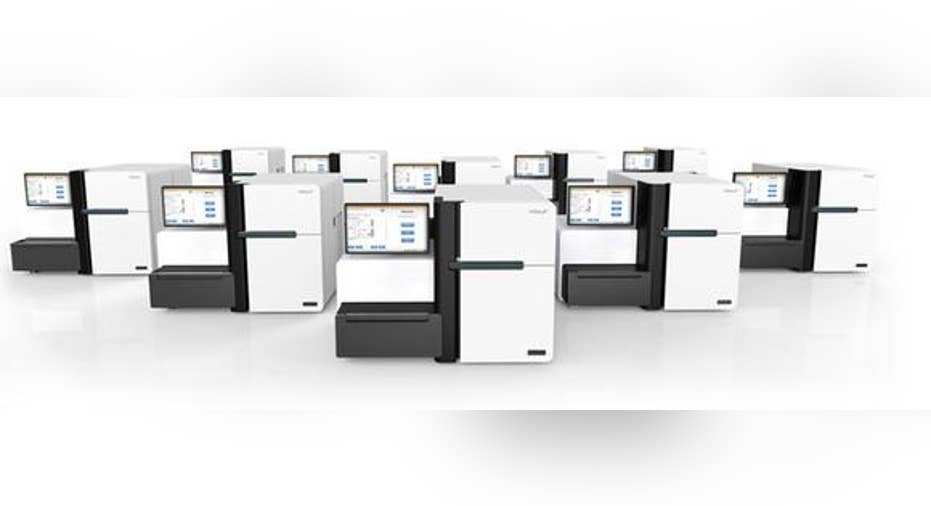 SOURCE: ILLUMINA CORP
Last month, gene-sequencing Goliath Illumina Corp's longtime CEO Jay Flatley announced he's handing over the day to day reins at Illumina to technology guru Francis deSouza in July.
Flatley still plans on spending about 60% of his day on Illumina business, but he'll also be spending a significant amount of his time ushering two start-ups with close ties to Illumina toward massive multibillion dollar markets. If Flatley succeeds, then Illumina could end up making more money from these emerging businesses than it makes selling its gene sequencing machines, so let's learn more about them.
Genomics for everyoneLast summer, Illumina partnered-up with private equity investor Warburg Pincus and Sutter Hill Ventures to create Helix, a new venture that seeks to bring genomics to the masses.
Flatley is serving as Helix's chairman and Helix's deep connection to Illumina means that it will get all the genetic expertise necessary to build a cloud-based genetic repository that can warehouse the individual genetic code of millions of people. Once that gene bank is built, Helix will launch an online"app" store that will allow users to gain insight into their DNA.
Apps that could be offered to consumers will range from the informative, such as answering questions regarding your genealogy, to the entertaining, such as finding out if you possess the speed gene that's found in the DNA of the world's fast runners.
At the onset, partnerships with the Mayo Clinic and Laboratory Corp of Americasuggestapps on the Helix marketplace will tilt toward the informational.The Mayo Clinic -- a Helix investor -- plans to offer educational and healthcare query apps, and Laboratory Corp of America will provide insight into treatable genetic diseases.
What makes Helix unique, and may give it an edge over competitors, such as 23andme, is that its repository allows consumers to easily query their genetic profile, without requiring them to send new samples every time they're looking for new DNA insight. Helix's open-developer model should also yield thousands of innovative apps that simply wouldn't be possible in a closed system.
Ultimately, consumers will have the final say if Helix is to succeed. Will the ability to control access to their genetic information and to delete their account be enough to overcome consumer's privacy concerns? Will consumers even want to learn about their DNA and how it makes them tick? Only time will tell. Fortunately, Helix is targeting a 2017 commercial launch, so Illumina investors should get answers to those questions soon.
SOURCE: FLICKR USER CAROLINEDAVIS2010
Changing cancer screeningOn January 10, Illumina announced Grail, a company that will use Illumina's deep sequencing technology to diagnose early stage cancer in patients using a simple blood test. If Grail delivers on that promise, then it could dramatically reshape cancer diagnosis and potentially, significantly reduce the number of people who die from late stage forms of cancer every year.
According to Illumina, Grail will use Illumina's gene sequencing technology to identify circulating tumor DNA that originates from cancer cells. Because deep sequencing repeatedly sequences a gene, it can offer up insight that is both more sensitive and more accurate than regular sequencing.
If Grail can execute its strategy, then it could tap into a truly massive market for early cancer detection.
Estimates suggest that the number of cancer cases will climb 70% over the next 20 years because of an older and longer living population, and since at least half of all cancer cases are diagnosed when cancer has already reached stage III and stage IV, there's big unmet need for better screening tools.
In a base case scenario, Illumina estimates that Grail's use detecting cancers at stage 2 or higher in high risk patients could translate into a $20 billion market opportunity. If Grail's technology evolves to a point where it can identify stage 1 cancer, and determine the origin of tumors, then Illumina thinks Grail could compete in a market worth at least $100 billion.
Looking aheadInvesting in start-ups is risky and costly, and there's no guarantee that Helix or Grail will succeed. Illumina estimates that Helix will weigh down EPS to the tune of $0.10 and that Grail will cost investors $0.15 per share in 2016. Those businesses will likely take a similar toll on the company's profitability next year too.
Fortunately, Illumina has plenty of financial firepower that it can use to fund moonshots like these. Last year, the company hauled in $2.2 billion from selling gene sequencers and the consumables that they require to run, and that resulted in non-GAAP net income of $495 million, or $3.32 per share. This year, Illumina expects sales growth of 16% and EPS of at least $3.55 per share.
Clearly, success in Illumina's core business is a good thing for investors, but if Helix and Grail pan out, then Illumina's best days may still be yet to come.
The article Illumina's "Moonshot" Startups May Be The Biggest Reason To Buy Its Shares originally appeared on Fool.com.
Todd Campbell has no position in any stocks mentioned. Todd owns E.B. Capital Markets, LLC. E.B. Capital's clients may have positions in the companies mentioned. The Motley Fool owns shares of and recommends Illumina. Try any of our Foolish newsletter services free for 30 days. We Fools may not all hold the same opinions, but we all believe that considering a diverse range of insights makes us better investors. The Motley Fool has a disclosure policy.
Copyright 1995 - 2016 The Motley Fool, LLC. All rights reserved. The Motley Fool has a disclosure policy.