Illinois Tool Works Earnings: Self-Help Works, Too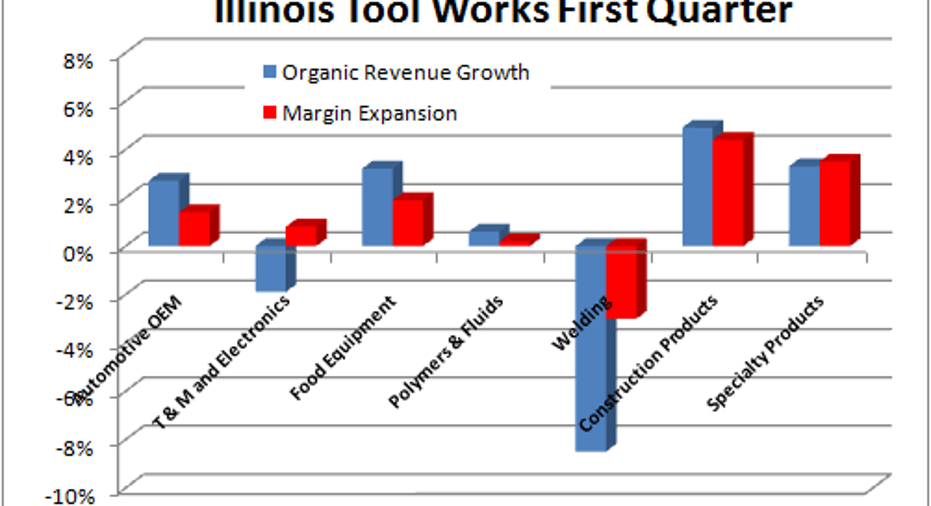 In the last three months, the market has significantly bid up industrial stocks like Illinois Tool Works and 3M Company , possibly in the belief that a recovery in industrial conditions would occur in the second half of 2016. Indeed, if a cyclical pickup occurs, then both companies are well placed to benefit. If they can generate margin expansion during bad times, then they are surely well situated for any upturn. That said, let's take a look at the tale of Illinois Tool Works' first-quarter results.
Illinois Tool Works first-quarter results: The raw numbers The key figures:
Organic revenue growth of 1% was in the middle of guidance for 0% to 2%.
GAAP EPS of $1.29 came in at the top end of guidance for $1.20 to $1.30.
Operating margin of 22.1% was significantly ahead of guidance for 21.5%.
Revenue growth was OK, but the real upside came from better-than-expected margin expansion -- largely as a result of the successful implementation of the company's 2013-2017 enterprise strategy. Indeed, management claimed that 130 basis points (where 100 basis points equals 1%) of the 120-basis-point improvement in operating margin came from its enterprise initiatives.
But that's not all. The successful margin expansion led management to increase full-year guidance:
GAAP EPS guidance raised to $5.40 to $5.60 from a previous estimate for $5.35 to $5.55.
Organic revenue growth guidance maintained at 1% to 3%.
Operating margin now expected to exceed 22.5% compared to previous guidance for 22.5%.
Enterprise initiatives expected to increase full-year operating margin by more than 100 basis points compared to a previous estimate of 100 basis points.
With regard to guidance, it's noticeable that 3M Company also reported 1% organic growth in 2015, and similarly its management is calling for 1% to 3% organic revenue growth in 2016. In other words, Illinois Tool Works' guidance is in the range of its peers.
Illinois Tool Works' execution is creating upside to its results, and management doesn't appear to be baking in any assumptions in its guidanceabout a significant change in end-market conditions -- raising the prospect of some upside prospects should the economy improve. CEO E.Scott Santi said on the earnings call:
It's all a far cry from the third quarter of 2015, when management reduced guidance for full-year 2015. But is there more to come, and in particular, from its end markets?
Segment detailA quick look at segment performance in the first quarter demonstrates the underlying trends in its business. No prizes for guessing that welding is the weak spot. The reason?
Welding has heavy exposure to precisely the kind of heavy industries (oil and gas, mining, etc.) that are suffering in the current economy. On a more positive note, Santi outlined that, outside of welding, Illinois Tool Works'industrial-facing markets were stable. As you can see below, every other segment recorded margin expansion in the quarter, with a standout performance from construction.
DATA SOURCE: ILLINOIS TOOL WORKS INVESTOR RELATIONS.
Automotives have been a strong point in the industrial sector, but organic growth of 2.7% was lower than the 5.2% reported in the fourth quarter of 2015. In response to an analyst question on the matter, CFO Michael Larsen outlined the difficult comparison with last year's strong first-quarter growth and then argued that organic growth would increase through the year.
Test and measurement and electronics has also been challenged by the slowdown in the economy, but Larsen argued that "sequentially the segment was stable down 7% compared to typical seasonality of down 6%."
Meanwhile, construction, food equipment, and specialty products continued an impressive run of margin expansion.
Looking ahead In short, it was a pretty good quarter for Illinois Tool Works. Alongside 3M, the company is managing to increase margin in a difficult environment. However, outside of welding (heavy oil and gas exposure), industrial conditions appear to be stabilizing and setting up Illinois Tool Works for some help from the economy in the second half. Meanwhile, its self-help initiatives are working and investors can look forward to more organic margin expansion to come.
The article Illinois Tool Works Earnings: Self-Help Works, Too originally appeared on Fool.com.
Lee Samaha has no position in any stocks mentioned. The Motley Fool recommends Illinois Tool Works. Try any of our Foolish newsletter services free for 30 days. We Fools may not all hold the same opinions, but we all believe that considering a diverse range of insights makes us better investors. The Motley Fool has a disclosure policy.
Copyright 1995 - 2016 The Motley Fool, LLC. All rights reserved. The Motley Fool has a disclosure policy.