Illinois seeks talks on keeping Asian carp from Great Lakes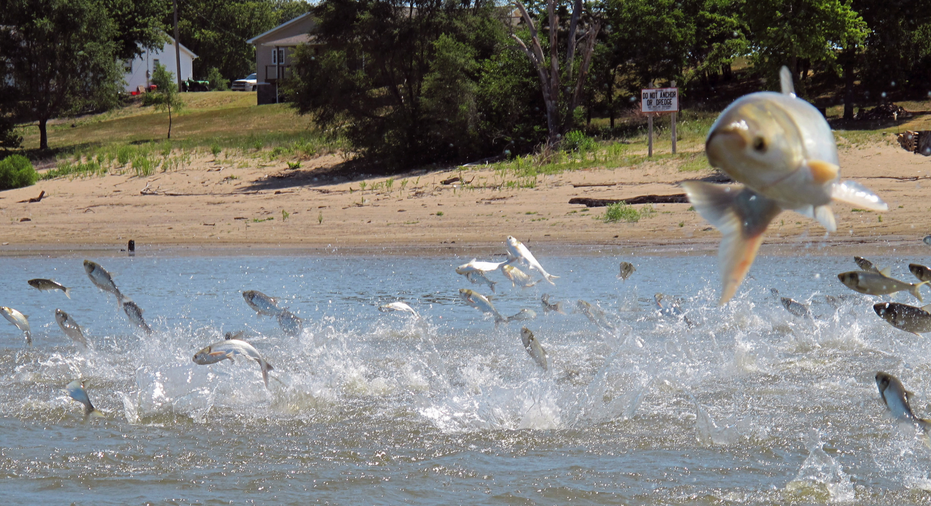 Illinois has proposed negotiations with federal officials and other states in the Great Lakes region over fortifying a Chicago-area lock and dam to prevent Asian carp from invading Lake Michigan and threatening its native fish.
Gov. Bruce Rauner said his state was willing to team with the U.S. Army Corps of Engineers on paying for the project but wanted changes to a $275 million draft plan the federal agency released last year.
The plan, centered on the Brandon Road Lock and Dam near Joliet, Illinois, is backed by some of the region's eight states that consider the location a vital line of defense between the carp-infested Illinois River and Lake Michigan. But Illinois says it would bog down cargo shipping on the busy waterway, with a potential ripple effect on Chicago's highways as more freight is moved by truck.
The Army Corps proposal would install devices such as an electric barrier, noisemakers and water jets at the Brandon Road complex to block fish swimming upstream. Under federal law, such a project requires a state or a local partner that could share costs and help with matters such as securing rights of way.
In a letter to the Corps sent Friday, Rauner said his state would fill the role of "non-federal sponsor" and work with the agency "to review and better understand the underlying scientific justification to support a project of this size, scope and cost
The Republican governor also asked his counterparts in the other states for talks toward an agreement that "protects the Great Lakes and mitigates major deficiencies" in the Corps plan.
Four types of carp imported from Asia in the 1960s are threatening to attack the lakes, where scientists say they could out-compete less aggressive species and damage a $7 billion fishing industry.
Illinois says it has significantly reduced the threat with commercial fishing of the Asian carp's "leading edge" population in a section of the Illinois River about 50 miles southwest of Lake Michigan. It says the carp have not advanced further since 1990.
But neighboring states and Great Lakes advocacy groups aren't convinced. One of the feared invaders was found last summer in Chicago's Little Calumet River just 9 miles from the lake. Tests showed the silver carp had gotten through or around three electric fish barriers.
"While our efforts to keep Asian carp from Lake Michigan have proven effective, many have suggested we need to do more," Illinois Lt. Gov. Evelyn Sanguinetti said. "If the Corps can address our economic, transportation, environmental and cost concerns in partnership with Illinois, we have no problem working with other states to enhance our efforts at the Brandon Road Lock and Dam."
Michigan Gov. Rick Snyder proposed an interstate partnership in January to help cover costs of operating and maintaining the proposed Brandon Road fish-blocking systems. Ohio, Wisconsin, the Canadian province of Ontario and the city of Chicago signed on.
But the Army Corps told Snyder on Friday the coalition couldn't qualify as the legally required non-federal sponsor without Illinois' participation.
Snyder considers Illinois' offer to take part "an important step forward," spokeswoman Jordan Kennedy said.
"We all have the same objective, which is to protect the Great Lakes," she said.
The Alliance for the Great Lakes, a Chicago-based environmental group, urged the other states to resist weakening the Army Corps plan.
"Any efforts to change it should be to make it stronger," said Molly Flanagan, the group's vice president for policy.