II-VI Lights Up As Laser Growth Continues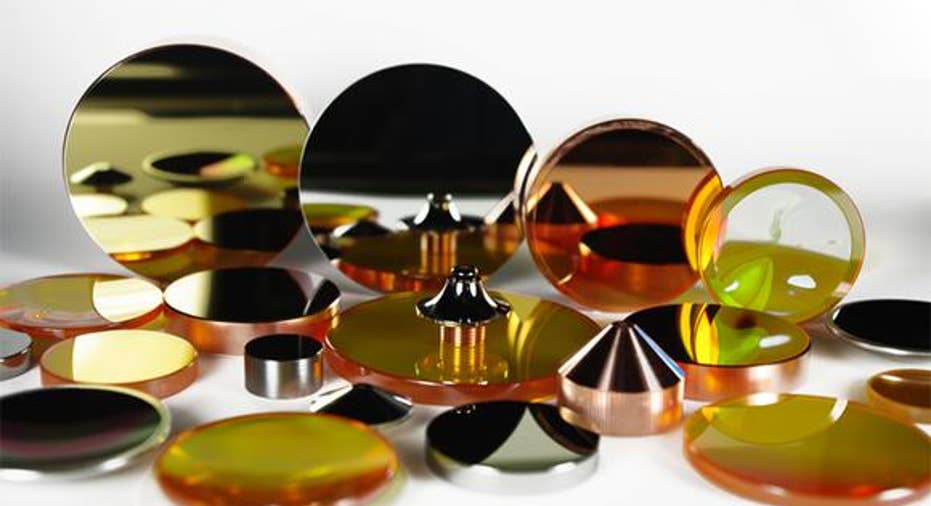 Image source: II-VI.
Even when an industry is doing well, it's natural for some companies to face challenges in fully benefiting from positive trends. II-VI is a good example, with the laser manufacturing company having missed out for years on the share-price gains that some rivals have enjoyed. Yet II-VI has done a good job of executing a strategic turnaround, and coming into Tuesday's fiscal third-quarter report, II-VI investors were expecting to see the fruits of the company's labor in its results. II-VI surpassed the expectations that investors had set for it, and things now look more exciting than ever for the laser company. Let's look more closely at the latest from II-VI and what those following the stock can expect from the laser maker in the months and years ahead.
II-VI stays laser-focusedII-VI's fiscal third-quarter results continued its streak of solid performance that included some record-high levels. Revenue of $205.1 million was up more than 12% from year-ago figures, more than doubling the growth rate that most investors had expected to see from II-VI. Adjusted net income jumped by half to $21.8 million, and that produced adjusted earnings of $0.35 per share, topping the consensus forecast among investors by $0.07.
A closer look at the numbers reveals some of the record results that II-VI celebrated. Bookings for the quarter came in at $235 million, which was up more than 20% from year-ago levels. Shipments of $205 million were also at record levels.
II-VI's segments showed mixed performance. The star of the quarter was the II-VI photonics division, which saw bookings rise 43% and revenue climb by a quarter from year-earlier figures. Operating income for the segment soared to $9.6 million, up from just $600,000 the year before. By contrast, the laser solutions business grew bookings at a more sedate 12% pace, and revenue was only minimally higher even when taking into consideration the acquisitions that the unit made. Operating income for laser solutions fell due largely to acquisition costs and one-time expenses. The Performance Products unit saw bookings fall slightly, but 12% gains in revenue translated into a nearly 50% boost in operating income.
CEO Francis Kramer was pleased with the way that II-VI continued to perform. "Our continued solid operating results, including bookings and margin, validate our strategy of investing in businesses with market-leading products and vertically integrated worldwide manufacturing operations," Kramer said. The CEO also called out the photonics segment and a pickup in activity in the optical communications markets for the company's record results and impressive book-to-bill ratio.
What's next for II-VI?II-VI doesn't expect to slow down in the near future. "With our acquisitions and investments to commence next quarter," Kramer noted, "we are accelerating the build-out of a scalable semiconductor VCSEL laser platform." The executive also said that record bookings indicate a strong fourth-quarter finish to the fiscal year.
However, investors might not be entirely happy with II-VI's guidance for the fiscal fourth quarter. The company gave guidance for total consolidated revenue to come in between $210 million and $225 million for the quarter, which would be near or above the expected $213 million if investors have taken acquisition impacts into account in their estimates. However, adjusted earnings of $0.25 to $0.29 per share won't match up to the $0.30-per-share consensus forecast.
The key takeaway that investors should glean from II-VI's announcement is that things are looking up for the company in several of its businesses. Between the power of the growth in the laser market and initiatives like the recent acquisition of Anadigics to broaden the company's appeal in the Wi-Fi, cellular network, and cable television industries, II-VI is in a strong position to take advantage of favorable conditions in its target business areas and finally get its stock moving upward more aggressively in the future.
The article II-VI Lights Up As Laser Growth Continues originally appeared on Fool.com.
Dan Caplinger has no position in any stocks mentioned. The Motley Fool recommends II-VI. Try any of our Foolish newsletter services free for 30 days. We Fools may not all hold the same opinions, but we all believe that considering a diverse range of insights makes us better investors. The Motley Fool has a disclosure policy.
Copyright 1995 - 2016 The Motley Fool, LLC. All rights reserved. The Motley Fool has a disclosure policy.