Ignore the Retail Malaise: Turnaround at J.C. Penney Company Inc Is Progressing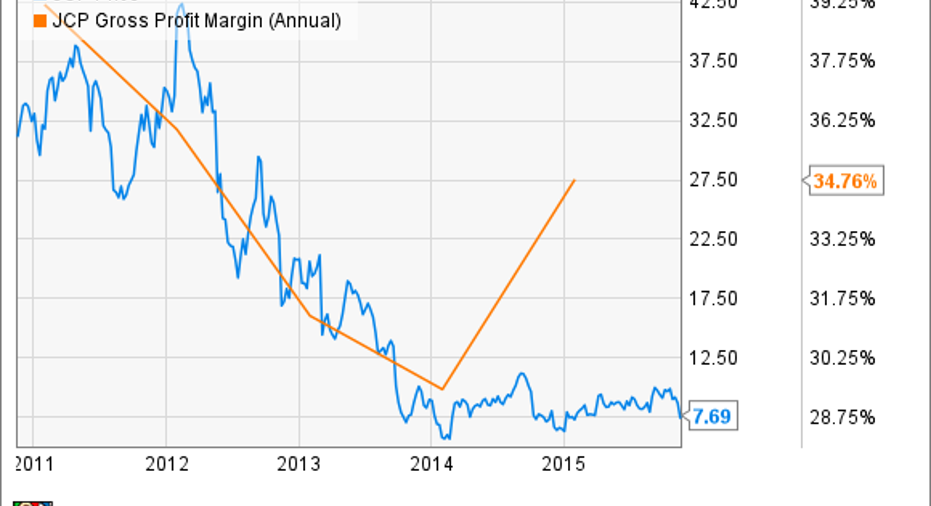 Over the past few weeks, we've heard the latest earnings results from major retailers, and for the most part, they have been weak. The culprit, as is often the case in this sector, was anemic same-store sales growth and less than enthusiastic guidance for the near future. However, amid the less than robust results, and even though its own shares weren't spared in the sell-off, J.C. Penney was a surprising outlier. Don't be fooled by the broad sector sell-off. As we'll see, J.C. Penney's turnaround is on track, and recent events represent a classic case of Wall Street myopia.
Brief history J.C. Penney's troubles started in 2012, when it shunned its age-old coupon-loving customers in favor of becoming a hipper, more tech-savvy retailer. J.C. Penney's management, led by Apple Store creator Ron Johnson, did away with coupons and several discount brands and gave employees iPads. The move was an unmitigated disaster. J.C. Penney's traditional customers left in droves, because, as we now know, there's nothing the American consumer loves more than to believe they're getting a good deal.
Which brings us to today. Shares are far off from their 2014 high of just under $43 per share, but they've recovered from the depths of its worst lows. It wasn't long ago that the word "bankruptcy" was uttered in the same breath with the name of the 103-year-old retailer, as shares traded hands for as little as $5. The operational contrast with today is staggering.
Gross margins are expanding, customers are returning (with coupons in hand), and unprofitable stores have been shuttered thanks to the efforts of former CEO Myron "Mike" Ullman, who came out of retirement three years ago to save his beloved company. Ullman only recently handed the reins over to current CEO Marvin Ellison, who has been continuing the turnaround strategy.
Recent resultsResults in the company's latest quarter were right on pace. Same-store sales were up 6.4% year-over-year, while gross margin expanded to 37.3%, well above the 23.8% the company produced in the quarter ended Feb. 2, 2014. Revenue came in at $2.9 billion for the quarter, up 5.07% year-over-year. SG&A expenses decreased $41 million to $947 million, further proof that the company's cost-cutting initiatives are taking hold.
The company did report a GAAP loss of $137 million, or $0.45 per share, but that figure includes restructuring costs of $14 million, and those expenses are to be expected in any turnaround effort. This quarter's red ink was also markedly better than the $188 million GAAP loss the company registered in the same period last year.
Looking ahead to the full year, which will of course include the all-important holiday season, the company expects to be breakeven on a free cash flow basis. Not too shabby for a retailer that was considered to be doomed just a year and a half ago.
J.C. Penney's impressive performance becomes all the more apparent when we compare its results with those of the competition, namely Macy's and Nordstrom :
For the quarter ended Oct. 31, 2015:
Source: Corporate 10-Q filings* Excludes store closing costs of $111 million** Excludes cost of $32 millionassociated with sale of credit cardportfolio
Granted, J.C. Penney is still in the red. But there's cause for optimism when reflecting on the guidance each company's management team gave in their most recent quarterly conference calls.
Macy's CEOTerry J. Lundgren, on the fiscal 2016 third quarter conference call:
Nordstrom Executive Vice President and CFOMichael G. Koppel, on the fiscal 2015 third quarter conference call:
J.C. Penney CFO Edward Record:
These statements speak for themselves.
Rumors of J.C. Penney's demise have been greatly exaggeratedAided by store-within-a-store attractions such as Sephora, and fueled by coupons and traditional sales, J.C. Penney appears to still have room in the department store sector. All that remains to be seen is whether total sales will return to where they once were. At that point, the company's gross margins, which have already recovered, will take care of profitability.
If management's third quarter statements are any indication, J.C. Penney's rebound is more than on track going into the 2015 holiday season. But that's not to say it's going to be smooth sailing back to the glory days. According to analysts polled by S&P Capital IQ, J.C. Penney will probably post total sales this year of approximately $12.64 billion, well below the $17.76 billion it logged in fiscal 2011.
J.C. Penney is bloodied and bruised, but it's getting up from the mat and shouldn't be considered down for the count. It's probably best for Foolish investors not to dive headfirst into these shares just yet but to ignore the progress the company has made recently is to turn a blind eye to reality. Invest accordingly.
The article Ignore the Retail Malaise: Turnaround at J.C. Penney Company Inc Is Progressing originally appeared on Fool.com.
Sean O'Reilly has no position in any stocks mentioned. The Motley Fool owns shares of and recommends Apple. The Motley Fool recommends Nordstrom. Try any of our Foolish newsletter services free for 30 days. We Fools may not all hold the same opinions, but we all believe that considering a diverse range of insights makes us better investors. The Motley Fool has a disclosure policy.
Copyright 1995 - 2015 The Motley Fool, LLC. All rights reserved. The Motley Fool has a disclosure policy.