Ignore Shake Shack Inc.: Here Are 3 Better Stocks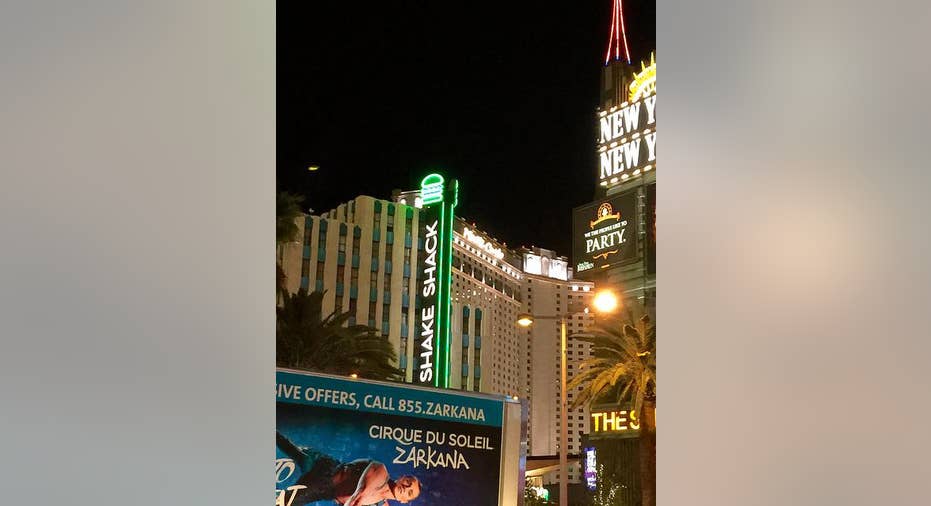 After hitting the big time with its IPO, Shake Shack's stock has tumbled hard. It still has a bright future, but there are better investments out there. Image source: Sarah Ackerman.
Although Shake Shack's stock has sharply corrected from the highs it hit soon after its IPO last year, the "better burger" restaurant remains 76% above its offering price, an enviable performance regardless, particularly for a chain that only has a few dozen locations and a seemingly long runway for future growth.
Yet despite analysts expecting the Shack's earnings to grow 25% annually over the next five years, compared to less than 15% for its industry (and just 5% for the S&P 500), the market is already paying up for those profits with a PEG ratio of 3.9. But growth is slowing and the torrid rate of sales expansion it experienced last year can't be maintained.
Now tasked with running its business in the public eye in a niche that's growing ever more crowded, the job will become increasingly difficult. Even Chipotle Mexican Grillhinted it was going to join in the fray filing an application to trademark the words "better burger" with the U.S. Patent and Trademark Office.
Shake Shack isn't a bad company, or even a bad investment, but I think investors looking for other solid restaurant plays should consider three other chains as better bets:Darden Restaurants , Sonic , and -- dare I say it? -- McDonald's .
Darden RestaurantsThis was a restaurant group that not too long ago was being dragged down by two well-known, but faltering chains: Red Lobster and Olive Garden. Even though it had other healthy chains on the menu, it was not enough to offset the drag by the seafood and Italian food eateries because they comprised such a big portion of its business.
A tumultuous year followed that saw Red Lobster sold off, the old management team ousted, and a new management team brought on board with a focus on fixing Olive Garden. As well they should: It remains the company's most important concept, contributing more than half its total revenue and generating three times more profits than the next closest chain. And it looks like they may have finally succeeded.
Darden recently reported third-quarter earnings showing the Italian restaurant'ssame-store sales rose 6.8% over the year-ago period, one of the better performances seen across all its concepts. Sure, part of the growth was having an extra week in the calendar, but even adjusting for that comps were still almost 5% higher. It did get a boost from raising its prices, but it's starting to record more traffic, too, and that bodes well for continuing to turn around.
CEO Jeff Smith, the activist investor that overthrew the old management team, is confident enough in Olive Garden's positioning to step away from the company, suggesting he thinks the company is healthy enough he no longer needs to have day-to-day oversight of its operations. Investors may find themselves equally assured.
"Do one thing and do it well" seems to be the mantra of drive-thru chain Sonic, which continues to post record growth. Image source: Mike Mozart.
SonicUnlike McDonald's, which has sought to downplay its fast food heritage by going all millennial and adding trendy superfoods like kale bowls to its menu, Sonic seems to revel in the fact that it makes fast food. A fairly focused menu on core items like burgers, fries, and shakes has served the drive-thru chain well, allowing it to report a 57% increase in net income in the fiscal 2016 second quarter as sales rose 5% to $133 million on a 6.5% jump in comps. And it was able to achieve that growth as it lapped its strongest same-store sales comparison.
As noted, Sonic is a drive-thru chain, which, though you don't think about it quite as much, puts it on a similar footing with McDonald's, as the Golden Arches derives as much as 70% of its $6.3 billion in annual revenues from its drive-thru window.
At 26 times earnings and 23 times estimates, Sonic isn't exactly cheap, but with 3,500 mostly franchised drive-thrus, it's got a low-overhead business model that should be able to continue replicating its success much as it's done for the past 60 years. Unlike other fast-food joints that have stumbled as McDonald's has regained some strength, Sonic has not faltered and keeps gaining new adherents.
McDonald'sWhich brings us to McDonald's, the burger chain that for the past several years seemingly could do nothing right. But for the past two quarters, it has managed to post back-to-back periods of same-store sales growth.
There is still a lot wrong with the burger chain and it could take a few lessons from Sonic, such as reducing the complexity of its menu and stop trying to appeal to everyone, but though its often seems to take one step forward and two steps back, McDonald's is starting to do a few things right. It introduced its all-day breakfast promotion, which is something that customers have clamored for years to have, and it's taken steps to ensure order accuracy at its drive-thrus.
It's probably the riskiest recommendation of the three, as its stock has already gained 37% over the past year and it's improved by some 50% from where it traded at its recent lows. Still, it carries a valuation similar to Sonic, and if can ease up on pursuing customers that left for better burger shops like Shake Shack, and instead concentrate more fully on those who visit it for the value it offers, McDonald's could very well capitalize on the gains it's booked and run higher still in the future.
Don't dismiss Shake Shack out of handWhile the fast-casual burger niche is crowded and getting more so, Shake Shack seems to be the one that has the most conservative plans for growth without saturating the market. But it also risks getting lost in the tumult, and with a valuation that puts it in nosebleed territory, investors will likely be better served searching out more grounded opportunities.
The article Ignore Shake Shack Inc.: Here Are 3 Better Stocks originally appeared on Fool.com.
Rich Duprey has no position in any stocks mentioned. The Motley Fool owns shares of and recommends Chipotle Mexican Grill. Try any of our Foolish newsletter services free for 30 days. We Fools may not all hold the same opinions, but we all believe that considering a diverse range of insights makes us better investors. The Motley Fool has a disclosure policy.
Copyright 1995 - 2016 The Motley Fool, LLC. All rights reserved. The Motley Fool has a disclosure policy.