Ignore International Business Machines Corporation: Here Are 3 Better Stocks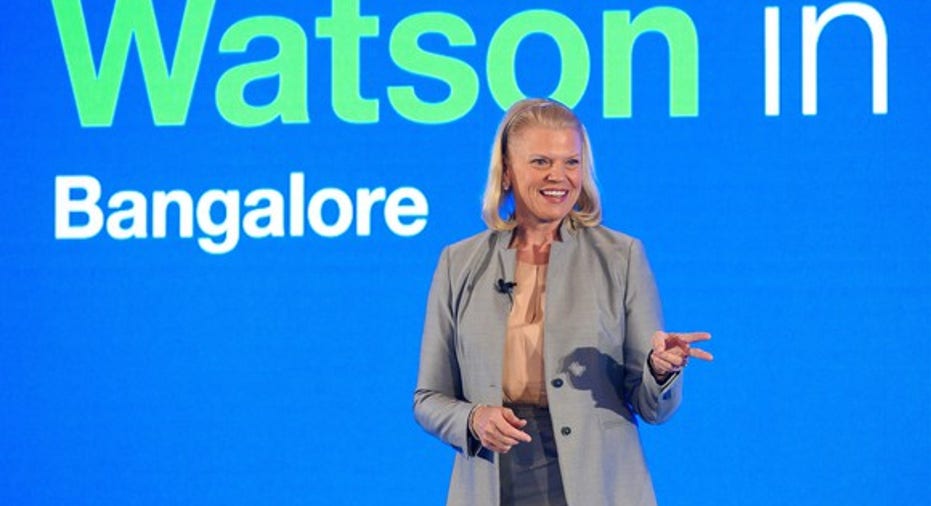 IBM (NYSE: IBM) has frustrated investors for years. Big Blue rallied 20% this year, but it remains down about 13% over the past five years due to its 18 consecutive quarters of annual sales declines. Those declines were mainly caused by sluggish enterprise spending, tough competition, divestments, and nasty currency impacts.
IBM CEO Ginni Rometty. Image source: IBM.
IBM has repeatedly claimed that the growth of its strategic imperatives (cloud, mobile, social, analytics, and security) will eventually offset those declines, but it won't happen anytime soon -- analysts expect Big Blue's revenue and earnings to respectively fall 2% and10% this year.
I previously noted that IBM is a decent income stock, but investors looking for better growth might consider buying three other stocks -- Microsoft (NASDAQ: MSFT), Hewlett-Packard Enterprise (NYSE: HPE), and Accenture (NYSE: ACN).
Microsoft
Like IBM, Microsoft is pivoting away from slower growth businesses (like Windows and Office) toward higher-growth cloud-based ones. Microsoft's commercialized cloud (Office 365, Dynamics CRM, and Azure) business' run rate rose 59% to $13 billion last quarter, and CEO Satya Nadella believes that figure could hit$20 billion in fiscal 2018.
Within that high-growth segment, Office 365 and Dynamics are growing rapidly in the SaaS (software as a service) market, and Azure has become the second largest player after Amazon's AWS in thecloud infrastructure market. Microsoft is also prioritizing the installation of Windows 10 on more devices and reducing fragmentation to expand its ecosystem.It's also investing heavily in next-gen technologies like its HoloLens mixed reality headset, holographic graphics for Windows 10, and VR headsets.
Microsoft has posted positive year-over-year sales growth for three straight quarters, and analysts expect it to post 2% sales growth and 6% earnings growth this year. Its P/E of 29 might seem pricey compared to IBM's P/E of 13, but growth investors might favor the former over the latter.
Hewlett-Packard Enterprise
Hewlett-Packard Enterprise competes directly with IBM in the enterprise hardware and software markets, but it has a more streamlined business model than Big Blue. Prior to splitting with HP (NYSE: HPQ) last year, HPE left thecompetitive public cloud market. This year, it announced plans to spin-off and merge its IT services unit with Computer Science Corp.in an $8.5 billion deal, and spin-off and merge its non-core assets (application delivery management, big data, and enterprise security) withMicro Focus International in another $8.8 billion deal.
Image source: HPE.
Those moves, along with other cost-cutting measures, resulted in hundreds of layoffs but significantly boosted HPE's profitability and cash flows. HPE is returning that cash to shareholders with buybacks and dividends, and reinvesting it in the company with smaller purchases like its $275 million acquisition ofsupercomputer maker SGI.
HPE is struggling with many of the same headwinds as IBM, but its shrewd downsizing efforts are generating better earnings growth. Analysts expect HPE's revenue to fall 1% next year, but for its earnings to rise 4%. HPE also trades at just 14 times earnings, making it just slightly pricier than Big Blue with better earnings growth potential.
Accenture
Some of IBM's slowdown in IT services can be attributed to Accenture, a market leader in IT, business, and consulting services. Whereas IBM is a big enterprise company which often bundles IT services along with its software, hardware, and other products, Accenture is a "pure play" on IT services. That streamlined business model prompted some customers and analysts toclaim that Accenture is nimbler, more responsive, and more focused than IBM.
Those claims may be subjective, but growth estimates indicate that Accenture is winning over customers -- its revenue and earnings are expected to respectively grow 7% and11% this year. IBM's Global Business Services unit, which competes directly against Accenture, posted a 0.4% year-over-year decline inrevenues last quarter. Accenture trades at 19 times earnings, making it pricier than IBM. However, investors who want to invest in a growing IT services player -- instead of one still stuck in neutral -- might consider buying Accenture instead.
The key takeaways
I'm not saying that IBM is a bad stock. Its forward yield of 3.4%, payout ratio of 44%, and its low P/E ratio make it a reasonably stable income play at current prices. However, growth investors might want to take a closer look at Microsoft and Accenture instead, while value investors might find that HPE offers a better balance between low multiples and future earnings growth.
10 stocks we like better than IBM When investing geniuses David and Tom Gardner have a stock tip, it can pay to listen. After all, the newsletter they have run for over a decade, Motley Fool Stock Advisor, has tripled the market.*
David and Tom just revealed what they believe are the 10 best stocks for investors to buy right now... and IBM wasn't one of them! That's right -- they think these 10 stocks are even better buys.
Click here to learn about these picks!
*Stock Advisor returns as of Nov. 7, 2016
Leo Sun owns shares of Amazon.com. The Motley Fool owns shares of and recommends Amazon.com. The Motley Fool owns shares of Microsoft. The Motley Fool recommends Accenture. Try any of our Foolish newsletter services free for 30 days. We Fools may not all hold the same opinions, but we all believe that considering a diverse range of insights makes us better investors. The Motley Fool has a disclosure policy.