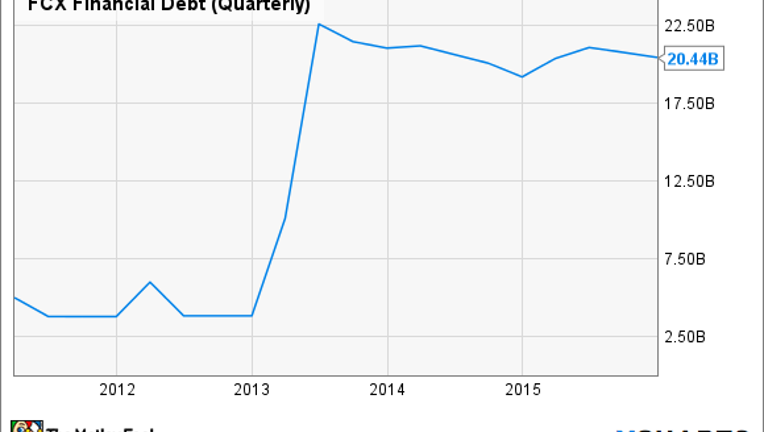 Freeport-McMoRan is struggling mightily under a mountain of debt, which it took on in an ill-timed move to diversify into oil and gas. It's a move that resulted in the company's debt balance skyrocketing from just $3 billion to more than $20 billion:
FCX Financial Debt (Quarterly) data by YCharts.
That debt is a weight that has the potential to sink the company if commodity prices continue to remain weak, and it's why investors are better off ignoring this company until it has these problems sorted out. Instead, investors should take a look at three better options.
1. BHP Billiton When Freeport-McMoRan bought its oil and gas businesses, it was in a sense mimicking BHP Billiton's diversified global resources model. That said, the big difference between the two is that Freeport-McMoRan's purchase saddled it with an exorbitant amount of debt, which is becoming a burden to manage given the global slump in commodity prices.
BHP Billiton, on the other hand, has a much stronger balance sheet, with the highest credit rating in the mining sector thanks to an A credit rating. That puts the company on very solid footing during the downturn, enabling it to wait out the storm as opposed to being forced to address its issues at the worst possible moment, like Freeport. It's that balance sheet strength that, when combined with its strong global resource portfolio, makes BHP Billiton the better option over Freeport-McMoRan.
2. Kinder Morgan Aside from its lofty debt load, Freeport-McMoRan's other big issue is its direct exposure to commodity prices. That volatility has had a big impact on the company's cash flow. For example, every $0.10 per pound the price of copper changes, it impacts the company's operating cash flow by $400 million, while every $5 per barrel the price of oil changes impacts cash flow by $170 million. Given that the prices of both have slumped, it has resulted in a steep drop in the company's cash flow.
Image source: Kinder Morgan.
Kinder Morgan, on the other hand, owns primarily fee-based assets, which generate steady income irrespective of commodity prices. Further, where the company is directly exposed to commodity prices, it has hedged out much of that exposure. Because of this, 97% of its cash flow this year is basically locked in via contracts or commodity price hedges. That much more stable cash flow profile enables Kinder Morgan to easily support its debt and its capital needs, making it a much better buy.
3. Alcoa While Freeport-McMoRan is a diversified resources company, it is the second largest copper producer in the world, and therefore the bulk of its income is still derived from copper production. That's both a benefit and a problem, with the concern being that 45% of the world's copper production is currently consumed by China, which is seeing its economy slow down. That's having a big impact on the copper price.
Aluminum, on the other hand, which is Alcoa's bread and butter, is much less dependent on just one economy. Further, the aluminum market is expected to double its 2010 level by the end of this decade, driven by robust markets such as aerospace, automotive, and industrial gas turbines.
What sets Alcoa apart is that in addition to a strong, growing upstream mining business, the company also currently owns a value-add business that combines aluminum with other materials to create high-performance products. It's a much higher-margin business, and the company is in the process of separating it, giving investors today an opportunity to own a piece of that unique company before its separation. As such, buying Alcoa now is like getting two businesses for the price of one.
Investor takeawayFreeport-McMoRan's large debt load is really weighing the company down, which is why investors are better off avoiding it for now. Instead, they should take a closer look at BHP Billiton, Kinder Morgan, or Alcoa, which all offer similar exposure to global resources, but with less risk.
The article Ignore Freeport-McMoRan Inc.: Here Are 3 Better Stocks originally appeared on Fool.com.
Matt DiLallo owns shares of BHP Billiton Limited (ADR) and Kinder Morgan andhas the following options: short January 2018 $30 puts on Kinder Morgan and long January 2018 $30 calls on Kinder Morgan. The Motley Fool owns shares of and recommends Kinder Morgan. The Motley Fool owns shares of Freeport-McMoRan Copper & Gold and has the following options: short June 2016 $12 puts on Kinder Morgan. Try any of our Foolish newsletter services free for 30 days. We Fools may not all hold the same opinions, but we all believe that considering a diverse range of insights makes us better investors. The Motley Fool has a disclosure policy.
Copyright 1995 - 2016 The Motley Fool, LLC. All rights reserved. The Motley Fool has a disclosure policy.