Ignore Chesapeake Energy Corporation: Here are 3 Better Stocks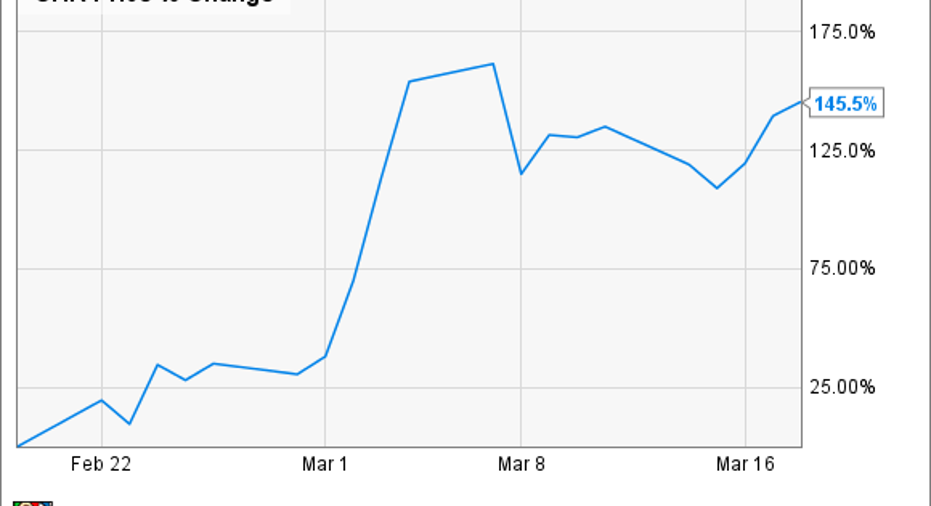 Chesapeake Energy's stock has been on a tear over the past month, having more than doubled off its bottom in late February:
That big surge shows its appeal to many investors because the beaten down oil and gas stock could have much further to run considering it's still down more than 60% over the past year. Having said that, there's a reason the stock has been so beaten down: There's a real risk it could go bankrupt. That's a risk that most investors will want to avoid, especially considering that there are better options available.
1. Pioneer Natural Resources (NYSE: PXD)As of the end of last year Pioneer Natural Resources had just $2.3 billion in net debt compared to a whopping $9.9 billion for Chesapeake Energy. That's a vastly lower number, especially when considering that Pioneer Natural Resources is much larger in size as measured by enterprise value:
CHK Net Financial Debt (Quarterly) data by YCharts
Pioneer Natural Resources' financial picture has further improved since the start of the year after it sold $1.6 billion in equity, while it is still awaiting receipt of another $500 million from the second installment of the sale of its Eagle Ford shale midstream business last year. In other words, the company is effectively debt free, which is a significant competitive advantage in the current market. Add to this incredibly strong balance sheet the fact that the company has a prime position in the premier shale play in North America, which is still generating a 30%+ drilling return at current price, and Pioneer Natural Resources is a much safer bet than Chesapeake Energy is right now.
2. Devon Energy (NYSE: DVN)Given the currently weak market environment, Devon Energy has put a priority on maintaining its balance sheet strength this year. That's included committing to maintaining its investment grade credit rating as well as living within its cash flow, which is something that neither Chesapeake Energy nor Pioneer Natural Resources are doing right now. While that's going to result in weaker production this year, the company is simply building up strength and biding its time until conditions improve before returning to growth.
Devon Energy has significant financial flexibility when compared to Chesapeake Energy. As the following slide shows, it has a mountain of cash and liquidity, but very few debt maturities on the horizon.
Source: Devon Energy Investor Presentation.
That's a big competitive advantage because Chesapeake Energy has burned through its cash pile over the past year in order to grow production, leaving it with limited resources to address its upcoming debt maturities. That has forced it to seek debt exchanges with its creditors in order to push back these maturities so that it doesn't burn through the rest of its liquidity trying to address its debt issues.
3. EOG Resource (NYSE: EOG)Sticking with the strong balance sheet theme, EOG Resources has also maintained a strong balance sheet amid the oil market downturn, with the company projected to have the third lowest leverage ratio in its peer group this year:
Source: EOG Resources Investor Presentation.
In addition to a very solid balance sheet, EOG Resources boasts of one of the lowest cost resource bases in North America. Thanks to a focus on efficiency and innovation, the company has significantly lowered its drilling costs as well as increasing its well productivity. This has enabled the company to develop a huge inventory of premium drilling locations that can earn a 30% return at a $40 oil price. At its current drilling pace, the company can drill for nearly a decade by just focusing on its premium inventory.
Investor takeawayChesapeake Energy's stock could continue to soar should its bankruptcy concerns fade into the background, or it could resume its slide should those concerns reemerge. That binary risk is just too heavy for most investors to bear. That's why investors are better off ignoring the potential promise of a Chesapeake Energy resurgence for now and focus on safer oil and gas stocks instead, with Pioneer Natural Resources, Devon Energy, and EOG Resources, being the crme of the crop in my opinion thanks to their much stronger balance sheets and low cost drilling inventories.
The article Ignore Chesapeake Energy Corporation: Here are 3 Better Stocks originally appeared on Fool.com.
Matt DiLallo has no position in any stocks mentioned. The Motley Fool owns shares of Devon Energy and EOG Resources,. Try any of our Foolish newsletter services free for 30 days. We Fools may not all hold the same opinions, but we all believe that considering a diverse range of insights makes us better investors. The Motley Fool has a disclosure policy.
Copyright 1995 - 2016 The Motley Fool, LLC. All rights reserved. The Motley Fool has a disclosure policy.