If You're in Your 40s, Consider Buying These 3 Stocks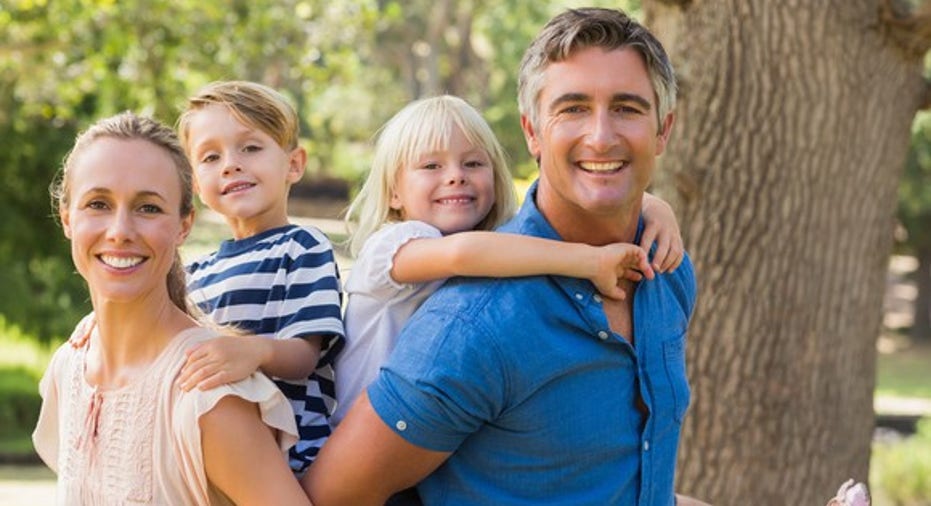 It's official: I'm now in my 40s, having joined this illustrious club late in 2016. I'm now middle-aged -- over the hill and getting ready to deal with my impending existential crisis by running out and buying some sort of convertible. Isn't that what we 40-somethings are supposed to do?
A better idea? Reminding myself -- and my fellow 40-somethings who may be seriously thinking about buying that convertible -- that in many ways, life's just getting revved up. Not only do we still have half (actually more than half) of our lives ahead of us, but we are also entering our prime earning years, and should be in better financial shape to enjoy it. Furthermore, for those of us who aren't in as good a financial shape as we should be or expected to be in by now, there are still decades to save, invest, and make sure that when we reallyareold (40 is the new 20, right?), we will be on solid financial footing.
Image source: Getty Images.
Investing in stocks -- particularly great companies you can buy today and hold for many years -- is one of the best ways to grow your wealth. And three companies that stand out to me as having fantastic potential for growth in the decades ahead areUnder Armour Inc.(NYSE: UA)(NYSE: UAA),American Express Company(NYSE: AXP), andStarbucks Corporation(NASDAQ: SBUX).
This one thing underpins the huge opportunity for these companies
For those of us who live in North America or Europe, it can seem like these companies can't have much room to grow. After all, it's a daily experience to see someone dressed in their Under Armour tights and running shoes pay for a venti skinny latte with their American Express.
And while that cliche of a Western consumer masks the very real growth potential all three of these companies have in developed markets, the biggest long-term opportunity for growth is encapsulated in a single statistic.Specifically, this one number: 2 billion.
The growth of Asia's middle class has been driving Starbucks' growth for years. Image source: Starbucks.
That's approximately how many more people will be in the global middle class between now and 2030. According to the Organization for Economic Cooperation and Development, the global middle class will swell to nearly 5 billion. That's a huge number of upwardly mobile new consumers, representing a significant opportunity for steady growth around the world for these three companies, but particularly in Asia, where the bulk of expected middle-class expansion is likely to take place.
Asia will drive much of this growth (and these companies are already there)
The Asian middle class -- especially China's -- is expected to be the biggest source of upward mobility. According to OECD research, Asia's share of global middle-class consumption is expected to be nearly 60% in 2030, compared to only 23% in 2009. The effects of this in China are already prevalent, with the country having seen the number of low-wage manufacturing jobs decline over the past decade due to wage pressures, as more people find better-paying jobs in the service sector, supporting China's burgeoning middle-class consumers.
Starbucks has dedicated significant resources to growing its presence in this area. The company is on track to double its store count in China from 2,500 stores at present to more than 5,000 by 2021 and triple the operating income generated by this market. Furthermore, management expects the Chinese market to eventually eclipse North America as the company's largest.
China is one of Under Armour's fastest-growing markets. Image source: Under Armour.
Under Armour is also experiencing strong international growth. Through the first nine months of 2016, the company grew its international revenues 67%. China has turned into one of the company's fastest-growing markets, with third-quarter sales in the country equal to its total sales in the first half of the year, and the company is on track to double total sales there in 2016. Much like for Starbucks, the growth of China's middle class, which is expected to expand from 300 million in 2015 to over 600 million in five years, is creating a huge potential market for Under Armour's products.
Of course, consumers have to pay for those goods, and that's where American Express is set to thrive. As much as electronic payments are ubiquitous in North America and Europe, they make up a very small portion of global transactions. But the expansion of the global middle class, which will be a driving force behind the growth in consumption that Starbucks and Under Armour are set to benefit from, will lead to a massive amount of new credit and charge account users. American Express is already seeing growth overseas, too. The company reported 27% growth in billed business in China last quarter.
This is a long play that 40-somethings can ride for years
The key thing investors must keep in mind about the prospects for these three companies is that it's based on steady economic growth. And considering that there is some sort of economic downturn on average every decade or so, the growth isn't necessarily going to be smooth or steady.
But the bottom line is this: The world's middle class is going to get much, much bigger over the next 20 years, and the majority of that expansion will be outside of developed nations. If you want to benefit from the opportunity that presents, Under Armour, Starbucks, and American Express are three of the best companies you can invest in today and own for years to come.
10 stocks we like better than American Express When investing geniuses David and Tom Gardner have a stock tip, it can pay to listen. After all, the newsletter they have run for over a decade, Motley Fool Stock Advisor, has tripled the market.*
David and Tom just revealed what they believe are the 10 best stocks for investors to buy right now... and American Express wasn't one of them! That's right -- they think these 10 stocks are even better buys.
Click here to learn about these picks!
*Stock Advisor returns as of January 4, 2017
Jason Hall owns shares of American Express, Starbucks, Under Armour (A Shares), and Under Armour (C Shares). The Motley Fool owns shares of and recommends Starbucks, Under Armour (A Shares), and Under Armour (C Shares). The Motley Fool recommends American Express. The Motley Fool has a disclosure policy.