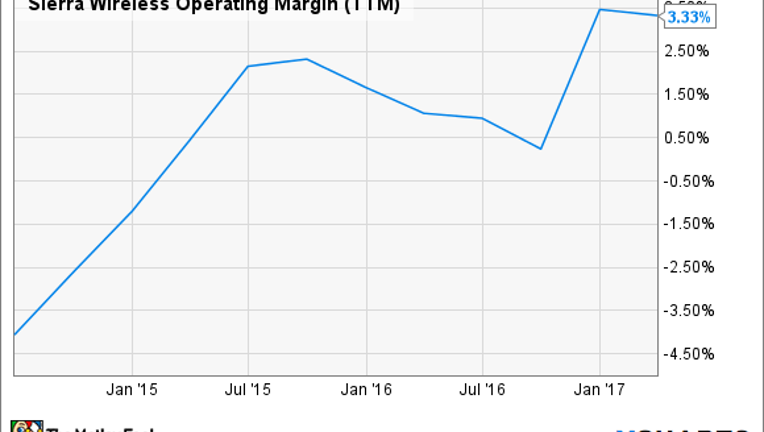 The Internet of Things (IoT), which consists of billions of objects linked to each other and the cloud, is widely considered the hot growth market for tech companies. Cisco (NASDAQ: CSCO) estimates that thenumber of connected devices worldwide will double from 25 billion in 2015 to 50 billion in 2020. Bain Capital believes that annual revenues fromIoT hardware, software, and solutions could hit $470 billion that year.
That's why many tech companies are currently diversifying their businesses into the IoT market. But for investors looking for a "pure play" on the IoT market, it's hard to find a better fit than Sierra Wireless (NASDAQ: SWIR) -- theworld's leading manufacturer of 2G, 3G, and 4G embedded modules and gateways.
Image source: Getty Images.
Why is Sierra Wireless a top IoT stock?
Sierra's modules and gateways are widely used for machine-to-machine (M2M) communications by a wide range of customers across the automotive, transportation, energy, healthcare, industrial, mobile computing, payments, and security markets. Sierra's products enable these machines to "talk" to each other, thus forming the foundation of the Internet of Things. Sierra also links these devices to its own cloud-based platform.
Sierra has shipped over 120 million M2M devices worldwide in more than 130 countries, and its products connect machines on over 80 global networks. Its patent portfolio consists of over 400 patents, which it either developed or gained through acquisitions.
Inorganic growth remains a big part of Sierra's long-term strategy. Over the past few years, it acquired smaller wireless connectivity players like AnyData, Maingate, Mobiquithings, and GenX Mobile, alongwith assets like GlobalTop's Global Navigation Satellite System (GNSS) embedded modules.
These moves enable Sierra to scale up andwiden its moat against cheaper rivals -- particularly in the Chinese market. They also enabled Sierra to gradually expand its operating margins over the past few years:
Source:YCharts
How fast is Sierra Wireless growing?
Sierra's margin expansion is impressive because it achieved it while growing its revenue -- which indicates that cheaper competition isn't throttling its growth. Its revenue only rose 1% to $615.6 million in 2016, butanalysts anticipate 10% growth this year and 9% growth next year -- fueled by its recent acquisitions and growing demand for IoT modules.
Growth at its smaller Enterprise Solutions and Cloud & Connectivity businesses is also expected to offset slower growth at its OEM Solutions business. Simply put, Sierra expects bulk enterprise orders and the growth of its software ecosystem to offset weaker demand in OEM-specific module sales -- which also widens its moat against smaller rivals.
Sierra's earnings fell 14% last year due to its acquisitions, but analysts expect 53% growth this year and 13% next year as the synergies kick in. A lot of that growth is admittedly baked into the stock, which trades at 60 times earnings. That's more than double the industry average P/E of 29 for communication equipment vendors -- although that premium couldbe justified by the long-term growth potential of the IoT market.
Rivals and buyout buzz
Sierra's closest direct competitors areItalian wireless equipment vendor Telit Communications and Dutch digital security firm Gemalto -- but neither rival matches Sierra's estimated market share of about 33% in embedded M2M modules. Sierra's dominance of the M2M module market and its relatively low market cap of about $850 million has made it a likely buyout candidate for any company that wants to gain a major foothold in the IoT market.
There hasn't been much official buzz about a buyout, but analysts and investors have highlighted Cisco andBlackBerry (NASDAQ: BBRY) as potential suitors in the past. Cisco, which acquired IoT platform company Jasper last year and launched new security products for unsecured devices, could greatly strengthen its networking hardware and software bundles by adding Sierra's modules, gateway, and cloud platform to the mix.
Meanwhile, BlackBerry could buy Sierra to bolster its device security and software businesses,which have become its main pillars of growth after thecompany stopped producing its own phones last year.
The key takeaways
Sierra Wireless isn't a stock for conservative investors. But if you believe that our world will be flooded with hyper-connected devices that "talk" to each other and transfer data back to the cloud, then this IoT pure play is probably your best long-term bet. I'm not personally buying Sierra at these prices, but I'm keeping it on my watch list to see if its valuations cool down to more sustainable levels.
10 stocks we like better than Sierra WirelessWhen investing geniuses David and Tom Gardner have a stock tip, it can pay to listen. After all, the newsletter they have run for over a decade, Motley Fool Stock Advisor, has tripled the market.*
David and Tom just revealed what they believe are the 10 best stocks for investors to buy right now... and Sierra Wireless wasn't one of them! That's right -- they think these 10 stocks are even better buys.
Click here to learn about these picks!
*Stock Advisor returns as of May 1, 2017
Leo Sun owns shares of Cisco Systems. The Motley Fool owns shares of and recommends Sierra Wireless. The Motley Fool recommends Cisco Systems. The Motley Fool has a disclosure policy.