If Interest Rates Continue Rising, JPMorgan Chase's Profit Will, Too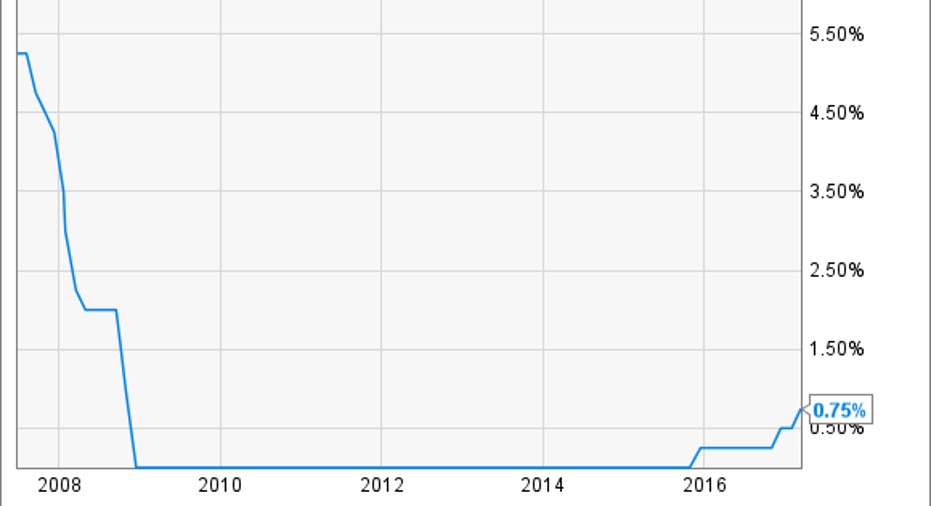 The most important variable when it comes to bank stocks right now is the federal funds rate, the primary short-term interest rate benchmark in the United States. If the Federal Reserve sticks with its plan to raise interest rates two more times this year, then banks will make a lot more money.
JPMorgan Chase (NYSE: JPM) offers a case in point. The nation's biggest bank by assets recently disclosed that it should earn an added $2.3 billion worth of net interest income (NII) over the 12 months following an instantaneous rise in short- and long-term rates by 100 basis points, or 1 percentage point.
Jamie Dimon, the Chairman and CEO of JPMorgan Chase. Image source: JPMorgan Chase.
This doesn't mean JPMorgan Chase's profit will increase that much, because it won't -- at least not just because of higher interest rates. A bank's net interest income is instead a component of revenue, calculated by subtracting a bank's cost of funds from its interest income from earning assets. To convert it to net income, then, taxes need to be excluded. Either way, $2.3 billion is a lot of money.
It's important to note as well that JPMorgan Chase's net interest income is already trending higher on a year-over-year basis. JPMorgan Chase's chief financial officer, Marianne Lake, addressed this on the bank's first-quarter conference call:
The increase that JPMorgan Chase is already seeing traces back to the Fed's decision to raise the fed funds rate in December and March, for a total of 50 basis points. Moreover, as Lake pointed out, the Fed's dot plot shows that the central bank is inclined to raise rates two more times this year, though both would be captured by JPMorgan Chase's projection for a 100-basis-point increase going forward.
US Target Federal Funds Rate data by YCharts.
The net result is that investors who have an interest in bank stocks, and JPMorgan Chase in particular, would be smart to listen closely when the Fed speaks. There's no guarantee that the central bank will raise rates further this year, but it would be great news for shareholders of JPMorgan Chase if it did.
10 stocks we like better than JPMorgan ChaseWhen investing geniuses David and Tom Gardner have a stock tip, it can pay to listen. After all, the newsletter they have run for over a decade, Motley Fool Stock Advisor, has tripled the market.*
David and Tom just revealed what they believe are the 10 best stocks for investors to buy right now... and JPMorgan Chase wasn't one of them! That's right -- they think these 10 stocks are even better buys.
Click here to learn about these picks!
*Stock Advisor returns as of May 1, 2017
John Maxfield has no position in any stocks mentioned. The Motley Fool has no position in any of the stocks mentioned. The Motley Fool has a disclosure policy.