If Chevy's Bolt Succeeds, AeroVironment's Stock Could Benefit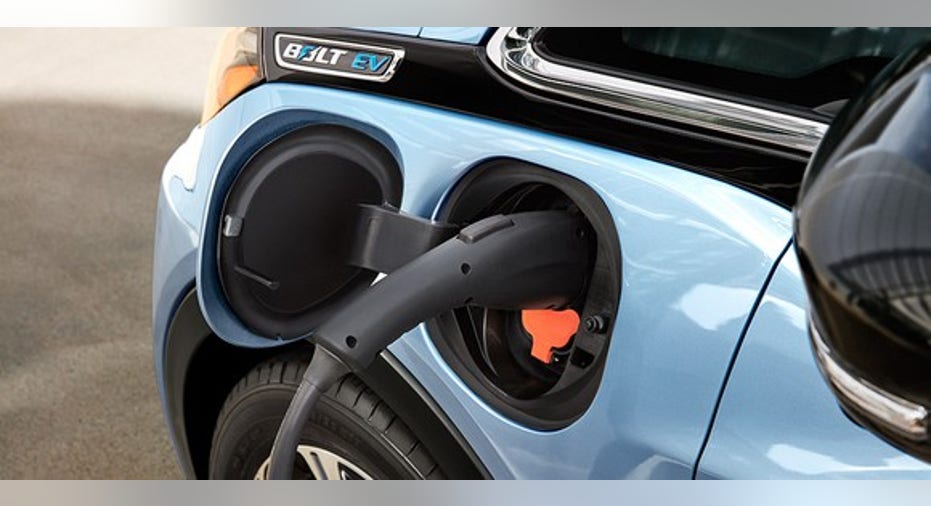 General Motors' (NYSE: GM) new 2017 Chevrolet Bolt electric car is due to hit the market sometime in the next few weeks. Pretty soon, we're going to need to find a way to charge it.
Chevrolet's new Bolt electric car can travel far -- if you can figure out how to charge it. Image source: General Motors.
Lucilky for us, General Motors named a new partner last week to serve as its official charging stations provider. This honor will go to tiny drone-maker-cum-battery-charger-specialist AeroVironment (NASDAQ: AVAV), which will produce its EVSE-RS charging station especially for GM. In turn, GM will give the charging station "its own GM part number" and sell it "through Chevrolet dealerships" as an "official accessory" for the car.
Why AeroVironment, and why EVSE-RS?
GM says it chose AeroVironment as its partner based on the company's "strong brand recognition, reputation for reliability, and decades of leadership in supporting EVs." AeroVironment already serves as a preferred provider for electric cars manufactured by Nissan, Ford, Fiat, Mitsubishi, and Kia.
AeroVironment Stock

Market capitalization

$663 million

Revenue

$239 million

Net profit

($4 million)

Free cash flow

$8.7 million
Data source: Yahoo! Finance.
And as for why GM is selling the EVSE-RS as an accessory for the Chevy Bolt, it's simple: It's a faster way to charge the car. According to AeroVironment, the average electric car on the market today can "fill up" on electricity five times faster through the use of a "level 2" charger like AV's 240-volt EVSE-RS as opposed to a standard 120-volt power cord.
How fast is "five times faster"? GM says"the available 240-volt charging unit" can put about "25 miles of range" in the Bolt's battery per hour of charging time. That should be enough to charge the Bolt up to its estimated 238 mile range overnight -- but only with the EVSE-RS. (For even faster charging, GM notesthat there are "thousands of public charging stations" on American roads today, each of which can charge a Bolt with a direct current (DC) injection -- adding 90 miles of range in just half an hour's time.)
What it means for AeroVironment
AeroVironment chargesabout $600 for the level 2 EVSE-RS charger, plus another $800 for installation by a "certified and licensed" contractor. That works out to $1,400 in revenue per Chevy Bolt sold, and at AeroVironment's 35% gross profit margin, about $487 in gross profit per sale. (Given the exceedingly long charging time at 120V, we're going to go ahead and assume that everyone who buys a Bolt will spring for the level 2 charger as well.)
Auto analysts at Kelley Blue Bookpredict GM will sell as many as 80,000 Bolts in its first year on the market, implying total gross profits of up to $39 million for AeroVironment -- but that number is probably high. After all, Chevy's hybrid electric Volt was named "Car of the Year" in 2011, yet never sold more than nearly 24,000 units annually. The Motley Fool's own auto expert, John Rosevear, thinks the Bolt might be lucky to sell just 25,000 to 30,000 units a year. At $487 per charger per car, that implies AeroVironment's gross profit could be as little as $12.2 million.
Should you buy AeroVironment stock?
Is this a big enough opportunity to justify buying AeroVironment stock? Maybe not. After all, S&P Global Market Intelligence puts AeroVironment's total selling, general, and administrative expenses, plus research and development costs, at eight times these gross profits from selling Bolt chargers. Even with revenue from sales of chargers for other cars, plus revenue from the company's larger drones business, AeroVironment may have trouble collecting enough revenue to offset its costs. Indeed, AeroVironment is losing money today.
As big as the General Motors news might appear, one deal does not a stock make. Investors are better advised to base any decision to buy AeroVironment stock -- or not -- on a cool-headed evaluation of the stock as a whole. So let's do that.
AeroVironment Stock

Price-to-earnings ratio

negative

Price-to-free cash flow

76.2

Price-to-sales

2.8

Projected 4-year growth rate

46.6%*

Dividend yield

N/A
*Analyst estimatesextend through 2019 only. Data sources: Yahoo! Finance, S&P Global Market Intelligence.
One point in the above chart requires clarification: Published estimates for AV's growth rate currently range from extremely pessimistic (Yahoo! Finance's forecastnegative 30.5% long-term growth rate) to wildly optimistic -- S&P Global's forecast for a surge in earnings from last year's $0.13 per share to $0.60 in earnings in 2019 (reflected above).
Which will it be? That's hard to predict. But even in the best-case scenario, it's not clear that even a 46.6% long-term growth rate is fast enough to justify AeroVironment's extremely expensive price-to-free cash flow ratio of 76.2 -- much less its negative P/E ratio.
Great as the prospects may appear, investors should probably sit on the sidelines on this one. There will be plenty of time to invest in AeroVironment at a later date, after its finances have stabilized, and after we've seen if Bolt sales can help the company to generate consistent profits. On the other hand, if the Bolt fizzles, and AeroVironment fails to stabilize its business -- well, that's a risk best avoided in any case.
10 stocks we like better than AeroVironment When investing geniuses David and Tom Gardner have a stock tip, it can pay to listen. After all, the newsletter they have run for over a decade, Motley Fool Stock Advisor, has tripled the market.*
David and Tom just revealed what they believe are the 10 best stocks for investors to buy right now... and AeroVironment wasn't one of them! That's right -- they think these 10 stocks are even better buys.
Click here to learn about these picks!
*Stock Advisor returns as of Nov. 7, 2016
Rich Smithdoes not own shares of, nor is he short, any company named above. You can find him onMotley Fool CAPS, publicly pontificating under the handleTMFDitty, where he's currently ranked No. 345 out of more than 75,000 rated members.
The Motley Fool recommends AeroVironment and General Motors. Try any of our Foolish newsletter services free for 30 days. We Fools may not all hold the same opinions, but we all believe that considering a diverse range of insights makes us better investors. The Motley Fool has a disclosure policy.