Iconix Brand Sells Off the Sharper Image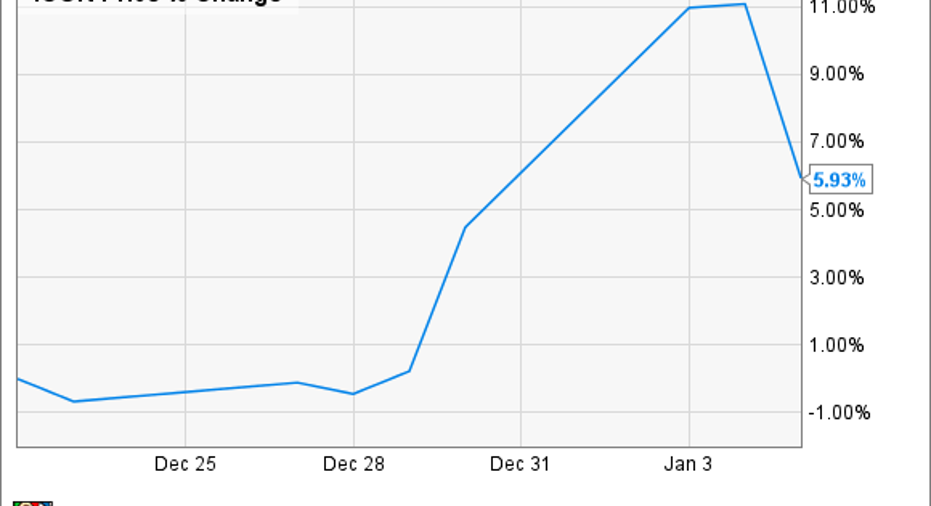 Iconix Brand Group (NASDAQ: ICON) recently announced it's parting ways with its Sharper Image home-goods company, as the company is executing plans that were highlighted at its investor day back in November. Investors reacted positively to the news and the stock popped as much as 7% the day of the announcement. Here's what shareholders need to know.
Data by YCharts.
Details of the deal
On Dec. 30, Iconix announced it had entered an agreement to sell Sharper Image for $100 million in cash. The rights to the eclectic gift retailer and related intellectual property, like the sharperimage.com store, were sold to ThreeSixty Group, a California-based supplier and distributor of consumer goods.
The Sharper Image 4K Hexcopter Video Drone. Image source: Sharper Image.
Iconix purchased Sharper Image in the fall of 2011 for $65.6 million in cash, and will likely record a gain on the deal for the current quarter. The gain was not factored into guidance last given in November, so expect an update during the next quarterly report. However, the company expects 2017 earnings to be unaffected by the sale.
This is the second brand the company parted ways with in 2016. The first was the Badgley Mischka luxury designer back in March. Iconix made $16 million on that sale.
Why this makes financial sense
Since new management took over in the last year, Iconix has been undergoing a strategic review of its financial position and the brand licenses that it owns. Back in November, new CEO John Haugh outlined his team's findings and a fresh strategy for the company going forward.
Part of the presentation highlighted nine brands that management has labeled "incubate" -- brands that need to gain traction in the marketplace, or be spun off. Included in the list were Ed Hardy, Rampage, Zoo York, and the largest brand in the group, Sharper Image.
It therefore comes as no surprise that Iconix decided to look for a buyer. In times past, the company had relied on a passive strategy of acquiring brands and letting them do their thing. Haugh's new idea is to take a more active approach to brands already in the Iconix stable that have growth potential, and cut the ones that don't fit the bill.
Another big priority for management is continuing to shore up the financial well-being of the parent company. When new management took the reins, Iconix was in poor shape, with looming debt liabilities coming due. Haugh and company secured a $300 million loan to take care of debt that was due in June 2016, but top of mind now is $295 million due in March 2018.
The cash generated from the Sharper Images sale, along with additional cash, will be used to pay down $115 million of debt.
Image source: Iconix Brand Group.
A company on the mend
Offloading Sharper Image makes a lot of sense, especially when considering the proceeds will be used to solve the ever-important debt problem. Don't be surprised if more brands Iconix has labeled as being on the bubble are given the ax.
With the company making headway in its recovery, 2017 is poised to be the year where Iconix returns to growth. Several brands in the portfolio, like Danskin, Umbro, and Strawberry Shortcake, are expected to expand and provide organic revenue growth through the next few years.
As Iconix filters out names it no longer needs, management has said it will be looking to make new acquisitions that mesh with their goals within the next couple of years. This small-cap retail-goods manager is worth keeping an eye on as its recovery continues to unfold.
10 stocks we like better than Iconix Brand Group When investing geniuses David and Tom Gardner have a stock tip, it can pay to listen. After all, the newsletter they have run for over a decade, Motley Fool Stock Advisor, has tripled the market.*
David and Tom just revealed what they believe are the 10 best stocks for investors to buy right now... and Iconix Brand Group wasn't one of them! That's right -- they think these 10 stocks are even better buys.
Click here to learn about these picks!
*Stock Advisor returns as of January 4, 2017
Nicholas Rossolillo owns shares of Iconix Brand Group. The Motley Fool has no position in any of the stocks mentioned. The Motley Fool has a disclosure policy.