IBM Watson Enters Self-Driving Vehicle Space Via the Worlds First Autonomous Talking Electric Shutt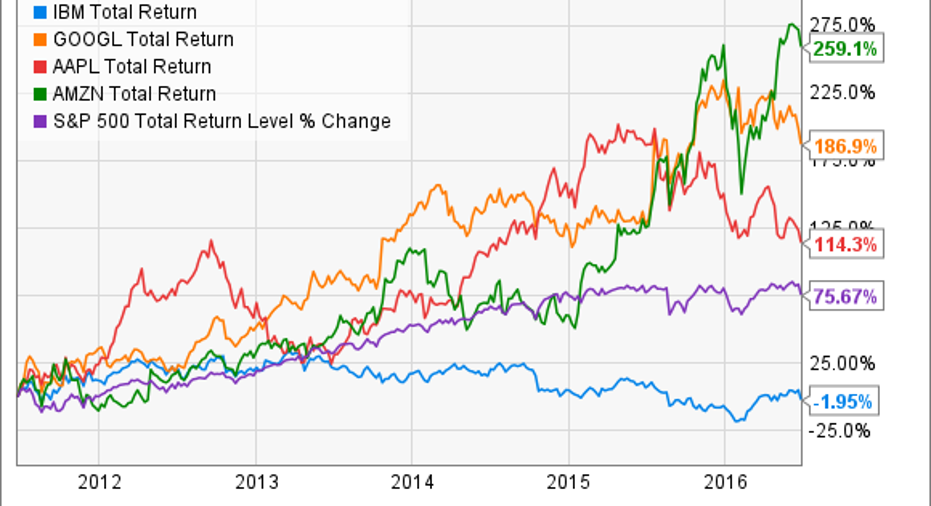 In mid-June,Local Motors, the leading vehicle technology integrator and creator of the world's first 3D-printed car, introduced the first self-driving vehicle to integrate the advanced cognitive computing capabilities of IBM's brainy Jeopardy champ Watson.
Here's what you should know about the innovative electric shuttle named "Olli."
Image source: Local Motors.
Meet Olli
Olli was unveiled and demonstrated during the June 16grand opening of Local Motors' facility in National Harbor, MD, a resort destination just sound of Washington, D.C. The EV, which can carry up to 12 people, is equipped with advanced vehicle technology, including IBM Watson Internet of Things (IoT) for Automotive, to improve the passenger experience and allow natural interaction with the vehicle.
Olli has been cruising public roads in D.C. at select times since its unveiling. Local Motors, which is currently producingadditional Ollis at its headquarters near Phoenix, aims to have 30 vehicles on the streets of the nation's capital by Christmas, according to CEO and co-founder Jay Rogers, Jr. Public road testing of driverless autos is legal in D.C. and in eight U.S. states: California, Michigan, Florida, Nevada, Arizona, North Dakota, Tennessee, and Utah.
While Olli was only recently officially introduced, cities all over the world have expressed interest in putting the smart self-driving EV to use on their public roads.Local Motors sold 10 vehicles during the grand opening. By the end of the year, there will also be Ollis in Miami, Florida; Copenhagen, Denmark; and Las Vegas, Nevada, among other unnamed cities.
Olli went from concept to completion in three months, illustrating Local Motors' production speed advantage over traditional automakers. The privately held company envisions having hundreds of microfactories all over the world where it can quickly produce crowd-sourced vehicles of various types.
Olli's technology
In addition to Big Blue -- whose involvement is explored in more depth below -- Local Motors' partners for Olli include the following privately held companies:
Roding: German company that assisted with digital designs and played a key role in the vehicle build.
Paravan: Provided the driving system.
Forward Engineering: Provided expertise in composite manufacturing.
Meridian Autonomous Systems: Provided systems that monitor diagnostics.
GSP: Provided communications and security systems.
Best Mile: Provided software for fleet management and route optimization.
Icarus: Provided a digital checklist for daily operations like maintenance and service.
Olli's self-driving tech is comprised of three types of sensors: lidar, optical cameras, and GPS. By comparison,Alphabet'sGoogle self-driving tech uses these sensors plus ultrasonic sonar and radar, whileTesla Motors'Autopilot uses cameras, radar, sonar, and GPS, but not lidar. Lidar -- a laser-based tech -- is currently prohibitively expensive for use in mass-market passenger vehicles.This is one reason that many believe Alphabet will likely operate -- or sell to others -- a fleet of Uber-like on-demand self-driving vehicles, rather than license its proprietary tech to automakers.
Many of Olli's components are 3D-printed by the company's Big Area Additive Manufacturing (BAAM) machine, made by privately held Cincinnati Inc.
Some additional specs about Olli:
RANGE

City

32.4 mi (58 km)

POWER SYSTEM

Max capacity (kWh)

15

Charger type

3 Phase AC

Charge time (220V)

4.5 hours

DIMENSIONS

L x W x H

12.86 ft x 6.73 ft x 8.2 ft

ECONOMY

Average fuel economy

2.16 mi/kWh (3.48km/kWh)

Typical cost to recharge

$1.80 (euro3.91)
Olli marks IBM Watson's entree into self-driving vehicles
Olli is the first self-driving vehicle to integrate the IBM Watson IoT for Automotive platform, which uses the cloud-based cognitive computing capability of Watson, best known for beating the top Jeopardy champs in 2011. The platform was launched in December.
Watson is often described as artificial intelligence tech, but it goes beyond AI to machine learning, which "teaches" a machine to learn, based on huge volumes of collected data. With Olli, Watson will analyze and learn from gads of transportation data, produced by more than 30 sensors embedded throughout the vehicle.
In addition to the Internet of Things applications that will enable Olli to learn about road conditions and the like, the brainy EV will be able to learn about -- and from -- passengers who interact with it. This feature is similar to the voice-activated AI assistants of Apple(Siri), Alphabet (Google Assistant), and Amazon (Alexa), which are incorporated into various devices -- such as Amazon's Echo and Google Home -- but taken to a higher level. These big tech players, however, have been upping their involvement in machine learning, so their assistants' IQs should continue to increase.
The IBM Watson IoT for Automotive platform incorporated into Olli leverages four Watson developer APIs -- including speech-to-text and text-to-speech -- to enable interactions between the vehicle and passengers. Some examples of how passengers can interact with Olli:
Asking how the vehicle works.
Asking why it's making specific driving decisions.
Requesting personalized recommendations on local destinations such as restaurants or historical sites, which Olli provides based on an analysis of personal preferences.
Watson is part of IBM's turnaround plan
Data by YCharts.
Big Blue's financial performance -- and thus, its stock price -- has fallen behind the leading tech pack of Amazon, Alphabet, Apple, and others in recent years. Revenue has declined for 16consecutive quarters on a year-over-year basis, which has negatively affected earnings. The vast majority of the declines, however, stem from the company's divesting legacy businesses that it's exiting, as it transitions to areas such as cloud computing and data analytics, and foreign exchange currency headwinds in 2014 and 2015.
IBM is betting big that Watson will help turn things around for it. The Watson IoT platform, launched in December, is targeting the automotive, home, building, retail, and electronics industries. Watson appears to have amazing potential, though it remains to be seen how well Big Blue executes.
The article IBM Watson Enters Self-Driving Vehicle Space Via the Worlds First Autonomous Talking Electric Shuttle originally appeared on Fool.com.
Suzanne Frey, an executive at Alphabet, is a member of The Motley Fool's board of directors. Beth McKenna has no position in any stocks mentioned. The Motley Fool owns shares of and recommends Alphabet (A shares), Alphabet (C shares), Amazon.com, Apple, and Tesla Motors. The Motley Fool has the following options: long January 2018 $90 calls on Apple and short January 2018 $95 calls on Apple. Try any of our Foolish newsletter services free for 30 days. We Fools may not all hold the same opinions, but we all believe that considering a diverse range of insights makes us better investors. The Motley Fool has a disclosure policy.
Copyright 1995 - 2016 The Motley Fool, LLC. All rights reserved. The Motley Fool has a disclosure policy.