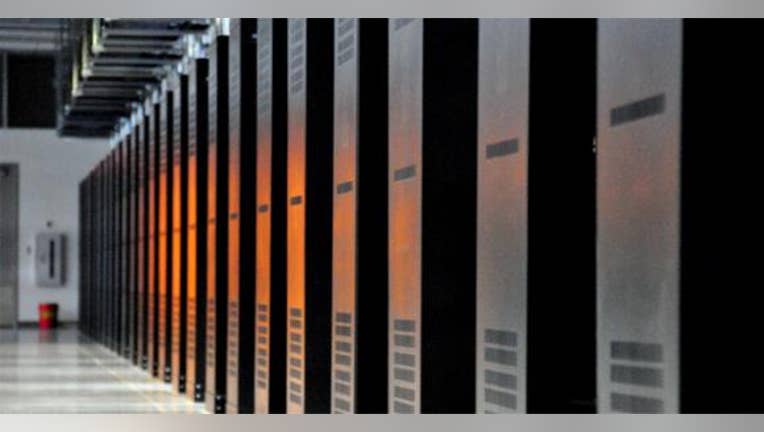 IBM used to sell Intel -powered low to mid-range servers. But last year, IBM sold that unit to Lenovo to focus on selling high-end servers and mainframes powered by its own Power processors instead.
Since then, IBM has positioned its remaining data center businesses directly against Intel, which holds a formidable 99% market share in server chips. In July, it announced the creation of a 7nm chip, which seemingly targeted Intel's plans to launch 10nm chips in2017.It also expanded its "Open Power" initiative, which shares processor specs, firmware, and software with partners to fuel the third-party production of Power-based servers.
Source: Intel.
That's why it wasn't surprisingwhen IBM recently partnered with Xilinx , a maker of FPGAs (field-programmable gate arrays), to counter Intel's acquisition of FPGA maker Altera. FPGAs are less powerful than IBM's or Intel's server chips, but they can be reprogrammed, making them well-suited for custom uses in connected cars, consumer devices, and airplanes. IBM and Intel are both using FPGAs to complement their server chips by accelerating workloads.
What Big Blue wantsIBM's revenue has fallen for 14 consecutive quarters, due to sluggish demand for its core IT services, software, and hardware. Big Blue wants investors to focus on the growth of its "strategic imperatives" -- cloud, analytics, mobile, social, and security -- which posted 17% annual sales growth last quarter, or 27% on a constant-currency basis excluding its divested System x (Intel-powered server) business. That growth was solid, but it wasn't enough to offset the steep declines in its other aging businesses.
Last quarter, IBM's hardware revenues plunged 39% annually and accounted for less than 8% of its top line. Power Systems revenues slipped 3% and system storage revenues fell 19%, but z Systems mainframe revenues rose 15%. The decline in Power Systems revenue was expected, due to Intel's dominance of the data center market. But the growth in mainframes was surprising, since analysts had predicted the death of fridge-sized mainframes for decades.
With Open Power, IBM hopes to gain market share against Intel by selling processors to third-party server vendors. In addition to boosting sales of Power CPUs, customers who buy that hardware might be more inclined to buy additional services from IBM's strategic imperatives portfolio. IBM's growing list of backers already includes Rackspace, Chinese vendors Inspur, NeuCloud, and Chuanghe, and Taiwanese company Tyan.
Intel shores up its defensesIntel relies heavily on its data center revenues, which rose 12% annually and accounted for 29% of its top line last quarter, to offset declines in its PC and mobile chip businesses. That's why it recently made two big moves to widen its defensive moat against IBM.
In October, it bought Saffron AI, a start-up which develops a "cognitive computing" platform similar to IBM's Watson. Like Watson, Saffron processes huge amounts of data to generate business insights for clients. By combining Saffron with its own server chips and Altera's FPGAs, Intel can offer companies an all-in-one data center solution which cuts Big Blue out of the loop.
That same month, it partnered with Oracle to sell Oracle servers powered by Intel chips to enterprise customers. During a presentation, Oracle CEO Mark Hurd boldly claimed that the new Oracle-Intel architecture will offer faster performance than IBM's systems at a fraction of the cost. Oracle will also push its database and software customers to replace their IBM servers with Oracle-Intel ones instead.
But don't forget about QualcommAs Intel shores up its defenses against IBM, it should also keep an eye on Qualcomm , which recently started testing its ARM-based server chips in tier-1 data centers. Last year, ARM claimed that its designs could claim 10% of the server chip market by 2017.
Qualcomm claims that these new chips, which use a 24-core Qualcomm GPU with custom ARM cores, "will be competitive in performance and price" with Intel's Xeons. Like IBM, Qualcomm is also pairing its server CPUs with Xilinx's FPGAs for workload acceleration.
Will the underdogs take down Intel?IBM, Xilinx, and Qualcomm don't represent immediate threats to Intel's data center business yet. But over time, IBM's Open Power partners could gain ground in the high-end market as Qualcomm turns heads in the low-end market. If Intel falls behind in this arms race of FPGAs, AI platforms, and other features, it could start losing market share at both ends of the market to these hungry underdogs.
The article IBM vs. Intel Corporation: The Data Center Battle Escalates originally appeared on Fool.com.
Leo Sun owns shares of Qualcomm. The Motley Fool owns shares of and recommends Qualcomm. The Motley Fool owns shares of Oracle. The Motley Fool recommends Intel and Rackspace Hosting. Try any of our Foolish newsletter services free for 30 days. We Fools may not all hold the same opinions, but we all believe that considering a diverse range of insights makes us better investors. The Motley Fool has a disclosure policy.
Copyright 1995 - 2015 The Motley Fool, LLC. All rights reserved. The Motley Fool has a disclosure policy.