IBM Dividend History: Is Slowing Payout Growth a Red Flag?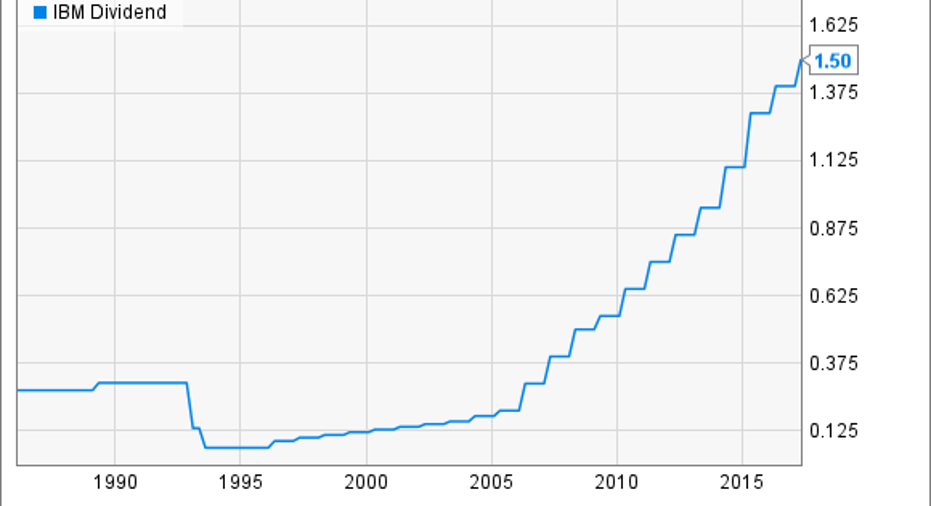 The technology sector historically was a terrible place for investors to look for dividend stocks. With so much capital needed to invest in cutting-edge products, most tech companies are stingy with their cash early on. Yet International Business Machines (NYSE: IBM) has been a major exception to that rule, and it not only adopted dividend payout policies decades ago but also has built up an impressive track record of boosting its quarterly payments.
Recently, though, IBM has run into business challenges. That hasn't stopped the company from increasing its dividends, with the most recent boost coming just in the past week. The pace of dividend growth has slowed, though, and that has some investors wondering whether they can rely on IBM dividends going forward. A closer look at IBM and its dividend history should give some clues about the tech giant's future.
Image source: IBM.
IBM's history of dividend payments
IBM paid its first dividend in 1913, and more than a century later, IBM has made more than 400 quarterly payments to its shareholders. Early in its history, IBM's dividend steadily climbed, only falling on a per-share basis when the company did a stock split. In the 1970s and 1980s, the rise of the personal computer helped dramatically accelerate IBM's business, and the resulting gain in profits helped Big Blue boost its dividends accordingly.
IBM Dividend data by YCharts.
What was IBM's primary strength, however, also turned out to be a source of weakness later on. By the early 1990s, IBM was having trouble sustaining its competitive advantages. The entry of upstart players making less expensive PCs took away IBM's first-mover advantage, and the tech giant had trouble fending off new competition. Excess manufacturing capacity created substantial costs, and massive restructuring charges in the early 1990s led IBM to slash its dividend in order to recover.
It took a number of years, but IBM finally figured out a path forward. Rather than focusing on the low-margin hardware business, IBM realized that it needed to look at the more lucrative prospects for creating software and offering associated services with its computer equipment. Smaller and more nimble rivals still had some advantages over IBM and its massive internal operations, because it took a while for the larger company to implement important strategic shifts. Yet in the long run, IBM succeeded in getting its stock to recover, and dividends started rising again.
What's the latest on IBM dividends?
In late April, IBM gave dividend investors an increase in their quarterly payout. Beginning with its next payment, investors will get $1.50 per share on a quarterly basis. That figure is 7% higher than it was before the hike, and it boosts IBM's dividend yield to roughly 3.7%. That puts the tech giant among the top-yielding stocks in the Dow Jones Industrials. It also marked the 22nd straight year that IBM had increased its dividend.
IBM's pace of dividend growth, though, has slowed recently. From 2010 to 2015, IBM consistently offered double-digit percentage increases to its quarterly payouts. But for the past couple of years, rises of 8% and 7%, respectively, suggest greater difficulty in sustaining the tech company's past dividend growth rates.
It's not that IBM doesn't have the capacity to pay higher dividends. Even after the boost, what the company pays in dividends amounts to less than half of its earnings over the past 12 months, and Big Blue sees considerable growth in its bottom line in the next couple of years. However, sluggish results over the past several years has hit earnings growth, and the payout ratio has climbed from 20% to 25% throughout the early 2010s to the current percentage in the mid- to high 40s.
Can IBM's dividend history remain strong?
The biggest issue for IBM is its current sales slump. Big Blue has posted year-over-year declines in revenue for 20 straight quarters, and investors worry that the company's attempts to capitalize on the rise of initiatives like cloud computing and data analytics might prove insufficient to keep it on its upward course. Transformative efforts could change that, but there's still some uncertainty about how successful IBM will be in reinventing itself once again.
That said, IBM has a lot invested in its dividend, and it won't be quick to make a payout cut and end its streak. Income investors can anticipate slow but steady gains in the IBM dividend until the business starts to gain more traction, at which point Big Blue might well decide to return to the more generous dividend policies it has had in the past.
10 stocks we like better than IBMWhen investing geniuses David and Tom Gardner have a stock tip, it can pay to listen. After all, the newsletter they have run for over a decade, Motley Fool Stock Advisor, has tripled the market.*
David and Tom just revealed what they believe are the 10 best stocks for investors to buy right now... and IBM wasn't one of them! That's right -- they think these 10 stocks are even better buys.
Click here to learn about these picks!
*Stock Advisor returns as of April 3, 2017
Dan Caplinger has no position in any stocks mentioned. The Motley Fool has no position in any of the stocks mentioned. The Motley Fool has a disclosure policy.