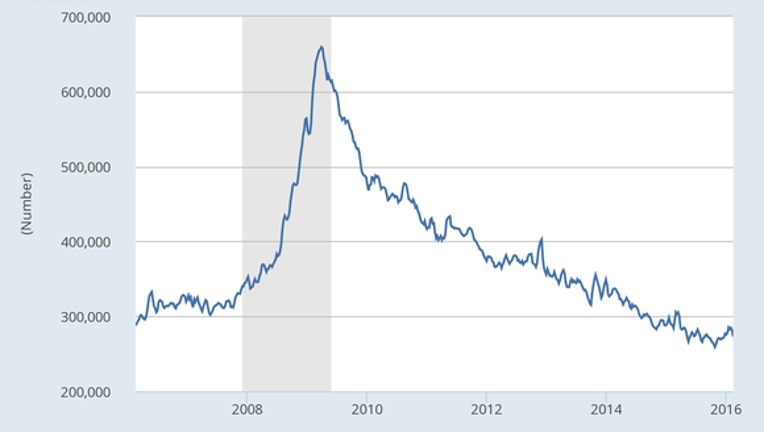 Stocks took a step back from their three-day rally today as investors continued to digest a flood of earnings reports and new data on the strength of the U.S. economy. The Dow Jones Industrial Average lost 41 points, or 0.3%, and the S&P 500 shed nine points, or 0.5%.
In economic news, initial unemployment insurance claims ticked lower last week, the Department of Labor announced, as the four-week moving average fell by 8,000, to 273,000. The drop points to continued steady gains in the labor market, which will play a prominent role in the Federal Reserve's debate over whether to boost interest rates at its monetary policy meeting next month.
10-year picture of initial jobless claims. Source: Federal Reserve Economic Data.
Meanwhile, several individual stocks made big moves higher today, including tech bellwether IBM , and furniture giant La-Z-Boy .
IBM's market-thumping day IBM was the Dow's biggest percentage-point gainer, rising 5% on heavy trading volume. Two pieces of news likely helped push the tech giant's shares up toward breakeven on the year.
Source: IBM.
First, the company announced this morning that it is buying Truven Health Analytics -- and its rolodex of 8,500 clients across state and federal government agencies, hospitals, and employees -- for $2.6 billion. The deal is Big Blue's fourth major acquisition to bulk up its Watson Health division, which is growing into a dominant competitor in the healthcare IT sector. "With this acquisition, IBM will be one of the world's leading health data, analytics and insights companies," the company explained in a press release.
Separately, IBM shares received an upgrade from Morgan Stanley analyst Katy Huberty, who raised it to a buy rating from hold, and added a $140 per-share price target, which represented a 10% improvement over yesterday's closing price. Huberty argued that IBM's cloud services are just as significant a portion of revenue and boast a similarly strong growth pace as rival Microsoft's, and yet the stock price isn't reflecting that high-growth part of the business. Morgan Stanley predicted that this "valuation disconnect" will be corrected soon, as IBM announces more details about its 2016 cloud, data, and engagement strategy.
La-Z-Boy's surging profitability Furniture giant La-Z-Boy's stock jumped 17% after posting surprisingly strong fiscal third-quarter results. Revenue rose 7%, to $384 million, beating consensus estimates of $377 million in sales. Profits also outpaced forecasts as EPS spiked 27% higher, to $0.43 per share. Wall Street was expecting $0.40 per share of profit.
Source: La-Z-Boy.
La-Z-Boy's earnings beat was powered by surging profitability, as operating margin jumped from 7.5% of sales to 9.1%, marking the company's best result on that metric in 12 years. The company generated $48 million of cash this quarter, more than double its production from fiscal Q2.
"These results demonstrate solid execution across the business, including supply chain optimization, improved forecasting and planning, and more consistent service and delivery," CEO Kurt Darrow said in a press release.
Digging deeper into the numbers, it was the improvement in La-Z-Boy's retailing business that made the difference this quarter. That segment's operating margin nearly doubled to 8%, which Darrow credited to "excellent planning and promotional cadence throughout the period [that] drove sales, and the increased volume allowed us to leverage the fixed-cost structure of the business." Executives said they were optimistic that the company could keep up its profitable growth over the year ahead.
The article IBM and La-Z-Boy Jump as Stocks Slip originally appeared on Fool.com.
Demitrios Kalogeropoulos has no position in any stocks mentioned. The Motley Fool has no position in any of the stocks mentioned. Try any of our Foolish newsletter services free for 30 days. We Fools may not all hold the same opinions, but we all believe that considering a diverse range of insights makes us better investors. The Motley Fool has a disclosure policy.
Copyright 1995 - 2016 The Motley Fool, LLC. All rights reserved. The Motley Fool has a disclosure policy.