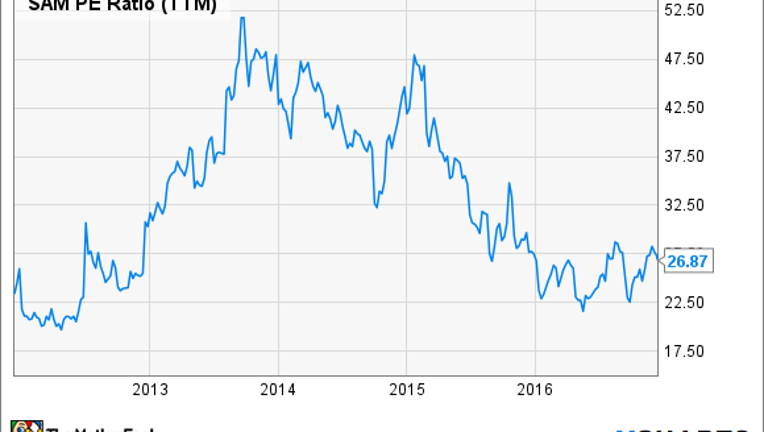 Image source: Getty Images.
Back in August, I wrote a theoretical article on how craft-brewing heavyweight Boston Beer Company (NYSE: SAM) could reignite its growth engine. My suggestion didn't involve initiating new product lines or expanding the distribution network. I felt then, as I do now, that Boston Beer needs to act as a home for tiny craft brewers that can't stand up against the Goliath that is AB InBev.
My suggestion, which almost certainly never made it to the desk of Boston Beer CEO Jim Koch, was never likely to come to fruition. A man can dream.And while I do have grave concerns over the future of Boston Beer, and indeed of the craft brewing industry itself, I still have tremendous respect for the trend that Boston Beer arguably started.It's not easy to find a company as profitable as Boston Beer, let alone one whose heart and soul you deeply respect. So should I give in, despite my misgivings, and buy shares after the modest pullback over the past 12 months?
Alas, for two very strong reasons, the answer appears to be no.
Valuation
Let's cover the bad news first. Boston Beer shares are expensive. The company is projected to earn approximately $6.50 per share in fiscal 2017. With the share price at around $170, that puts its forward P/E ratio at something like 26 -- more or less the valuation assigned to Internet search monopoly Alphabet. I don't know about you, but if I'm going to be paying 26 times earnings for a business, it had better be ironclad and still growing. Analysts polled by S&P Global Market Intelligence think Boston Beer's long-term growth rate is somewhere around 10% to 12%. Decent, but not eye-popping.That's the bad news.The good news is that Boston Beer's valuation has come back in recent years and currently sits at its lowest level in recent memory:
SAM PE Ratio (TTM) data by YCharts
Is a historically "cheap valuation" a strong enough reason to warrant picking up a few shares? Probably not.Some simple back-of-the-envelope analysis shows that Boston Beer currently trades for a forward earnings yield of 3.8%. That's just one metric of many that investors should use in deciding to buy or sell a stock, but it doesn't compare well with Alphabet, or any of the stocks out there yielding 5% or more.
Relentless competition
Any stroll through your local grocery store's beer section will tell you that Sam Adams is being given a run for its money. And that has nothing to do with beer quality, and everything to do with the relentless competition in the craft-beer market that's been developing over the past 20 years:
Image source: Brewers Association.
Recent statistics are just as disheartening:
Image source: Brewers Association.
There's only one way this ends, and it's not good for Boston Beer. Just ask anyone who got caught up in the Beanie Baby craze in the 1990s.
Foolish final thoughts
Boston Beer has a great future ahead of it, full of product innovations, continued profits, and a legacy that will last a long time. But investing often comes down to timing and buying something for less than it's worth. I love a good, cold Boston lager, and I have tremendous respect for Boston Beer, but for these two very strong reasons, now is not the time to step up and invest in what I love. Here's to being given the opportunity someday. Cheers.
10 stocks we like better than Boston Beer When investing geniuses David and Tom Gardner have a stock tip, it can pay to listen. After all, the newsletter they have run for over a decade, Motley Fool Stock Advisor, has tripled the market.*
David and Tom just revealed what they believe are the 10 best stocks for investors to buy right now... and Boston Beer wasn't one of them! That's right -- they think these 10 stocks are even better buys.
Click here to learn about these picks!
*Stock Advisor returns as of Nov. 7, 2016
Sean O'Reilly has no position in any stocks mentioned. The Motley Fool owns shares of and recommends Boston Beer. Try any of our Foolish newsletter services free for 30 days. We Fools may not all hold the same opinions, but we all believe that considering a diverse range of insights makes us better investors. The Motley Fool has a disclosure policy.