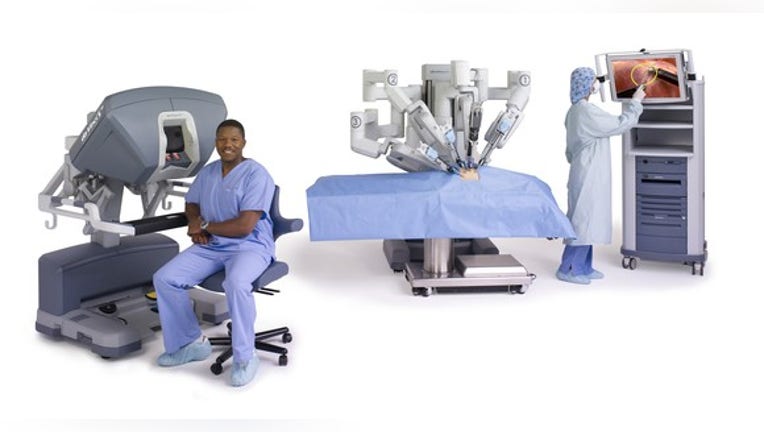 Intuitive Surgical (NASDAQ: ISRG) is one of my favorite companies of all time. The robotic surgery kingpin has forever changed the way that surgery is performed, and the company's razor and blade business model has minted long-term shareholders a fortune. What's more, the company continues to invest in new products and procedures that promise to widen its moat. All of these reasons are why Intuitive Surgical is one of my biggest personal holdings.
However, I must admit that I'm scratching my head as to why the company just decided to spend $2 billion to on an accelerated buyback program. I'm fearful that this decision move may have actually destroyed shareholder value in the long-term. Here's why.
Image Source: Intuitive Surgical.
Why share repurchasesare good for shareholders
Share repurchases are one tool that companies can use to return capital to investors. Buying back stock on the open market reduces the total number of shares held by the public, thereby slightly increasing the ownership stake of each remaining shareholder.
However, there's a dark side to buybacks. Here's a quote from Warren Buffet's 2012 letter to shareholders to that can describe what can go wrong:
This makes complete sense. Buying a dollar's worth of value for 80 cents or less is a great use of capital. Spending $1.20 to buy that same dollar of value is a quick way to destroy capital. That's why valuation matter so much when it comes to buybacks.
Intuitive's buyback history
Thankfully, Intuitiveactually has a good track record of repurchasing its shares. In July of 2013, the company announced a $500 million accelerated buyback program after its stock took a tumble. Less than a year later, the company followed up with another $1 billion accelerated program after yet another big fall.
Here's a table that shows how much has been spent on repurchases over the last 5 full calendar years.
| | | | |
| --- | --- | --- | --- |
| Year | Total Repurchase Amount | Average Stock Price | Shares Repurchased |
| 2016 | $43 million | $605 | 0.1 million |
| 2015 | $183 million | $502 | 0.4 million |
| 2014 | $1,000 million | $397 | 2.5 million |
| 2013 | $1,109 million | $429 | 2.6 million |
| 2012 | $238 million | $503 | 0.4 million |
| Total | $2,573 million | $431* | 5 million |
*Weighed average. Table source: SEC Filings. Author's calculation.
With shares currently trading above $800, that $2.5 billion in spending at a weighted average share price of $431 looks to be money well spent now. However, I'm not sure if Intuitive will be able to make the same claim for its most recent $2 billion accelerated repurchase program. The reason is that Intuitive's stock has been on a tear since bottoming out in 2014. That's stretched the company's valuation, which increases the possibility that the purchase was made above intrinsic value.
Here's a chart of the company's trailing PE ratio over the last five years and the timing of those three accelerated purchases programs.
Image source: Y-charts.
As you can see, the company previously has pulled the trigger when its PE ratio took a nosedive. That likely increases the chances that the purchases were made when the stock price was below its intrinsic value. However, I think it is harder to make that claim with this most recent $2 billion program.
Furthermore, that $2 billion represents a lot of money. In 2016, Intuitive's net income was $753 million, which was a record year. That means that the company spent nearly three years worth of record profits to make this buyback happen. Despite the huge spending, the share count will only be reduced by 2.4 million shares. With 39.8 shares outstanding at year end, that's only 6% of total shares.
Did Intuitive truly buy back its shares at a discount to intrinsic value? I have my doubts.
Better uses for the money
So what else could Intuitivehave done with that $2 billion? I personally would have loved to see the company spend that money on an acquisition or two. Possible buyouts candidates include beleagueredTransEnterix,which has thrown all of its weight behind itsSenhance Surgery system. TransEnterix claims that its Senhance system offers several advantages over the da Vinci system including better haptics, an eye-sensing camera, and lower long-term costs to customers.While I still think that TransEnterix faces long odds of success, Intuitive could have easily swallowed the company whole and then used its market muscle to put the device on its cost-sensitive customers or in international markets.
The Senhance Surgical Robotic System. Image Source: TransEnterix.
Another potential target isMazor Robotics (NASDAQ: MZOR).Mazormarkets the Renaissance guidance system which is used during spine and brain surgery to help surgeons place screws with far more accuracy than can be done by hand. This can lead to reduced risk complications and faster recovery times, which is why the company was able to sell a record 62 systems last year.
Perhaps of equal importance, buying either of these companies would have ensured that they wouldn't fall into the hands of Johnson & Johnson (NYSE: JNJ)or Medtronic (NYSE: MDT), both of which arequite serious about entering the robotic surgery market in the near future. Medtronic is actually such a big believer in Mazor that it struck up apartnershipwith Mazor. Meanwhile, Johnson & Johnson has teamed up with Alphabet's Verily division to create a next-generation system of its own. I'm guessing that buying a smaller company has crossed their mind to assist with this endeavor.
Another option would have been to simply pay out a one-time special dividend. A $2 billion special dividend would have worked out to about $51.50 per share.
Finally, Intuitive could have also just let the cash continue to pile up in its bank account and wait for a better valuation. Given the volatility of the company's stock, I'm guessing they'll get a chance sooner or later.
I hope I'm wrong
Hopeful my concerns listed above prove to be completely misguided. After all, Intuitive just reported yet another great quarter, and its share price has jumped once again. With shares currently trading meaningfully higher than where that $2 billion was spent, it is possible that the company bought back its shares at a great time.
However, only time will tell if this huge repurchase was well timed or not. I'm crossing my fingers that everything works out, but given the other potential uses for the capital, count me as skeptical.
10 stocks we like better than Intuitive SurgicalWhen investing geniuses David and Tom Gardner have a stock tip, it can pay to listen. After all, the newsletter they have run for over a decade, Motley Fool Stock Advisor, has tripled the market.*
David and Tom just revealed what they believe are the 10 best stocks for investors to buy right now... and Intuitive Surgical wasn't one of them! That's right -- they think these 10 stocks are even better buys.
Click here to learn about these picks!
*Stock Advisor returns as of April 3, 2017
Brian Feroldi owns shares of Intuitive Surgical. The Motley Fool owns shares of and recommends Intuitive Surgical and Johnson & Johnson. The Motley Fool has a disclosure policy.