Hyster-Yale Can't Get a Lift As Revenue, Profits Decline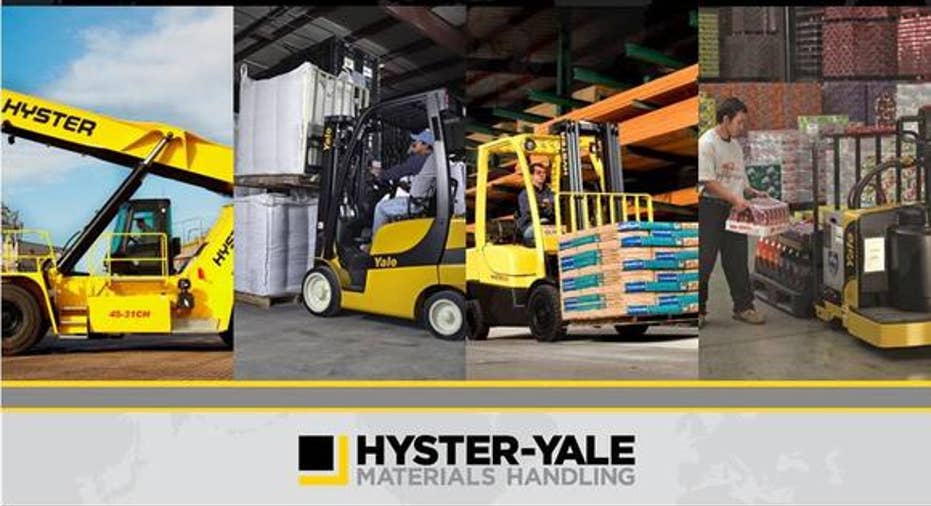 Image: Hyster-Yale.
Forklift specialist Hyster-Yale Materials Handling has its fortunes tied to the global industrial economy. When the need for inventory management and movement is the greatest, customers turn to Hyster-Yale to get the equipment they need. Yet coming into Wednesday's first-quarter financial report, Hyster-Yale shareholders were bracing for declines in the company's top and bottom lines, and the results that Hyster-Yale released only confirmed some of those fears. Nevertheless, the company remains excited about its future. Let's take a closer look at what Hyster-Yale told investors this quarter and what's ahead for the forklift-maker in the future.
Hyster-Yale deals with economic headwindsHyster-Yale's first-quarter results didn't live up to what investors had hoped to see from the company. Revenue fell 3% to $604.2 million, which was far worse than the $619 million in sales that most investors had expected to see. Bottom-line performance also suffered, with Hyster-Yale reporting net income of $10 million, down 28% from year-ago levels, and earnings of $0.61 per share. That figure missed the consensus forecast by $0.02 per share.
Hyster-Yale's operational numbers weren't as bad as you might expect from the revenue and earnings performance. New unit shipments of forklifts rose by 600 units to 20,500. However, bookings fell by 200 units to 23,500, and worldwide backlog was down 2,000 to 29,900 units. In dollar terms, the backlog figure dropped $60 million to $670 million. Lift-truck-related operating profits fell by more than 40%, and net income was off more than 20% compared to the previous year's first quarter.
Looking at Hyster-Yale's geographical segments, total shipments in the Americas segment were up 800 units, with the company citing its strategic initiatives in prompting the gains. The weak Brazilian economy held back growth there, but strength in North America and the rest of Latin America were able to offset Brazil's headwinds. Segment revenue rose slightly, despite unfavorable foreign currency movements against Brazil's real. Operating profits fell in the Americas, however, because of higher overhead from acquisition related costs. The Europe/Middle East/Africa segment picked up 200 more units shipped, but operating profits plunged by three-quarters largely because of the strong dollar. The Asis-Pacific segment suffered a 400-unit drop in shipments, and a shift in sales mix toward lower-priced lift trucks helped produce an operating loss for the segment during the quarter.
Fuel-cell subsidiary Nuvera also kept producting losses, including a net loss of $3.7 million. That was comparable to last year's figures, but it still ate into profits from the rest of Hyster-Yale's business.
Can Hyster-Yale recover?Outlooks for Hyster-Yale's near future were mixed. Overall, for the forklift market, Hyster-Yale thinks that strength in Europe won't be able to overcome weakness in the Americas and the Asia-Pacific region. Unit shipments should increase during the rest of 2016, but any resulting gains in revenue won't be enough to offset the shortfall from the first quarter. Conditions could improve somewhat during the second half of the year, but higher operating expenses and weaker pricing power could offset any increases in sales volumes.
Hyster-Yale's recent completion of the acquisition of Italian company Penta Holding could bolster long-term growth. The deal closed on April 1, and Hyster-Yale has worked to buy out other shareholders in forklift-attachment manufacturer Bolzoni with the goal of purchasing all outstanding shares. So far, Hyster-Yale controls about 62% of Bolzoni, and further purchases of shares will come from cash on hand and credit-facility borrowing.
Looking forward, Hyster-Yale seems to believe that poor industry conditions could hold its growth back for a while. Despite intentions to improve distribution, cut costs, and expand into relatively untapped markets in Asia, expecting a fast growth ramp-up for Hyster-Yale could set up bullish shareholders for disappointment in the near-term.
The article Hyster-Yale Can't Get a Lift As Revenue, Profits Decline originally appeared on Fool.com.
Dan Caplinger has no position in any stocks mentioned. The Motley Fool recommends Hyster-Yale Materials Handling. Try any of our Foolish newsletter services free for 30 days. We Fools may not all hold the same opinions, but we all believe that considering a diverse range of insights makes us better investors. The Motley Fool has a disclosure policy.
Copyright 1995 - 2016 The Motley Fool, LLC. All rights reserved. The Motley Fool has a disclosure policy.