Hydrogen Disappointment: Plug Power's History of Broken Promises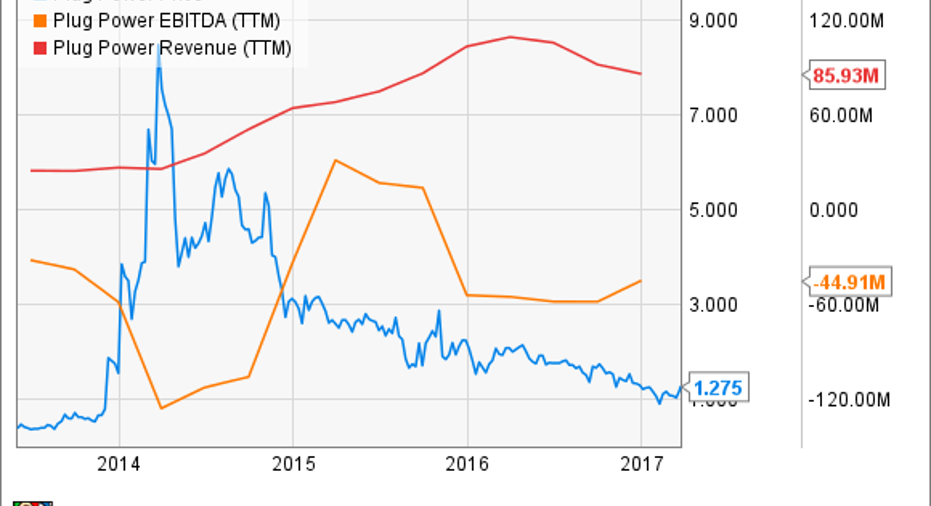 Plug Power Inc. (NASDAQ: PLUG) appears to be on another hot streak this week, as investors hope that brighter days are just around the corner for the hydrogen-fuel company. Management recently gave a bullish outlook on the company's future, and shares have responded positively since earnings came out.
But there's a long history of seeing Plug Power's management say one thing and deliver on another. Here's a look at why investors may not want to take guidance at face value.
Image source: Getty Images.
Overpromise, underdeliver
Plug Power's history over the past five years has been one of setting a high bar of expectations and then coming well short of it. Here are just a few key highlights I pulled from earnings announcements and presentations.
In June 2013, management said the company would be EBITDA breakeven by mid-2014, and the breakeven point would be $58.6 million.
In March 2014, management doubled down on the EBITDA breakeven number, predicting that by Q3 2014, EBITDA would no longer be negative.
In March 2015, management predictedannual sales of $100 million for the upcoming year. Technically, that figure was surpassed for the year, although the positive news didn't last long.
In January 2016, management said it had a goal of generating over $150 million in revenue during 2016, seeing operations burn less than $20 million, and booking $275 million of new business. The reality was a little disappointing, with revenue of $85.9 million and operating cash flow of negative-$29.6 million, although bookings were $280 million.
These growth projections turned out to be far above actual results, and you can see that the business has taken a turn south in the last couple of quarters.
In early March, management said 2017 revenue would be $130 million, gross margin will be 8% to 12%, and there will be $325 million in bookings. Those would be decent numbers if the company can hit them, but its history of meeting projections isn't all that great.
Hydrogen's market is shrinking
One of the reasons investors went crazy for Plug Power's potential a few years ago was the size of the market. If hydrogen worked well on fork trucks, the company might have been able to translate that success to cars, buses, trucks, and virtually any vehicle market. But batteries have advanced more quickly than hydrogen, and customers are learning to plug in rather than value the quick fill of hydrogen.
That doesn't mean hydrogen won't have a role in the future, but it's probably a much smaller future in fork trucks and long-haul trucks or energy storage. It's not going to beat batteries in most applications.
Plus Power isn't a company built to last
When Plug Power surged in popularity in 2015, it did so because a lot of investors saw the incredible potential the company had ahead. But management hasn't been able to turn that potential into reality and is burning through money year after year. And with the potential market for hydrogen fuel cells shrinking, not growing, this is a stock I wouldn't bet on unless there's a significant turnaround in operations.
10 stocks we like better than Plug PowerWhen investing geniuses David and Tom Gardner have a stock tip, it can pay to listen. After all, the newsletter they have run for over a decade, Motley Fool Stock Advisor, has tripled the market.*
David and Tom just revealed what they believe are the 10 best stocks for investors to buy right now... and Plug Power wasn't one of them! That's right -- they think these 10 stocks are even better buys.
Click here to learn about these picks!
*Stock Advisor returns as of February 6, 2017
Travis Hoium has no position in any stocks mentioned. The Motley Fool has no position in any of the stocks mentioned. The Motley Fool has a disclosure policy.