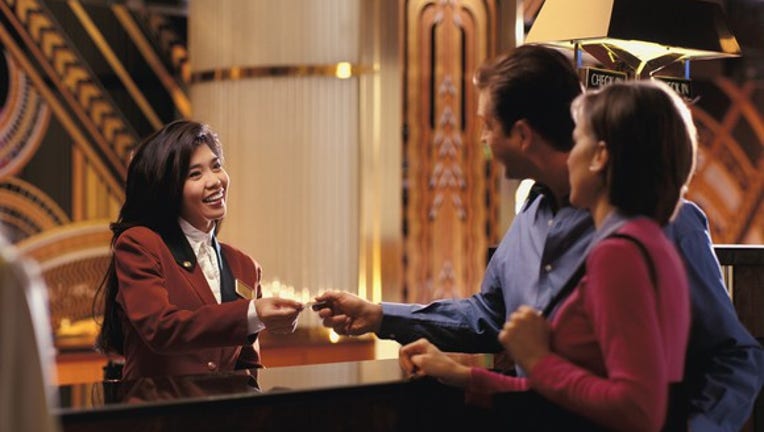 Hyatt Hotels (NYSE: H) this week posted first-quarter earnings results that showed an encouraging uptick in revenue growth. Yet the company declined to raise its full-year expansion forecast, which predicts only minor gains in 2017.
More on that outlook in a moment, but, first, here's how the latest headline numbers compare against the prior-year period:
Data source: Hyatt financial filings.
What happened this quarter?
Hyatt's base growth pace improved to nearly 5% from 2% in the prior quarter. Adjusted profits also rose at a healthy clip thanks to higher management fees, rising occupancy rates, and a fast-growing base of hotel properties.
Image source: Getty Images.
Here are some of the key highlights of the quarter:
The pace of expansion in revenue per average room night (RevPAR) jumped to 5% to mark a solid increase over the 3% rate Hyatt posted for the full 2016 fiscal year.
Growth in the U.S. market rebounded on strength in its full-service hotels. A big portion of that bounce came from temporary factors, though, including the timing shift of the Easter holiday and a spike in room demand tied to the U.S. presidential inauguration.
Management fees jumped 14% to $122 million.
Operating margin rose by half of a percentage point to 25.8% of sales.
Hyatt added five new hotels to the portfolio and removed one. Altogether, the hotel base rose 9% year over year and net rooms growth was 7%.
Adjusted earnings before interest expense, taxes, depreciation, and amortization (EBITDA) rose 18%.
What management had to say
Management was happy with the accelerated sales growth it posted. "I am pleased with our first quarter results," CEO Mark Hoplamazian said in a press release, "which reflect the strength of the Hyatt brands and demonstrate upward momentum in our business." Hoplamazian highlighted the near-20% boost in adjusted EBITDA and increased RevPAR growth of 5%.
At the same time, executives were encouraged that their financial moves, including the sale of several properties and the booking of investment gains from the company's stake in Playa Hotels & resorts, helped fund increased cash for Hyatt's owners. "Our disciplined program of asset recycling supported our long-term growth strategy and yielded meaningful shareholder capital returns in the quarter," Hoplamazian explained.
Looking forward
Executives plan to continue aggressively investing in the portfolio, including in market segments that reach beyond traditional hotel travel. Its recent acquisition of the wellness and spa specialist, Miraval Group, fits right into that strategy.
The biggest gains are likely in its core business, though, where Hyatt is set to add 305 hotels, representing 66,000 rooms, to its base over the long term, including 60 new properties in fiscal 2017 alone. Many of these contracted hotels are in entirely new countries or in areas where Hyatt is underrepresented.
The company affirmed its full-year outlook on key growth metrics. Executives still see adjusted EBITDA stopping at between $769 million and $804 million, which, at the midpoint of guidance, represents essentially no gain over the prior year's $785 million result. RevPAR is still predicted to be between 0% and 2% in 2017, marking a significant deceleration from last year's 2.5% gain.
10 stocks we like better than Hyatt HotelsWhen investing geniuses David and Tom Gardner have a stock tip, it can pay to listen. After all, the newsletter they have run for over a decade, Motley Fool Stock Advisor, has tripled the market.*
David and Tom just revealed what they believe are the 10 best stocks for investors to buy right now... and Hyatt Hotels wasn't one of them! That's right -- they think these 10 stocks are even better buys.
Click here to learn about these picks!
*Stock Advisor returns as of May 1, 2017
Demitrios Kalogeropoulos has no position in any stocks mentioned. The Motley Fool recommends Hyatt Hotels. The Motley Fool has a disclosure policy.