Hyatt Hotels Corporation Finds Room for Higher Profits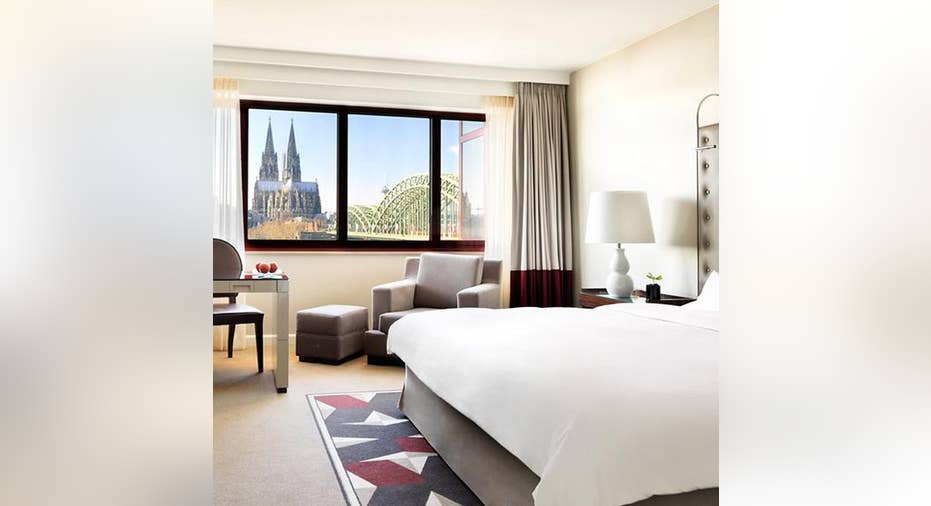 Hyatt Hotels posted first-quarter earnings results on May 3 that showed continued progress on management's key growth targets. The hotel base expanded even as average revenue per room night (RevPAR) improved. Those positive trends combined to drive solid profit generation over the last few months.
Here's how the Q1 results compared to the prior-year period:
| | Q1 2016 Actuals | Q1 2015 Actuals | Growth (YOY) |
| --- | --- | --- | --- |
| Revenue | $1.1 billion | $1 billion | 3% |
| Net Income | $34 million | $22 million | 54% |
| EPS | $0.25 | $0.15 | 67% |
Data source: Hyatt's financial filings.
What happened this quarter?Hyatt's 2.2% RevPAR gain represented a slight uptick from the prior quarter's 2.1% and was well ahead of competitor Starwood Hotels and its 1% increase. Below are some of the main highlights from the quarter:
The hotel base grew by 9% as Hyatt added 15 new locations to its portfolio (including notable properties in Rio de Janeiro and Miami Beach). The number of available rooms increased by 7%, or just over 3,000 rooms.
Guests are spending an average of $227 per day across its properties, up 2.2% over the prior-year period. Starwood's comparable figure was $169, or 2% lower, year over year.
Occupancy rates ticked up to 74.3% from 74.2%.
Hyatt's select service, mid-tier hotel segment performed the best, with RevPAR growth of 7% and strong gains in both occupancy and average daily spending.
Hotel operating margin was flat at 25% as lower banquet sales offset the impact of higher RevPAR.
Fee revenue rose 2% to $107 million.
What management had to sayCEO Mark Hoplamazian was encouraged by Hyatt's start to the new fiscal year. Strong earnings growth was driven by "broad-based market share gains, robust performance at our select service hotels and disciplined cost management," he said as the executive team affirmed their target of achieving 4% RevPAR growth for the year.
Image source: Hyatt.
Meanwhile, significant additions to the portfolio, like the 436-room Grand Hyatt in Rio de Janeiro and a 380-room hotel in Miami Beach, are examples of how the company plans to extend its reach. "Both hotels represent Hyatt's expansion into key markets with significant unmet demand from our guests," he said.
As for the rest of the year, things are playing out about as planned, according to Hoplamazian."Based on current trends, we remain confident in our ability to achieve comparable systemwide RevPAR growth of 3% to 5% for the year," he concluded.
Looking forwardHyatt is on track to hit its target of opening a record 60 new hotels during this fiscal year, and, combined with the expected 4% RevPAR growth, that should keep both the top- and bottom-line results churning higher. Quick growth could also help counter some of the consolidation that's happening in the industry right now as rivals Marriottand Starwood march closer toward their merger.
The aggressive expansion pace will soak up plenty of cash, though; Hyatt's capital expenses are projected to rise to almost $300 million in 2016. That's why investors shouldn't be surprised to see debt and interest expenses both creep higher, as they did this quarter: Debt on the books rose to $1.7 billion from $1.4 billion in the prior quarter.
The company plans to balance those growing operating cash demands with returning capital to shareholders. Hyatt spent $84 million repurchasing its stock in Q1, down from $180 million in Q4.As of the end of April, the company had $295 million remaining in its share repurchase authorization.
The article Hyatt Hotels Corporation Finds Room for Higher Profits originally appeared on Fool.com.
Demitrios Kalogeropoulos has no position in any stocks mentioned. The Motley Fool owns shares of and recommends Marriott International. The Motley Fool recommends Hyatt Hotels. Try any of our Foolish newsletter services free for 30 days. We Fools may not all hold the same opinions, but we all believe that considering a diverse range of insights makes us better investors. The Motley Fool has a disclosure policy.
Copyright 1995 - 2016 The Motley Fool, LLC. All rights reserved. The Motley Fool has a disclosure policy.