Hurricane Matthew Hits Haiti, Heads for Cuba and Then U.S.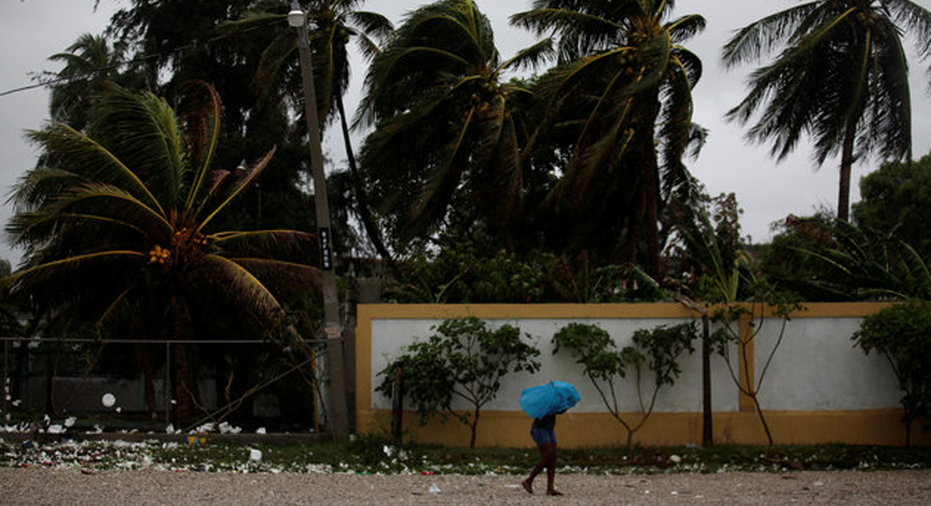 The fiercest Caribbean storm in almost a decade slammed Haiti on Tuesday with 145 mile-per-hour (230 kph) winds and surging seas that flooded coastal towns, killing at least one person and tearing at trees and rooftops before moving out to sea.
The eye of the violent and slow-moving Category 4 Hurricane Matthew passed over the western tip of Haiti, the U.S. National Hurricane Center said, bringing devastating winds, torrential rains and a storm surge with massive waves. The storm was forecast to remain powerful as it made its way to Cuba and the Bahamas.
A hurricane watch was issued for parts of southeast Florida, which the forecasters said Matthew could reach late on Thursday.
Haitian port town Les Cayes, named for the sandy islands off its shore and twice destroyed by hurricanes in the 18th century, was hard hit.
"The situation in Les Cayes is catastrophic, the city is flooded, you have trees lying in different places and you can barely move around, the wind has damaged many houses and taken away their rooftops," said Deputy Mayor Marie Claudette Regis Delerme, speaking from the town of about 70,000 people.
Regis Delerme said she herself had to flee from a building where she was attending a meeting about the storm, when a gust of wind ripped the roof off.
"It is very difficult to even try to help those who need assistance right now, and we lack financial means to do so," she said.
One man died as the storm crashed through his home in the nearby beach town of Port Salut, Haiti's civil protection service said. He had been too sick to leave for a shelter, officials said. A fisherman was killed in heavy seas over the weekend as the storm approached, and another was missing.
There was no immediate word on other potential casualties in the poorest country in the Americas.
RUNNING FOR COVER
Overnight, Haitians living in vulnerable coastal shacks on the western Tiburon Peninsula frantically sought shelter as Matthew closed in. Several districts in southern Haiti were flooded, with crops inundated with ocean and rain water.
As much as 3 feet (1 meter) of rain was forecast to fall over hills that are largely deforested and prone to flash floods and mudslides, threatening villages as well as shantytowns in the capital Port-au-Prince, where heavy rain fell overnight.
The hurricane comes at a time when tens of thousands of people are still living in flimsy tents and makeshift dwellings in Haiti after a 2010 earthquake that killed more than 200,000 people.
More than 9,000 people were huddled in shelters across Haiti, authorities said as the eye of the storm passed over the remote fishing town of Les Anglais.
Life-threatening flash floods and mudslides were likely in southern and northwestern Haiti, the hurricane center said. It expected Matthew to remain a powerful hurricane through at least Wednesday night.
The outer bands of the storm reached the area late on Monday, flooding dozens of houses in Les Anglais when the ocean rose, the mayor said.
In the nearby town of Tiburon, the mayor said people who had been reluctant to leave their homes also ran for cover when the sea rose and large waves began hitting the town.
Matthew was 35 miles (60 km) north of Haiti and 90 miles (145 km) south of the eastern tip of Cuba at 11 a.m. EDT (1500 GMT). It was moving north at about 10 miles per hour (17 kph), the hurricane center said.
Cuba's Communist government traditionally puts extensive efforts into saving lives and property in the face of storms, and authorities have spent days organizing teams of volunteers to move residents to safety and secure property.
The storm is expected to make a hit later on Tuesday in the province of Guantanamo, which is home to the disputed U.S. Naval base and military prison and also to a small Cuban city. The U.S. Navy ordered the evacuation of 700 spouses and children of service personnel as the storm approached.
Guantanamo's mountainous terrain is the country's second coffee producer after nearby Santiago, and the storm poses a major threat to the current harvest.
Haiti is due to hold a long-delayed presidential election on Oct. 9. The office of Interim President Jocelerme Privet said there was no change to the election date.
A hurricane watch was in effect from Deerfield Beach, Florida to the Volusia-Brevard county line, a coastal area near Cape Canaveral, which the storm could reach on Thursday, the hurricane center said.
"Direct hurricane impacts are possible in Florida," the center said. It added that tropical storm or hurricane conditions could also affect parts of Georgia, South Carolina, and North Carolina later this week, even if the center of Matthew remained offshore.
Governor Rick Scott declared a state of emergency for Florida on Monday, designating resources for evacuations and shelters and putting the National Guard on standby. (Reporting by Joseph Guyler Delva in Port-au-Prince and Makini Brice in Les Cayes; Additional reporting by Marc Frank and Sarah Marsh in Cuba and Brendan O'Brien in Milwaukee; Writing by Frank Jack Daniel; Editing by Frances Kerry and Tom Brown)