Hurricane Maria blasts Puerto Rico, kills at least nine in Caribbean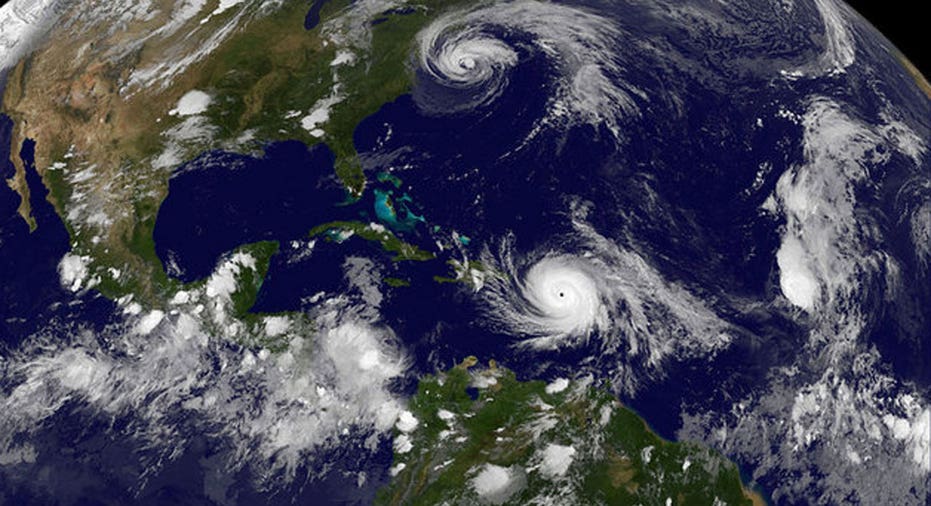 Hurricane Maria slammed into Puerto Rico on Wednesday as the strongest storm to hit the U.S. territory in nearly 90 years, turning streets into debris-laden rivers, damaging buildings and cutting power, after killing at least nine people in the Caribbean.
Maria, the second major hurricane to roar through the Caribbean this month, was carrying winds of up to 155 miles per hour (250 kph), high storm surges and drenching rains when it made landfall near Yabucoa, on the southeast of the island of 3.4 million people.
Rivers burst their banks and the winds downed trees and damaged homes and buildings, including several hospitals, according to local media. News pictures showed whole blocks flooded in the Hato Rey neighborhood of the capital, San Juan.
Electricity was out across the island, El Nuevo Dia newspaper said.
Thousands of people were seeking safety in shelters.
Maria lost some of its power as it moved over land, but its top winds were still 140 mph (220 kph) as it headed off the island, the U.S. National Hurricane Center said. Shortly before 11 a.m. ET (1500 GMT), the eye of the storm was about 15 miles (40 km) west of San Juan, the center said.
Maria killed at least seven people on the island of Dominica, government officials said, and two people in the French territory of Guadeloupe as it barreled through the Caribbean. It also caused widespread damage on St. Croix, one of the U.S. Virgin Islands.
Broken windows, mangled awnings and gutters dangled haphazardly from buildings in San Juan or were ripped off entirely. Toilets bubbled noisily and belched foul air as the hurricane rumbled through the city's water and sewage lines.
In the southcoast city of Guayama, west of where Maria blew ashore, storm waters turned streets into fast-running rivers carrying wind-downed debris.
Hurricane Irma, which ranked as one of the most powerful Atlantic storms on record, also left a trail of destruction in several Caribbean islands and Florida this month, killing at least 84 people in the Caribbean and the U.S. mainland.
"God is with us; we are stronger than any hurricane," Governor Ricardo Rossello said on Twitter on Wednesday. "Together we will rise again."
Maria was expected to dump as much as 25 inches (66 cm) of rain on parts of Puerto Rico, the NHC said. Storm surges, when hurricanes push ocean water dangerously over normal levels, could be up to 9 feet (2.7 meters.) The heavy rainfall could cause life-threatening flash floods and mudslides, it added.
"This a catastrophe we're going through," said Madeline Morales, 62, a saleswoman in San Juan who abandoned her coastal home before the storm hit to seek refuge in a hotel on higher ground.
Maria was set to be the strongest hurricane to hit Puerto Rico since 1928, when the San Felipe Segundo hurricane slammed the island and killed about 300 people, the National Weather Service said.
DESTRUCTIVE PATH
Before hitting Puerto Rico, Maria ripped off roofs and downed trees as it passed west of St. Croix, home to about half of the U.S. Virgin Islands' 103,000 residents, as a rare Category 5 storm, the top of the five-step Saffir-Simpson scale.
Some 65 to 70 percent of the buildings on St. Croix were damaged by the storm, said Holland Redfield, who served six terms in the U.S. Virgin Islands senate.
"There were a lot of homes that had lost their roofs. It was a sad sight," Redfield said in a phone interview, describing viewing the island. "I'm in a very densely populated area now and I see a tremendous amount of confusion. A lot of trees are down."
In Guadeloupe, at least two people were killed, according to France's minister for overseas territories. Many roads were blocked and some 80,000 people, or 40 percent of the population, were without power, the overseas territories ministry said in a statement. In the largest city, Point-a-Pitre, there was flooding of more than three feet (a meter) in parts of the city, access to the port was blocked and a hospital was damaged, it said.
The island of Dominica, with a population of about 73,000, was devastated by Maria earlier in the week. Hartley Henry, principal adviser to Prime Minister Roosevelt Skerrit, said in a Facebook post on Wednesday that "the country is in a daze." Housing was significantly damaged or destroyed and there was no electricity, phone services or running water, Henry said.
Maria was on a track to pass just north of the northeast coast of the Dominican Republic on Wednesday night and Thursday, the NHC said. It was expected to move near the Turks and Caicos Islands and southeastern Bahamas on Thursday night and Friday, the center said.
So far, it looked unlikely to threaten the continental United States.
"Irma was nothing compared to this," said Juan Pablo Alvarez, a 61 year old retiree in San Juan. "This is going to do a lot of damage."
Even though Irma grazed north of Puerto Rico and did not hit the island directly, it knocked out power for 70 percent of the island, and killed at least three people.
Puerto Rico is grappling with the largest municipal debt crisis in U.S. history, with both its government and the public utility having filed for bankruptcy protection amid disputes with creditors.
(Reporting by Dave Graham and Robin Respaut in San Juan; Additional reportingn by Daina Beth Solomon in Mexico City, Richard Lough and French language service in Paris; Writing by Scott Malone; Editing by Frances Kerry)